Canby Publications
Cambodia
Travel Guides
Cambodia Weather:
May 2016
It's the middle of the dry season and the hot season is in full swing. Weather-wise, it is still a fairly good time to visit the country - hot but rainless touring weather and toasty beach days. The daily temperatures are peaking as the hot season is well underway and it has been a particularly hot summer in Southeast Asia in general. Expect pleasantly warm (33-38C), hazy days with very infrequent afternoon rains.
FEATURING...
| | | |
| --- | --- | --- |
| | | |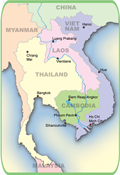 The Kingdom of Cambodia
Cambodia is a land of superlatives. The ancient ruins of Angkor rank amongst the world's most magnificent archaeological sites. The capital city Phnom Penh exudes history, as well as offers up some superb dining and a full-on nightlife. As yet unspoiled islands dot the Cambodian coast and quaint little provincial towns sit amongst strikingly beautiful countryside. And all this stands in stark contrast to the Killing Fields, Toul Sleng Museum and other reminders of the Khmer Rouge regime. Yet the Khmer people impress visitors as some of the friendliest, most welcoming people they have met. The ubiquitous Khmer smile is legendary, as is Cambodia hospitality.
Nestled between rice paddies and stretched along the Siem Reap River, the provincial capital of Siem Reap City serves as the gateway to the millennium-old ruins of the Angkorian-era Khmer Empire. Designated a World Heritage Site by UNESCO, the Angkor Archaeological Park encompasses dozens of temple ruins including Bayon, Ta Prohm and the legendary Angkor Wat whose artistic and archaeological significance... (more)

A mixture of Khmer hos-pitality, Asian exotica and Indochinese charm await the visitor to Phnom Penh. Situated at the confluence of the Mekong River Phnom Penh is a city of more than 2 million and the county's commercial, economic and political hub. Bistros and boutique hotels line the riverfront, smart little silk shops and art galleries dot the side streets and the city still enjoys a dusk-to-dawn nightlife... (more)

Sihanoukville is Cambodia's pre-mier beach town, sporting warm tropical Gulf of Thailand waters, miles of sandy beaches and a dozen unspoiled tropical islands. The town is also a travel hub for other coastal towns. Sihanouk-ville is a beach/party town, the beaches offering umbrellas and thatch roofed eateries, 24-hour bars and everything from a laid back beach chair on Otres to an endless party vibe on Ochheuteal... (more)

Kampot City is of quite different character from Sihanoukville. Kampot is an old provincial capital of quiet lanes and colonial period architecture, a bit worn but radiating a quaint, welcoming, small town ambiance. It is a place to get a taste of provincial Cambodia. Use the city as a base to explore the surrounding countryside and as a stepping stone to Kep, Bokor and southeastern... (more)

Kep Area From the turn of the century through the 1960s Kep was Cambodia's premier beach town, drawing holiday-makers to its breezy shores. These days Kep is known more for its oceanfront crab shacks and relaxed tropical atmosphere. A few short, picturesque slivers of sand dot the shore including Kep Beach where many of the guesthouses and restaurants are clustered. Though probably on the cusp of significant tourism development... (more)

While Sihanouk-ville is still Cambodia's most popular beach spot with locals and tourists alike, the islands off Sihanoukville's shore are quickly becoming a destination in their own right. Cambodian islands have an undeveloped, laid-back charm not easily found elsewhere. While many of the islands are covered in jungle and almost completely uninhabited, others have lovely stretches of... (more)

Rooms * Getting There * Scuba

Koh Kong City is the capital of Koh Kong province, a comparatively small provincial town sitting near the international border crossing with Thailand. Many travelers see Koh Kong only briefly as they pass through, but that is changing and the province is becoming something of an 'eco-destination.' To the north and east of the city, the jungled Cardamom Mountains cover much of the province, offering trekking, dirt... (more)

Even though Battambang is one of the country's largest towns, it has a very lightly touristed, provincial atmosphere. Much of the architecture is colonial-era with traditional shop-houses lining quaint narrow lanes. As you leave Battambang by road, the scene quickly becomes one of villages and rice paddies. The nearby countryside harbors several picturesque old pagodas, Angkorian era ruins... (more)

The Angkor Archaeological Park is home to the magnificent Khmer temple ruins of Angkor, including the legendary Angkor Wat, Bayon and dozens of other ancient ruins of the Angkorian-era (9th-13th century) Khmer Empire. The Park encompasses more than 400 square kilometers just outside Siem Reap City in northwestern Cambodia and is a World Heritage Site. The temple ruins of Angkor contained within the Park... (more).

Map index of maps of Cambodia, cities, Angkor, islands, historical... (more) Phnom Penh sits along the west side of the Tonle Sap... (more) Siem Reap stretches 2km along the the river and roughly 3-4km along Rte. #6... (more) The main body of Sihanoukville is spread thinly across a peninsula-like spit of... (more) Battambang sits along the Sangker River with the downtown on west side... (more)