Koh Kong Things to See and Do
Koh Kong province is ripe for eco-tourism but is still, in many ways, a comparatively new, unspoiled and very lightly touristed destination. The area offers primarily natural wonders - the coastal mangrove forests, the heavily jungled Cardamom Mountain range and rugged rivers, and secluded coastal and island beaches to the south.

Some of the more popular activities include excursions to the nearby waterfalls and mangrove forests, boat trips to Koh Kong Island, and jungle treks and camping as well as kayaking picturesque rivers in the in the Cardamoms. If you are feeling like something more relaxed, perhaps a day lounging at the rustic crab shacks on nearby Koh Yor Beach or for something more sophisticated, maybe try your hand at the tables at the Koh Kong Casino Resort near the Thai border.

Arranging tours, excursions, local transportation and motorcycle rental through one of the local tour operators is by far the easiest way to explore Koh Kong, and the prices are about the same as DIY.

Trekking, boating, waterfall trips and the like are most easily arranged through a local tour operator such as those listed below.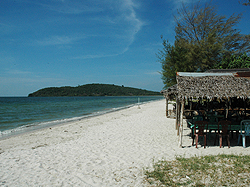 Beaches
Nearby Koh Yor Beach (Bak Klong Beach) is a long, narrow, secluded, white sand beach with a just few little oceanside seafood shacks lining the shore, about 25 minutes from town. It's a nice place to relax beachside for the afternoon nibbling fresh barbequed seafood at one of the shacks. And if you are interested in something of a cultural experience, check at the fishing Village of Bak Klong at the end of the beach. There are a couple of small pagodas, an interesting local market and nothing in the way of tourist facilities. To get to Koh Yor from town, cross the toll bridge west, turn left at the Buddha monument and continue south on the recently paved road about 6km to the ocean.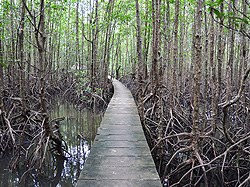 Mangrove Forests
Mangrove swamp lines much of the Cambodian coastline - a delicate ecosystem in which mangrove vegetation grows amongst the brackish, slow moving intertidal waters near shore. The Peam Krasop Wildlife Sanctuary 7km from town has a 1km long raised walkway through the mangroves allowing a close look at the complex root system and local wildlife. Admission: 5000R.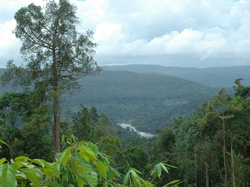 Trekking
Koh Kong sits at the edge of the Cardamom Mountain range, most of it blanketed in dense tropical jungle, providing some excellent, relatively nearby jungle trekking opportunities. See unspoiled jungle, local wildlife, rugged rivers and waterfalls. Local tour operators offer half-day, full day and multi-day jungle treks, some combing kayaking or village visits with the trekking tour.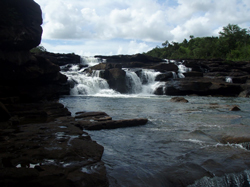 Waterfalls
Koh Kong is rich with waterfalls and rapids. The rugged rivers that run down from the Cardamom Mountains harbor spectacular jungled falls, some near to town, others farther upstream. Many of the falls are but a trickle in the dry season and best visited in the wet season. The Ta Tai Waterfalls are the nearest big falls to town, requiring a 30 minute ride to the Tai Tai River 18km east of town and another 30 minute boat ride up river. The falls are wide and two-leveled with a drop of about 6m, set in a jungle gorge. Other falls such as the Koh Por Falls, Tuo Kokir Rapids and impressive jungle gorge Kbal Chhay Falls sit father upriver within daytrip distance.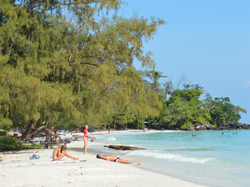 Koh Kong Island
Nearby Koh Kong Island sits in the Gulf of Thailand about a 2-hour boat ride from Koh Kong City. Koh Koh Island is the largest Cambodian island, over 22km long, with classic tropical jungled interior, secluded sandy beaches and lagoons, and very few inhabitants. Tour operators run regular day trips to the island for $20-$25, including the boat trip, snorkeling, swimming and lunch at the island, and often a stop at the mangrove forest on the way back. If you would like to stay a bit longer Koh Kong Island Resort and Koh Kong White Sand Beach both offer beach bungalows on the island.
-----------------------------------------------------
Tour and Dive Operators
Koh Kong Island Boat Trip
Full day boat trip through the mangrove forests and to the tropical Koh Kong Island. for beach, BBQ lunch, kayaking and snorkeling. Overnight stay on the island also available.
Tel: 088-8340048
Neptune Adventures
Established 2006. Located on Tai-Tai River, offering boating, kayaking and trekking and tours to the islands, waterfalls, and mangrove forest. Rainy season kayaking. Call for pick-up from Tai-Tai Bridge.
Tel: 088-7770576
neptune.tatai.kohkong@gmail.com
www.neptuneadventure-cambodia.com
Paddy's Bamboo Tour Koh Kong
Jungle trekking and Koh Kong Island trips, day trips and overnight camping. Bus tickets, taxi and boat services, motorcycle and bicycle rental. Cardamom Mountain homestay.
Tel: 015-533223, 097-6483841
www.paddybamboo.fr
Ritthy Koh Kong Eco Adventure Tours
Full service tour provider. Jungle trek, camping, island mangrove tour, waterfalls, kayaking, much more. All transportation and tourist info. Motor rental.
On the riverfront
Mr. Ritthy: 012-707719, 097-5552789
kohkongecoadventuretours@gmail.com