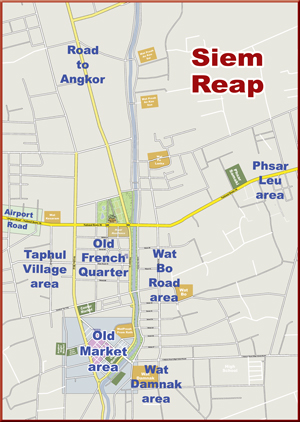 Siem Reap has an ever-growing number of hotel and guesthouse rooms, and a variety that is wide enough to satisfy all tastes and requirements. There are no hotels within the Angkor Park. Most visitors stay in or near Siem Reap town. Though staying right in the middle of town is a bit more convenient to the popular Old Market, Pub Street and Sivutha road areas, the town is relatively small making any location almost equally convenient as any other.
Siem Reap town stretches about 3km north/south along the Siem Reap River and roughly 4-5km east/west along Rte. #6. The airport is 6km west of town, a 15 minute ride from town center. The Angkor Park entrance lies 5km north of town and there are no hotels within the park. Almost all of the hotels and other tourist services are in or near town and are spread relatively evenly across the area, though there are some particularly popular areas: 1) the Old Market/Pub Street area is the most popular, with a wide range of hotels guesthouses, dining, shopping and nightlife; 2) several 3, 4 and 5-star hotels on 'Airport Road' and the road to Angkor; 3) two areas with a cluster of budget accommodations: one in the Wat Bo area and the other in the Taphul Village area, and; 4) a variety of mid-range hotels, restaurants and shopping along Sivutha Blvd through town.
Mid-range rooms with a/c, CTV and hot water begin around $15 but average $25 to $60; boutique hotels run $50 to more than $300, and 5-stars start at $200. At the other end of the spectrum, budget guesthouses are often family-run and cost $3-$20.
Hotels by Price:
Luxury Hotels ($150 per night and up)
Click on the hotel name for more photos and information
Angkor Miracle Resort & Spa
Range: $220 and above

5-star luxury hotel featuring 247 elegantly appointed rooms and suites with fine decor, wooden floors and furniture. Swimming pool.

Visa/MC/JCB/AMEX/TC
National Road 6A, Opposite of Cambodian Cultural Village, Siem Reap, Cambodia.

Tel: +(855)(0)63-969900

+(855)(0)63-969902

Fax: +(855)(0)63-969901
miracles@angkormiracle.com
www.angkormiracle.com

Angkor Village Hotel
Range: $139 - $300 (breakfast included)

Unique, superior. Traditional wooden houses with all amenities in a manicured garden setting. Restaurant. Swimming pool. Traditional dance performances

Visa/JCB/MC/AMEX/TC
Wat Bo area, 5mn walk from the Old Market, Siem Reap, Cambodia.

Tel: +(855)(0)63-965561

Fax: +(855)(0)63-963363

Angkor Village Resort and Spa
Range: $159 - $199 (breakfast included)
Unique architecture in botanical gardens, wooden cottages. Deluxe furnishings and amenities. Unique, 200 meter river-style swimming pool. Fine restaurant.

Visa/JCB/MC/AMEX/TC
Phum Treang, Siem Reap City, Siem Reap, Cambodia.
Tel: +(855)(0)63-963361-2
Fax: +(855)(0)63-963363
welcome@angkorvillage.com
www.angkorvillage.com

Chateau D'Angkor La Residence
Range: $170 - $280 (breakfast included)

Very well-appointed rooms in the center of town in the Old French Quarter. LCD-CTV. Swimming pool. International restaurant. Laundry facilities.

Visa/MC/JCB/AMEX
Oum Chay Street, Mondul 2, Siem Reap, Cambodia.

Tel: +(855)(0)63-966060

+(855)(0)77-881188

Fax: +(855)(0)63-967070
enquiry@chateau-angkor.com
www.chateau-angkor.com

Range: $155 - $575 (breakfast included)

Boutique hotel nestled in a quiet corner of town. Finely appointed, very spacious rooms and suites. Swimming pool. Very nice restaurant.

Visa/MC/JCB
Wat Polangka, Siem Reap, Cambodia.
Tel: +(855)(0)63-969100

+(855)(0)63-969101

+(855)(0)63-969102

Fax: +(855)(0)63-969103

La Résidence d'Angkor
Range: $340 - $440 (breakfast included)
62 rooms. Stylish, Khmer-inspired wood and laterite facade set amongst pools and gardens. Finely appointed rooms with all amenities. Restaurant serving French and Royal Khmer cuisine. Cocktail bar. Traditional dance performances. Swimming pool. WiFi internet access.
Visa/MC/JCB/AMEX
On the east side of the river in the center of town, Siem Reap, Cambodia.
Tel: +(855)(0)63-963390
Fax: +(855)(0)63-963391
info@residencedangkor.com
www.residencedangkor.com
Le Meridien Angkor
Range: $290 - $540 (breakfast included)
223 Rooms and suites. The closest hotel ever built to Angkor Wat. Khmer architecture tastefully blended with luxurious modern amenities creating a "world suffused with the echoes of Khmer culture" in the many carvings, stone statues, theme pool, spa and tranquil inner courtyard. 6 restaurants and bars, swimming pool, Jacuzzi, gym, spa, reflexology, business center, meeting room.
Visa/MC/AMEX/AMEX
Vithei Charles de Gaulle, the nearest hotel to Angkor Wat, Siem Reap, Cambodia.
Tel: +(855)(0)63-963900
Fax: +(855)(0)63-963901
reservations.angkor@lemeridien.com
www.lemeridienangkor.com

Sala Lodges
Range: $190 - $410 (breakfast included)

Eleven authentic, traditional wooden Cambodian homes, finely refurbished. A truly unique and intimate hotel experience. Set in a garden area. Swimming pool.

Visa/MC
No.498, Sala Kom Roeuk, Siem Reap, Cambodia.

Tel: +(855)(0)63-766699

+(855)(0)95-838799

Fax: +(855)(0)63-763992
reservations@salalodges.com
www.salalodges.com

Shinta Mani Boutique Hotel
Range: $250 - $295

Upscale boutique hotel. Contemporary, Khmer inspired designed rooms and public spaces. Tranquil, leafy setting. Contributing to local charitable programs.

Visa/MC/JCB/AMEX
Oum Khun Street, Old French Quarter.

Tel: +(855)(0)63-761998

Fax: +(855)(0)63-761999
reservation.sr@shintamani.com
http://shintamani.com

Victoria Angkor Resort & Spa
Range: $155++ - $455++

Located only 10 minutes away from the World Heritage site of the Angkor Temples, the Victoria Angkor Resort & Spa provides the elegant refinement of the French Art de Vivre with the comforts of a 5 star hotel. The unique 1930s colonial architecture exudes an air of timelessness as it stands in front of the Royal Gardens. Right in the heart of Siem Reap town, the resort features 120 rooms and 10 suites, all decorated with the distinctive Victoria touch - traditional wooden floors, colonial style furniture and original decorative artifacts reflecting the local history. Surrounding thick luscious greens provide complete relaxation and serenity. The open-air lobby is just another way to make you feel at home. Facilities include the Victoria Spa, the Victoria Kids Club, an outdoor salted swimming pool, 2 restaurants, and a bar.

Visa/MC/JCB/AMEX/TC
Central Park, P.O. Box 93145, Siem Reap, Cambodia.

Tel: +(855)(0)63-760428

+(855)(0)63-760550

Fax: +(855)(0)63-760350
resa.angkor@victoriahotels.asia
www.victoriahotels.asia
Superior Hotels ($85 per night and up)
Click on the hotel name for more photos and information
Alliance Tradition
Range: $125 - $280

Alliance Tradition boutique hotel is a unique traditional wooden villa enhanced by a lush tropical garden with a large salt water pool offering an ideal way to unwind at the end of the day. The villa is located near the splendor of the Wonder of the Angkor temples and just ten minutes from the old market, the river and the heart of vibrant Siem Reap city. Our boutique hotel promises privacy and exclusivity with only six guestrooms where you will enjoy all the comfort of the modern amenities while living the traditional Khmer way of live.

Visa/MC/JCB/AMEX/ACLEDA/ANZ/TC
#701, Group 7, Wat Bo, Siem Reap, Cambodia.

Tel: +(855)(0)17-809010

+(855)(0)63-964940

Fax: +(855)(0)63-964990
contact@alliancetradition.com
www.alliancetradition.com

Range: $112 - $190 (breakfast included)

Located in the historical and centrally located old French quarter, Angkor Sayana Hotel & Spa is Siem Reap's latest addition to the Cambodian boutique accommodation sector. Spacious, finely appointed rooms with all modern amenities and fine French colonial architecture. River and city view rooms with private balconies. Luxury international spa and swimming pool. Fine dining a lounge with fully stocked bar.

Visa/MC

Corner River Road and Wat Bo Village, Sala Kamroeuk Commune, Siem Reap, Cambodia.

Tel: +(855)(0)63-967999

+(855)(0)15-500186

Fax: +(855)(0)63-967998
realtime@angkorsayana.com
www.angkorsayana.com

Angkor Village Hotel
Range: $139 - $300 (breakfast included)

Unique, superior. Traditional wooden houses with all amenities in a manicured garden setting. Restaurant. Swimming pool. Traditional dance performances

Visa/JCB/MC/AMEX/TC
Wat Bo area, 5mn walk from the Old Market, Siem Reap, Cambodia.

Tel: +(855)(0)63-965561

Fax: +(855)(0)63-963363

FCC Angkor
Range: $90 - $330 (breakfast included)
Truly superior accommodations centrally located along the Siem Reap River and set amongst the mature trees and gardens of the quiet Old French Quarter. Smartly appointed rooms and suites outfitted with the finest amenities - flat screen TVs, broadband internet connectivity and more. Saltwater pool and spa treatment center (Visaya Spa & Pool.) Next to the famous FCC Angkor restaurant and bar.
Visa/MC/JCB/AMEX
Old French Quarter, Siem Reap, Cambodia.
Tel: +(855)(0)63-760280

Fax: +(855)(0)63-760281
www.fcccambodia.com

The Frangipani Villa Hotel
Range: $100 - $120 (breakfast included)

From the good people at Frangipani Villa in Phnom Penh, now offering a new hotel in Siem Reap with fully outfitted boutique style rooms. Real luxury at a reasonable price.

Visa/MC/TC
#0603,Wat Bo Street, Siem Reap City, Cambodia.

Tel: +(855)(0)63-963030

+(855)(0)16-581045

Fax:+(855)(0)63-966409

reservations@frangipanihotel.com

The Moon Boutique Hotel
Range: $115 - $275 (breakfast included)

Boutique hotel with smart, fully outfitted rooms all situated around a swimming pool and garden. Free wifi. Restaurant and bar.

Visa/MC
Wat Bo area, Siem Reap, Cambodia.

Tel: +(855)(0)63-964577

Fax: +(855)(0)63-964578

reservation@themoonboutiquehotel.com
www.themoonboutiquehotel.com

Navutu Dreams Resort & Spa
Range: $90 - $208

Luxury boutique resort with 18 beautifully decorated rooms set amongst a groomed garden and pool. Finely appointed, all modern amenities. For the discerning traveler.

Visa/MC
Angkor High School Road, Wat Bo area, Siem Reap, Cambodia.

Tel: +(855)(0)92-141694

+(855)(0)63-6880607
reservations@navutudreams.com
www.navutudreams.com

Range: $110 - $350
Luxury hotel on Airport Road. Spacious superior rooms and suites with hard wood floors, sophisticated Cambodian decor and all of the finest modern amenities.

Visa/MC/JCB/AMEX
Route #6, 'Airport Road,' between the Siem Reap International Airport and town center, Siem Reap, Cambodia.

Tel: +(855)(0)63-761818

Fax: +(855)(0)63-761020
siemreap@pacifichotel.com.kh
www.pacifichotel.com.kh

Range: $125 - $135 (breakfast included)

Boutique suites and villas designed and decorated in contemporary Khmer style. In a garden setting, around a swimming pool. Well-appointed a/c rooms with all modern amenities.
Visa/MC

Wat Damnak area, Siem Reap, Cambodia.
Tel: +(855)(0)88-8575389

Fax: +(855)(0)63-764234

Prince D'Angkor Hotel and Spa
Range: $80 - $400 (breakfast included)

Luxurious rooms, all finely decorated with traditional Khmer style furnishings and wooden floor. Extensive spa facilities. Salt water swimming pool.

Visa/AMEX
Sivatha Blvd., Siem Reap, Cambodia.

Tel: +(855)(0)63-763888

+(855)(0)63-963333

Fax: +(855)(0)63-963334
res@princedangkor.com
www.princedangkor.com

Saem Siem Reap Hotel
Range: $125 - $300 (breakfast included)

Superior hotel with well-appointed rooms 5-minute ride from the Old Market area. Tastefully decorated rooms with LCD-CTV, wooden floors and furniture.

Visa/MC/JCB/AMEX/TC
Kroum 6, Phoum Sala Kanseng, Siem Reap, Cambodia.

Tel: +(855)(0)63-763711

Fax: +(855)(0)63-763712
info@saemsiemreaphotel.com
www.saemsiemreaphotel.com

Sojourn Boutique Villas
Range: $120 - $220 (breakfast included)

With only ten villa-style rooms Sojourn offers unique services, dedicated staff and beautiful rooms. All rooms have pool views and tropical gardens surround. Fine dining.

Visa/MC/JCB
South of Siem Reap town, near Wat Athwea, Siem Reap, Cambodia.

Tel: +(855)(0)12-923437
info@sojournsiemreap.com
www.sojournsiemreap.com

Somadevi Angkor Hotel
Range: $100 - $180

Superior mid-town hotel offer 4-star facilities and services. Well-appointed rooms, swimming pool, restaurants, spa, fitness center and more.

Visa/MC/JCB
Sivutha Blvd, Mondol II Village, Siem Reap, Cambodia.

Tel: +(855)(0)63-967666

+(855)(0)63-766000

Fax: +(855)(0)63-967660
info@somadeviangkor.com
www.somadeviangkor.com

Tara Angkor Hotel
Range: $120 - $250 (breakfast included)

Superior hotel on the road to Angkor. Finely-appointed rooms with all modern amenities.

Visa/MC/JCB/AMEX
Road to Angkor Wat, Siem Reap, Cambodia.

Tel: +(855)(0)63-966661-2

Fax: +(855)(0)63-964444
E-mail: info@taraangkorhotel.com
Website: www.taraangkorhotel.com
Deluxe Hotels ($35 to $150 per night)
Click on the hotel name for more photos and information
Alliance Villa
Range: $17 - $39 (breakfast included)

Set in a garden in quiet part of town, close to the Old Market area. All rooms a/c, spotless, Khmer style wooden furniture and decor, modern amenities.

Visa/MC/JCB/AMEX
Steung Thmei village, Siem Reap, Cambodia.

Tel: +(855)(0)63-760169

+(855)(0)12-228066

Fax: +(855)(0)63-760085

Angkor Home Hotel
Range: $65 - $110 (breakfast included)

Well-appointed guest rooms and suites which combine modern facilities and amenities. Rooms with hardwood floors, oversize beds, executive writings desks. Swimming pool. Spa.

Visa/MC
Phum Salar Kanseng, Khum Svay DangKum, Siem Reap, Cambodia.

Tel: +(855)(0)63-969797

Fax: +(855)(0)63-969795
sales@angkorhomehotel.com
www.angkorhomehotel.com

Apsara Centrepole Hotel
Range: $30 - $100

19 room boutique hotel. All rooms with modern appliances, free wifi. Restaurant serving Western dishes. Salt-water pool, lush garden. One minute from Pub Street.. Visa/MC/JCB/AMEX
Old Sok San Street, just off of Sivutha.

Tel: +(855)(0)63-968096

+(855)(0)63-968098
book@apsaracentrepole.com
www.apsaracentrepole.com

Borann l'Auberge des Temples
Range: $49 - $59 (breakfast included)
20 rooms. Five bungalows set in the middle of a beautiful flowery garden. Each room includes private bathroom and individual terrace. Nice, quiet area.
Behind Sawasdee Restaurant, Siem Reap, Cambodia.
Tel: +(855)(0)63-964740

Fax: +(855)(0)63-964730
info@borann.com
www.borann.com

Central Boutique Angkor Hotel
Range: $40 - $60 (breakfast included)

Bungalow style rooms situated around a swimming pool with all rooms facing the pool. Restaurant and western food. Pool side and bar. Tour services.

Visa/MC/JCB
Taphul Village area, Siem Reap, Cambodia.

Tel: +(855)(0)63-764028

+(855)(0)63-764029

Fax: +(855)(0)63-764031
info@centralboutiqueangkorhotel.com
www.centralboutiqueangkorhotel.com

Dyna Boutique Hotel
Range: $50 - $165

New boutique style hotel offering 26 nicely appointed room with flat screen TV and free wifi. Swimming pool. Massage and spa. Restaurant.

Visa/MC
Phum Salar Kanseng, Khum Svay DangKum, Siem Reap, Cambodia.

Tel: +(855)(0)63-968881

+(855)(0)63-968882

Fax: +(855)(0)63-968883
reservation@dynaboutiquehotel.com
www.dynaboutiquehotel.com

Golden Banana B&B and Superior
Range: B&B $20 - $28, Superior $28 - $40 (breakfast included)
Quiet garden setting on the east side of the river just a 5mn walk from the Old Market. Friendly, welcoming staff. Gay friendly place. Swimming pool.

Visa/MC/JCB/ANZ
Wat Damnak area, Siem Reap, Cambodia.
Tel: +(855)(0)12-885366

+(855)(0)12-287988

+(855)(0)63-761259
info@golden-banana.com
www.golden-banana.com

Golden Banana Boutique Hotel
Range: $50 - $75 (breakfast included)

Traditional two floor pagoda style villas around a salt water pool. Gay-friendly, personal approach. Quiet area near the river, 5mn walk from Old Market.

Visa/MC/ANZ
Wat Damnak area, Siem Reap, Cambodia.

Tel: +(855)(0)12-654638

+(855)(0)63-766655

Fax: +(855)(0)63-964008
goldenbanana2@gmail.com
www.goldenbanana.info

Golden Banana Boutique Resort
Range: $70 - $105 (breakfast included)

Deluxe Suites and Villas in modern Asian style build around a salt-water pool. Private balcony or terrace with outdoor bathtub/splash shower. Gay-friendly. 3mn walk to Old Market.

Visa/MC/ANZ
Wat Damnak area, Siem Reap, Cambodia.

Tel: +(855)(0)12-654638

+(855)(0)63-766655

Fax: +(855)(0)63-964008
goldenbanana2@gmail.com
www.goldenbanana.info

Range: $25 - $95 (breakfast included)

Comfortable new hotel in the central Wat Bo area. Rooms decorated and furnished with an East Asian ambiance and equipped with amenities including a/c, LCD-TV with satellite, free in-room wifi, desk and chair, wardrobe, en suite bathroom with hot water (some with bathtub) and some rooms with living room and kitchenette. Swimming pool with poolside bar and cafe.

Visa/MC

#20, Junction Wat Bo Road, Siem Reap, Cambodia.

Tel: +(855)(0)63-965626

+(855)(0)63-968448

Fax: +(855)(0)63-965623
book@golden-dynasty.com
www.golden-dynasty.com

La Niche d'Angkor Boutique
Range: $60 - $100 (breakfast included)

Small family-style boutique hotel, centered on the swimming pool and lush tropical garden. A/c rooms in a modern, simple, natural, comfortable style. In-room wifi.

Visa/MC
Wat Bo Area, Siem Reap, Cambodia.

Tel: +(855)(0)63-968978

+(855)(0)99-888108

Fax: +(855)(0)63-968979
info@lanichedangkor.com
www.lanichedangkor.com

La Noria Hotel
Range: $39 - $49 (breakfast included)
Nice, quiet bungalows with a/c and private veranda. All wooden French/Khmer restaurant. Traditional shadow puppet show every Wednesday evening. Swimming pool. Massage. Popular. Good reviews and friendly staff (French and English spoken.)
Visa/MC/JCB
On the east side of the river 50 meters north of Rte. #6, Siem Reap, Cambodia.
Tel: +(855)(0)63-964242

Fax: +(855)(0)63-964243
info@lanoriaangkor.com

Lin Ratanak Angkor Hotel
Range: $40 - $60 (breakfast included)

97 rooms. Well appointed rooms with all amenities. Swimming pool. International restaurant. Internet. Located in a pleasantly quiet area.

Visa/MC/JCB/AMEX
Behind Phsar Samaki, 100 meters off Route #6, Siem Reap, Cambodia.

Tel: +(855)(0)63-969888

Fax: +(855)(0)63-969884
info@linratanakangkor.com
www.linratanakangkor.com

Range: $49 - $90 (breakfast included)

Located in the heart of Siem Reap and near the Angkor Temples, Men's is a new "exclusively for men" resort. Guests can relax in the friendly, cozy, stylish atmosphere. The Men's complex is designed to provide a wide range of services for gay men. Fourteen rooms, each offering a specific atmosphere through original and sensitive design. Saltwater swimming pool. Men's spa, sauna and massage. Pool bar and restaurant.

Visa/MC/JCB

Wat Po Lanka area, Siem Reap, Cambodia.

Tel: +(855)(0)63-963503

+(855)(0)89-787600

Fax: +(855)(0)63-963504
info@mens-resort.com
www.mens-resort.com

The Moon Villa & Spa
Range: $45 - $68 (breakfast included)

Brand new mid-town, affordable mid-range hotel in the Old Market area. Promising a/c rooms with a full range of amenities including mini-bar and in-room wifi.

Visa/MC
Old Market area, Sivutha Road, Siem Reap, Cambodia.

Tel: +(855)(0)63-968567

Fax: +(855)(0)63-969567

Mystères d' Angkor
Range: $45 - $84
Welcoming, family-atmosphere. Stylish, a/c, pavilion- style accommodations in a garden setting. Pleasantly quiet area. Guesthouse restaurant and bar serving a set menu of Cambodian dishes. Pool table and terrace seating. Souvenirs. Swimming pool.
Visa/MC/JCB/AMEX
Near Wat Po Lanka, Siem Reap, Cambodia.
Tel: +(855)(0)12-537715

Tel/Fax: +(855)(0)63-963639
info@mysteres-angkor.com
www.mysteres-angkor.com

Range: $40 - $250

Finely appointed rooms. Unique design combining detailed woodwork with modern facilities. Hardwood floors, Khmer-inspired decor and furnishing.
Visa/MC
Taphul Road, Siem Reap, Cambodia.

Tel: +(855)(0)63-760544

+(855)(0)97-8666994
www.newangkorlandhotel.com

New Riverside Hotel
Range: $15 - $40 (breakfast included)

Brand new hotel offering a/c rooms with all amenities. Swimming pool. Free internet and wifi, airport/ferry/bus pickup, transport to the Old Market area.

Visa/MC
750m east of the Old Market Corner, Lok Ta Neauy Road, Siem Reap, Cambodia.

Tel: +(855)(0)12-550055

+(855)(0)12-999952

+(855)(0)97-5555526
booking_riverside@yahoo.com
www.newriversidehotel.com

Phoum Khmer Boutique Hotel
Range: $35 - $80 (breakfast included)

Nicely appointed rooms with all wooden furniture and finishing touches. Set in a peaceful area. Restaurant, spa, kid's play area.

Visa/MC/JCB/AMEX
Phum Sala Kanseng (200m from Road #6), Siem Reap, Cambodia.

Tel: +(855)(0)63-761405

+(855)(0)77-353559

Fax: +(855)(0)63-761405
book@phoumkhmerangkor.com
www.phoumkhmerangkor.com

Soria Moria Hotel
Range: $40 - $65

Boutique hotel offering deluxe rooms, fusion kitchen serving Asian, Scandinavian and Japanese food, rooftop bar, wifi, tours and more.

Visa/MC/ANZ
Wat Bo Road, Siem Reap, Cambodia.

Tel: +(855)(0)63-964768

+(855)(0)12-1899200

Fax: +(855)(0)63-964769
Standard Hotels and Guesthouses ($10 to $60 per night)
Click on the hotel name for more photos and information
Alliance Villa
Range: $17 - $39 (breakfast included)

Set in a garden in quiet part of town, close to the Old Market area. All rooms a/c, spotless, Khmer style wooden furniture and decor, modern amenities.

Visa/MC/JCB/AMEX
Steung Thmei village, Siem Reap, Cambodia.

Tel: +(855)(0)63-760169

+(855)(0)12-228066

Fax: +(855)(0)63-760085

Angkor Dream Villa
Range: $10 - $30

Boutique-style bed & breakfast with 16 nicely decorated guestrooms. All rooms with a/c, CTV, free wifi and private bathroom with hot water.
Sivutha Street, south of town, Siem Reap, Cambodia.

Tel: +(855)(0)12-866746

+(855)(0)92-374038
booking@angkordreamvilla.com
www.angkordreamvilla.com

Angkor Friendship Inn
Range: $11 - $25 (breakfast included)

Friendly guesthouse offering clean, large rooms with a/c, CTV, fridge, in-room safe, wifi and private bathroom with hot water. Swimming pool, massage, restaurant. Secured parking.

Visa/MC
Just off Sivatha Blvd., 300m south of the Old Market, Siem Reap, Cambodia.

Tel: +(855)(0)63-965197
+(855)(0)89-897021

Reservation@angkorfriendshipinn.com
http://angkorfriendshipinn.com

Angkor Park Guesthouse
Range: $10 - $25

Clean, new, family run guesthouse joust 100 meters south of the Old Market. Quiet rooms with color TV, nice wood desk and en suite bathroom with hot water. Free wifi.
Just south of the Old Market area, Siem Reap, Cambodia.

Tel: +(855)(0)63-761663

+(855)(0)17-481772
+(855)(0)12-858492
angkorpark@gmail.com

Angkor River Guesthouse
Range: $15 - $35

New hotel offering fan and a/c rooms with cable TV, fridge, in-room safe, in-room wifi, en suite bathroom with hot/cold water. Restaurant and bar. Traveler services.

Visa/MC/JCB/AMEX
Wat Damnak area, Siem Reap, Cambodia.

Tel: +(855)(0)63-968696

+(855)(0)92-668026

Fax: +(855)(0)63-968796
info@angkorriverguesthouse.com
www.angkorriverguesthouse.com

Antanue Spiritual Resort & Spa
Range: $20 - $60 (breakfast included)

A/c rooms, nicely decorated with a Japanese touch, some with pool view. Located 5-minutes from the Old Market area, but away from the city noise.

Visa/MC
#0314, Wat Damnak Village, Siem Reap, Cambodia.

Tel: +(855)(0)63-965230

+(855)(0)12-356225

Fax: +(855)(0)63-965235
dana@antanue.asia
www.antanue.com

Baca Villa
Range: $17 - $20 (breakfast included)

Luxury garden setting with swimming pool in quite area with trees and flowers and all what you need or wishes. International and Khmer food and drinks served 24 hours.
Phlov Bom Bek Tavien, behind Phsar Leu Market.

Tel: +(855)(0)63-965328

+(855)(0)12-766357

Baray Spa Villa
Range: $25 - $35 (breakfast included)

New villa-style hotel. Rooms with all modern amenities: a/c, CTV, DVD, mini-bar, safe and free wifi. Free airport pick-up.

Visa/MC
Vihea Chin Village, (Behind Svay Dangkum Police Office)

Tel: +(855)(0)85-822222

+(855)(0)83-558866
barayspavilla@gmail.com
www.barayspa-villa.com

Bopha Pollen Hotel
Range: $20 - $80 (breakfast included)

Nicely appointed a/c rooms with CTV, fridge, phone, safe box and free wifi. 3-minute ride from Pub Street, Old Market, night markets, etc.

Visa/MC
#202, Taphul Village, Siem Reap, Cambodia.

Tel: 063-965899

Fax: 063-966899
reservation@bophapollenhotel.com
www.bophapollenhotel.com

Freedom Hotel
Range: $15 - $60
Wide range of rooms. Very helpful staff. Very good reviews and comments from guests. Good restaurant. Silks on sale. Fitness room..
Visa/MC/JCB/AMEX

On Route #6 just west of Phsar Leu, Siem Reap, Cambodia.
Tel: +(855)(0)63-963473

+(855)(0)63-964275
Fax: +(855)(0)63-964274
info@freedomhotel.info
www.freedomhotel.info

Golden Banana B&B and Superior
Range: B&B $20 - $28, Superior $28 - $40 (breakfast included)
Quiet garden setting on the east side of the river just a 5mn walk from the Old Market. Friendly, welcoming staff. Gay friendly place. Swimming pool.

Visa/MC/JCB/ANZ
Wat Damnak area, Siem Reap, Cambodia.
Tel: +(855)(0)12-885366

+(855)(0)12-287988

+(855)(0)63-761259
info@golden-banana.com
www.golden-banana.com

Range: $15 - $160

Comfortable new hotel in the Wat Bo area. Rooms decorated and furnish with an East Asian ambiance and equipped with amenities including a/c, LCD-TV with satellite, free in-room wifi, desk and chair, wardrobe, en suite bathroom with hot water (some with bathtub,) and some rooms with kitchette. Swimming pool with poolside bar and cafe.

Visa/MC

#20, Junction Wat Bo Road, Siem Reap, Cambodia.

Tel: +(855)(0)63-965626

+(855)(0)63-968448

Fax: +(855)(0)63-965626
book@golden-dynasty.com
www.golden-dynasty.com

Lom Ang Chan Angkor Hotel
Range: $20 - $70 (breakfast included)

Nicely appointed a/c rooms with all amenities. Some rooms with balcony. Restaurant serving Cambodian and international dishes. Terrace bar.

Visa/MC
Lok Taneuy Street, Siem Reap, Cambodia.

Tel: +(855)(0)78-867979

+(855)(0)63-967768

Fax: +(855)(0)63-967767
info@lomangchanangkorhotel.com
www.lomangchanangkorhotel.com

Mekong Angkor Palace
Range: $20 - $40 (breakfast included)

Clean, fan and a/c rooms in a villa-style guesthouse in the center of town. Swimming pool. Restaurant serving Khmer and Western food.

Visa/MC
Sivatha Blvd, behind MekongBank, Siem Reap, Cambodia.

Tel: +(855)(0)63-963636

+(855)(0)12-836343

Fax: +(855)(0)63-964651
info@mekongangkorpalaces.com
www.mekongangkorpalaces.com

Mom's Guesthouse
Range: $10 - $25 (breakfast included)
30 rooms. Well-known, long-established guest house on Wat Bo Road. Clean, fan and a/c rooms with all amenities (cable TV, fridge, hot water) and en suite bathroom. Internet, international telephone/fax. Tours, transportation, ticketing, etc. Small restaurant.

Visa/MC
Wat Bo Road, Siem Reap, Cambodia.
Tel: +(855)(0)12-32088

+(855)(0)12-630170
Tel/Fax: +(855)(0)63-964037
moms@online.com.kh
www.momguesthouse.com

New Riverside Hotel
Range: $15 - $40 (breakfast included)

Brand new hotel offering a/c rooms with all amenities. Swimming pool. Free internet and wifi, airport/ferry/bus pickup, transport to the Old Market area.

Visa/MC
750m east of the Old Market Corner, Lok Ta Neauy Road, Siem Reap, Cambodia.

Tel: +(855)(0)12-550055

+(855)(0)12-999952

+(855)(0)97-5555526
booking_riverside@yahoo.com
www.newriversidehotel.com

Rega Le Toit
Range: $20 - $25

Clean, affordable guesthouse in a garden setting. Fan and a/c rooms with in-room wifi. Family friendly atmosphere. Baby sitting services available.
#632, Phum Sala Kanseng, Siem Reap, Cambodia.

Tel: +(855)(0)12-369102

+(855)(0)12-496962
regasiemreap@gmail.com
http://regasiemreap.wordpress.com

Retreat Villa Boutique
Range: $20 - $65

Unique little hotel in the Wat Bo area. Garden setting with rooms done on teak wood and terra cotta. King and twin beds. Free wifi. Swimming pool.

Visa/MC
# 0126, Wat Bo Road, Siem Reap, Cambodia.

Tel: +(855)(0)63-762727

+(855)(0)63-210102

Fax: +(855)(0)63-764235

Sawasdee Angkor Inn
Range: $15- $35 (breakfast included)

Stylishly finished, very clean bungalows in a quiet garden setting. Free boat/airport transfer on request. Good Thai/International restaurant.

Visa/MC
Soksan Street, off Sivutha Blvd, Svaydangkum, Siem Reap, Cambodia.

Tel: +(855)(0)63-965748

+(855)(0)92-376273

+(855)(0)17-900023
sawasdee_angkor@hotmail.com
www.sawasdeeangkor.com

Range: $15 - $25

The only guesthouse with a central riverside location set in a distinguished French colonial building. Good value and warm atmosphere. All amenities. Some balconies. 30% until 30 Sept 2011

Visa/MC/JCB
On the riverside near the Old Market.

Tel: +(855)(0)63-964774
+(855)(0)12-968881

Shadow of Angkor II
Range: $15 - $35

Mid-range hotel on Wat Bo road. Great value. All rooms are modern and spacious with a/c, good bathroom and all amenities. Most have balconies. Free wifi. Swimming pool with bar. 30% until 30 Sept 2011

Visa/MC/JCB
Wat Bo Road, near Shadow of Angkor I, Siem Reap, Cambodia.

Tel: +(855)(0)63-760363

+(855)(0)97-9995273
shadowofangkor@gmail.com
www.shadowofangkor.com

Tanei Guesthouse
Range: $12 - $35 (breakfast included)

Free pick-up service. Clean rooms with a/c, fan, fridge, wifi and en suite with hot water. Friendly staff. Private swimming pool. Jacuzzi. Restaurant. Tourist services.

Visa/MC
Neighborhood off Sivutha Rd. opposite the Old Market area.

Tel: +(855)(0)92-865150

+(855)(0)12-757867
info@taneiguesthouse.com

Two Dragons Guesthouse
Range: $15 - $25
Newly refurbished, immaculately clean rooms. Good Thai restaurant. Relaxed, friendly atmosphere. Cold beer. Great reviews. Tonle Sap tours.

Visa/MC
Wat Bo area, Siem Reap, Cambodia.
Tel: +(855)(0)63-965107
info@twodragons-asia.com

Velkommen Guesthouse
Range: $16 - $30

New guesthouse from the Velkommen Phnom Penh. Clean comfortable double, twin and group rooms. Located opposite the National Museum. Lovely 15-minute walk along the river to the Old Market area and Pub Street. Free WiFi 3.5Mbs.
Group 4, Mondul III Village, Siem Reap, Cambodia.

(East of Angkor National Museum Traffic Light 100meters)

Tel: +(855)(0)12-477270

+(855)(0)12-477271
www.velkommenguesthouse.com

Viva! Mexican Café & Hotel
Range: $20 - $35

Old Market area hotel with fully outfitted, reasonably priced rooms. Free high speed internet. A/c, cable, fridge, phone, safe, wifi and hot water.

Visa/MC
Old Market area, Siem Reap, Cambodia.

Tel: +(855)(0)77-478633
vivasiemreap@yahoo.com
www.vivahotelsiemreap.com
Budget Hotels and Guesthouses (Less than $10 to $20 per night)
Click on the hotel name for more photos and information
Angkor Park Guesthouse
Range: $10 - $25

Clean, new, family run guesthouse joust 100 meters south of the Old Market. Quiet rooms with color TV, nice wood desk and en suite bathroom with hot water. Free wifi.
Just south of the Old Market area, Siem Reap, Cambodia.

Tel: +(855)(0)63-761663

+(855)(0)17-481772
+(855)(0)12-858492
angkorpark@gmail.com

Bun Kao Guesthouse
Range: $3 - $20

Family-run guesthouse on a quiet cul de sac just off of Wat Bo Road. Clean fan and a/c rooms with CTV, en suite bathroom with hot water. Internet. Restaurant.
Wat Bo area, Siem Reap, Cambodia.

Tel: +(855)(0)63-966589

+(855)(0)12-256705
bunkaosiemreap@gmail.com
www.bunkaoguesthouse.com

The City Garden Villa
Range: $3.5 - $25 (breakfast included)

Offering a wide range of budget priced rooms, from $3.5 dorm beds to $25 a/c-family room, and several choices in between. Full tour and transportation services.

Visa/MC
Route #6, 665-Group 7, (Near Sokha Angkor Hotel-behind Banteay Srey Restaurant 70m), Siem Reap, Cambodia.

Tel: +(855)(0)92-500885

+(855)(0)63-6461168

Fax: +(855)(0)63-965063
info@thecity-angkor.com
www.thecity-angkor.com

Downtown Siem Reap Hostel
Range: $4 - $22

Only 200 meters to Pub Street, in a quiet location away from all the traffic. Basic rooms with en-suite bathroom and hot water, good food and bar, great swimming pool, English owned and managed a very social hostel.
Wat Damnak Area, Siem Reap, Cambodia.

Tel: +(855)(0)12-675881
mark-healey@hotmail.com

Garden Village Guesthouse
Range: $1 - $18

Long established budget/backpacker guesthouse in a quiet neighborhood. $1 dorm beds. Lots of services. Restaurant. Bar. Tour services. Good value.
Old Market Area, Siem Reap, Cambodia.

Tel: +(855)(0)12-217373
gardenvillage@asia.com
www.gardenvillageresort.com

Jasmine Lodge
Range: $6 - $22 (breakfast included)
Family-run guesthouse. Fan and a/c rooms with cable TV and hot shower. Very reasonably priced rooftop restaurant, with a nice night-time breeze. Pool table. DVDs, CDs, VCD music.

Visa/MC/JCB/AMEX
Route #6, 'Airport Road,' near town, Siem Reap, Cambodia.
Tel: +(855)(0)12-784980

+(855)(0)12-530843

+(855)(0)63-760697
kunn@jasminelodge.com
www.jasminelodge.com

The King Angkor Villa & Spa
Range: $6 - $25

Clean, sharp, affordable fan and a/c rooms in the center of town within a couple of minutes walk from Pub Street and the Night Markets.

Visa/MC/JCB/AMEX/TC
#251, Tep Vong Street, Siem Reap, Cambodia.

Tel: +(855)(0)12-930011

+(855)(0)63-6902490

Fax: +(855)(0)63-760655
thekingangkorvilla@hotmail.com
www.thekingangkorvilla.com

Ladybug Guesthouse
Range: $8 - $25

Clean, stylish, affordable new guesthouse offering fan or a/c rooms with CTV, fridge, hot water, balcony and free wifi. Tour and travel assistance.

Visa/MC
Steung Thmey, Svay Dang Kum, Siem Reap, Cambodia.

Tel: +(855)(0)77-229999

+(855)(0)15-999982

+(855)(0)63-6363498
info@ladybugguesthouse.com
www.ladybugguesthouse.com

Lom Ang Chan Hotel
Range: $8 - $25

Clean, affordable a/c and fan rooms with cable TV, fridge, free wifi and en-suite bathroom with hot water. Internet available.
National Road 6, Siem Reap, Cambodia.

Tel: +(855)(0)89-272776

+(855)(0)63-967775

Fax: +(855)(0)63-967776
lomangchan@ymail.com
www.facebook.com/lomang.chan

Mandalay Inn
Range: $7 - $20
Friendly management, family atmosphere. Commission-free, hassle-free. Free wifi. Complete tour agent desk. Good home cooked Burmese and Khmer food.

Visa/MC
Psar Kroung Road (200 m from Old Market), Viheachan Village, Svaydangkum commune, Siem Reap, Cambodia.
Tel: +(855)(0)63-761662
+(855)(0)92-865356
+(855)(0)11-402161
reservation@mandalayinn.com
www.mandalayinn.com

Mangolo Hostel Angkor
Range: $2.5 - $3

Budget hostel in a traditional Cambodian house in the Wat Damnak area. Very affordable dorm beds. Free wifi. Pool table. Bicycles. 5-minute walk from Pub Street.
#0123, Phum Wat Damnak, Siem Reap, Cambodia.

Tel: +(855)(0)63-967877

+(855)(0)10-751807
mangolo.reception@gmail.com
www.mangolo.info

Mom's Guesthouse
Range: $10 - $25 (breakfast included)
30 rooms. Well-known, long-established guest house on Wat Bo Road. Clean, fan and a/c rooms with all amenities (cable TV, fridge, hot water) and en suite bathroom. Internet, international telephone/fax. Tours, transportation, ticketing, etc. Small restaurant.

Visa/MC
Wat Bo Road, Siem Reap, Cambodia.
Tel: +(855)(0)12-32088

+(855)(0)12-630170
Tel/Fax: +(855)(0)63-964037
moms@online.com.kh
www.momguesthouse.com

New Siem Reap Town
Range: $7 - $30

Reasonably priced a/c rooms with all modern amenities. Located east of town center in the Phsar Leu area. Free wifi. Restaurant.

Visa/MC
#149, National Road #6, Siem Reap, Cambodia.

Tel: 063-6906163

063-693591

Fax: 063-693431
info@newsiemreaptownhotel.com
www.newsiemreaptownhotel.com

Oral d'Angkor Guesthouse
Range: $8 - $20 (breakfast included)

Brand new, comfortably appointed fan and a/c rooms with Cable TV, in-room wifi and en suite bathroom with hot/cold water. Restaurant. Quiet part of town.

Visa/MC
#327, Stung Thmey Village, Tep Vong Street, Siem Reap, Cambodia.

Tel: +(855)(0)63-6483399

+(855)(0)17-922689

Fax: +(855)(0)63-967344
sinsokhen@oraldangkor.com
www.oraldangkor.com

Prohm Roth Guesthouse
Range: $7 - $28

"Highly Recommended" by Wikitravel. A small but smart brand new budget guesthouse managed my local Khmer brothers. Clean & comfortable twin, double and triple rooms equipped with Cable TV, A/C, fan and en-suite bathroom, toiletries and some with hot shower. Centrally and conveniently located on the Pub Street extension in the Old Market area, 50 yards from the scenic Siem Reap River walk, the Independence Garden, 15 minutes ride from the airport and to Angkor Wat temples. You'll be served by attentive and trustworthy team who also arranges temple tours and transportation for you. Your 'confirmed' booking entitles you FREE pick up from airport, bus and ferry.
Pub Street extension, Old Market area, Siem Reap, Cambodia.

Tel: +(855)(0)12-466495

+(855)(0)17-356817

The Prohm Roth Inn
Range: $7 - $28 (breakfast included)

Family-run, newly refurbished guesthouse with fan and A/C rooms with CTV, and en-suite bathroom. All rooms with window. Some with balconies. In-room wifi.
# 72, Wat Bo Road, Wat Bo Area, Siem Reap, Cambodia.

Tel: +(855)(0)12-466495

+(855)(0)97-9334337
booking@prohmroth-inn.com
www.prohmroth-inn.com

Range: $8 - $20

Sam So Guesthouse is a charming budget guesthouse located in the heart of Siem Reap city. It is just 5 minute walk to the Old Market, night market and just about 10 minute drive to Angkor Wat or Angkor Site. Our guesthouse has 19 rooms ( fan and air-con rooms). Each room has private bathroom (hot and cold water shower), cable TV, fridge. Our guesthouse is Cambodian run family guesthouse. It is very peaceful, relaxed atmosphere, very clean. Our staff are very friendly and helpful. Our guesthouse has free wifi (free internet access.) Tour arrangements. Free airport pick-up.

Wat Bo Road, Wat Bo village, Siem Reap, Cambodia.

Tel: +(855)(0)97-6699813

+(855)(0)12-602956

+(855)(0)12-630590

Tara Angkor Hotel
Range: $120 - $250 (breakfast included)

Superior hotel on the road to Angkor. Finely-appointed rooms with all modern amenities.

Visa/MC/JCB/AMEX
Road to Angkor Wat, Siem Reap, Cambodia.

Tel: +(855)(0)63-966661-2

Fax: +(855)(0)63-964444
E-mail: info@taraangkorhotel.com
Website: www.taraangkorhotel.com

Ta Som Guesthouse
Range: $8 - $21 (breakfast included)

31 rooms. Well-established, family-run guesthouse on airport road in town. Clean fan and a/c rooms with amenities. Khmer/international restaurant. All tourist /traveler services.
#268 Nat. Route 6, (Airport Road,) Taphul Village, Siem Reap, Cambodia.

Tel: +(855)(0)63-964970

+(855)(0)12-830170

Fax: +(855)(0)63-967268
info@tasomguesthouse.com
www.tasom-guesthouse.com

Victory Guesthouse
Range: $5 - $18 (breakfast included)

Khmer family owned and run guest house. 50 clean fan and a/c rooms with hot water shower and CTV. Khmer style restaurant, serving Khmer and Western cuisine.
Road No. 6, Taphul Village, Siem Reap, Cambodia.

Tel: +(855)(0)12-516566

+(855)(0)63-6909181
victoryguesthouse@yahoo.com
www.victoryguesthouse.com