Siem Reap Hotels & Guesthouses (by price)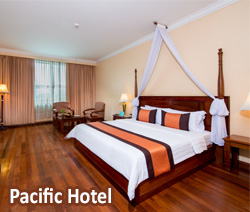 Siem Reap has an ever-growing number of hotel rooms, and a variety wide enough to satisfy most tastes and requirements. As there are no hotels within the Angkor Park most visitors stay in or near Siem Reap town. Though staying right in the middle of town is a bit more convenient to the popular Old Market, Pub Street and Sivutha road areas, the town area is relatively small and most hotels are no father than a 5-10 minute tuk-tuk ride of the Old Market area.
The airport is 6km west of town, a 15 minute ride from town center. The Angkor Park entrance lies 5km north of town. Hotels are spread relatively evenly across town, though there are some particularly popular areas: 1) the Old Market/Pub Street area with a wide range of hotels guesthouses, dining, shopping and nightlife; 2) several 3 and 4-star hotels on Airport Road and the road to Angkor; 3) budget places in the Wat Bo and Taphul Village areas; 4) a variety of mid-range hotels, restaurants and shopping through the center of town along Sivutha Blvd.
Rooms with A/C, CTV and hot water begin as low as $15 but average $25 to $60; boutique hotels run $50 to $300+ and 5-stars start at $220. At the other end of the spectrum, budget guesthouses can run as little as $3-$20.
| | | | | |
| --- | --- | --- | --- | --- |
| $150+ | $85+ | $35-$150 | $10-$60 | $10-$20 |
Luxury Hotels ($150 per night and up)
Click on the hotel name for more photos and information
Anjali By Syphon
Range: $80 - $280

Located 12 minutes from the airport, the hustle and bustle of Siem Reap city center and the magnificent temples of Angkor Wat, this hidden green oasis is peacefully designed in harmony with its surroundings and shaped by the local culture. Each of the 29 rooms has either a balcony or terrace & pool access.

Tel: 063-965600

| | |
| --- | --- |
| #1705, Korean-Cambodian Friendship Road 30 | |
Range: $155 - $575 (breakfast included)

Charming luxury boutique hotel featuring 26 well-designed, spacious suites and rooms, located a block from the Siem Reap River. An atmosphere of "sophisticated, genuine hospitality."Saltwater pool, spa, fine dining restaurant and 'Zinc Bar'. Visa/MC/JCB
Tel: 063-969100, 063-969101, 063-969102

| | |
| --- | --- |
| Wat Polangka | |
Jaya House River Park
Range: $278 - $370

Peacefully located alongside the Siem Reap River, surrounded by fully grown trees. Beautifully designed inside and out with a focus on giving back to the community via local initiatives. Visa/MC/JCB
Tel: 063-962555, 069-487927

| | |
| --- | --- |
| River Road, Triang Village | |
Range: $245 - $292

Stylish 12 room hotel on the river in the center of town. Very well appointed, exquisitely decorated rooms perfect for couples, honeymooners and families. Visa/MC

Tel: 063-968000, 063-968187
reservations@larivieredangkor.com
www.larivieredangkor.com

| | |
| --- | --- |
| River Rd, corner of Tep Vong St, Old French Quarter | |
Lotus Blanc Resort
Range: $54 - $412

Upscale hotel offering well-appointed, nicely dcorated rooms and suites. Complete hotel facilities - dining, bar, pool, gym, conference.... Visa/MC/JCB/ANZ/TC

Tel: 063-969300

| | |
| --- | --- |
| National Road 6, Krous Village | |
Lynnaya Urban River Resort
Range: $100 - $1500

Contemporary living spaces - rooms, suites and cottages - wonderfully decorated and arranged, very well-appointed. Overlooking the river, town center. Visa/MC

Tel: 063-967755, 012-980074
info@lynnaya.com
www.lynnaya.com

| | |
| --- | --- |
| Street 20, corner of Achar Sva Street, on the river | |
Memoire d'Angkor Boutique Hotel

Range: $40 - $170

Memoire d'Angkor Boutique Hotel is located along Sivatha road, just 7 km from airport and Angkor Wat, and a five-minute walk to Pub Street in the city centre. With 48 beautifully decorated rooms and suites, this also offers a gym, spa and contemporary Cambodian art shopping on site.

Tel: 063-766999

| | |
| --- | --- |
| #54, Sivutha Rd | |
Range: $70 - $200

Just 10 minutes away from the famed Angkor Temples, a stunning display of contemporary architecture and traditional art sits amidst lush gardens and greenery the Memoire Palace Resort & Spa offers a wide range of activities, events and room options.

Tel: 063-766588

| | |
| --- | --- |
| Psar Kraoum Rd | |
Range: $50 - $460

5 star luxury a 5 min ride from the centre of Siem Reap, offering residences with enough room for the entire family. Spa and a 5 star restaurant on-site, as well as regular live traditional dance performances in the palm garden. Tour booking and transport rentals also available.

Tel: 063-766388, 015-838888

| | |
| --- | --- |
| Salakamreuk Rd | |
Range: $110 - $350
236 well-appointed rooms and suites. The hotel blends authentic Khmer architecture with contemporary Western design. Free wifi. Swimming pool. Visa/MC/JCB/AMEX

Tel: 063-761818
Shinta Mani Resort
Range: $225 - $300

Upscale boutique hotel. Contemporary, Khmer inspired designed rooms and public spaces. Tranquil, leafy setting. Contributing to local charitable programs. Visa/MC/JCB

Tel: 063-761998, 012-211988

| | |
| --- | --- |
| Oum Khun Street, Old French Quarter | |
Silk D'Angkor Suite
Range: $200 - $500

Spacious, individual luxury villas with all modern comforts and a few more, including private rooftop swimming pools. Living room, fully equipped kitchen, bathtub. Visa/MC
Tel: 063-900050, 088-2999923

| | |
| --- | --- |
| #37 Slorkram, north of Route #6, on the way to Angkor | |
Sofitel Angkor Phokeethra Golf & Spa Resort

Range: $150 - $470++

A premier 5-star hotel in Siem Reap. Elegant, beautifully appointed rooms and suites. World-class 18-hole golf course 25 minutes from the hotel. Visa/MC/JCB/AMEX

Tel: 063-964600 063-964601
h3123@sofitel.com

| | |
| --- | --- |
| Charles de Gaulle Av (road to Angkor) | |
Sokha Angkor Resort
Range: $105 - $250

Five-star accommodation, town center, from the Sokha family of upscale hotels,, also in Phnom Penh, Sihanoukville and kampot. Luxury, Khmer-inspired, fully modern rooms, superior facilities and F&B outlets. Visa/MC/JCB/AMEX/DC/UP
Tel: 063-969999

| | |
| --- | --- |
| National Route #6 and Sivutha Blv | |
Tara Angkor Hotel
Range: $120 - $250 (breakfast included)

Superior hotel on the road to Angkor. Finely-appointed rooms with all modern amenities. Visa/MC/JCB/AMEX

Tel: 063-966661, 063-966662

| | |
| --- | --- |
| Charles de Gaulle Av. | |
Victoria Angkor Resort & Spa
Range: $155++ - $455++

The elegant refinement of the French Art de Vivre with the comforts of a 5 star hotel. Wooden floors, colonial style furniture and original decorative artifacts reflecting local history. Visa/MC/JCB/AMEX/TC

Tel: 063-760428, 063-760550

| | |
| --- | --- |
| Central Park, P.O. Box 93145 | |
Superior Hotels ($85 per night and up)
Click on the hotel name for more photos and information
Angkor Paradise Hotel
Range: $65 - $550++

Nested in Siem Reap Central Area with walking distance to Shopping mall, duty free shop, old market, night markets, Angkor Museum... The resort style hotel features 169 spacious rooms (42sqm) with private balcony, wooden floor and furniture. Hotel also offers full rank of meeting and conference facilities, Spa, Gym, a large Swimming Pool, Indoors and out door Restaurants and Bar.
Tel: 063-760690, 063-965658
info@angkorparadise.net
www.angkorparadise.net

| | |
| --- | --- |
| Apsara Road, north of Phsar Leu area | |
Anjali By Syphon
Range: $80 - $280

Located 12 minutes from the airport, the hustle and bustle of Siem Reap city center and the magnificent temples of Angkor Wat, this hidden green oasis is peacefully designed in harmony with its surroundings and shaped by the local culture. Each of the 29 rooms has either a balcony or terrace & pool access.

Tel: 063-965600

| | |
| --- | --- |
| #1705, Korean-Cambodian Friendship Road 30 | |
The Bong Thom Homestay
Range: $150 - $220

A completely unique idea. Three traditional wooden Khmer houses, of modern build as models, but authentic in detail. No air-conditioning, simple, decorative furnishings, many cultural activities available. Visa/MC/UP
Tel: 063-967733, 012-520092
www.bongthomhomestay.com

| | |
| --- | --- |
| Road to Banteay Srei Temple | |
FCC Angkor
Range: $90 - $330 (breakfast included)
Truly superior accommodations centrally located along the Siem Reap River and set amongst the mature trees and gardens of the quiet Old French Quarter. Smartly appointed rooms and suites outfitted with the finest amenities - flat screen TVs, broadband internet connectivity and more. Saltwater pool and spa treatment center. Visa/MC/JCB/AMEX
Tel: 063-760280
www.fcccambodia.com

| | |
| --- | --- |
| Pokombor Av, Old French Quarter | |
The Frangipani Villa Hotel
Range: $50 - $80 (breakfast included)

From the good people at Frangipani Villa in Phnom Penh, the Siem Reap Frangipani offers fully outfitted, well-appointed boutique style rooms. Real luxury at a reasonable price. Visa/MC/TC

Tel: 063-963030, 016-581045

reservations@frangipanihotel.com

| | |
| --- | --- |
| #0603 Wat Bo Street | |
Java Wooden Villa
Range: $85 - $150

All new hotel in a tranquil location about 10 minutes from town center. Beautiful wooden construction and facade, with large, well-appointed rooms. Swimming pool, international restaurant Visa/MC/UP
Tel: 063-967733, 077-332168
www.javawoodenvilla.com

| | |
| --- | --- |
| Phum Kruos | |
King Rock Boutique
Range: $99 - $250

New hotel behind Wat Damnak, just 500 meters from the Old Market. Large, boutique style rooms, clean, modern design, comfortable wood floors and furnishings, and large bathrooms with tub. Garden swimming pool and poolside restaurant. Visa/MC/JCB
Tel: 063-766141, 077-508880

| | |
| --- | --- |
| Wat Damnak area | |
La Niche d'Angkor Boutique
Range: $65 - $130 (breakfast included)

Small family-style boutique hotel, centered on the swimming pool and lush tropical garden. A/c rooms in a modern, simple, natural, comfortable style. In-room wifi.

Visa/MC

Tel: 063-764143, 012-549028

| | |
| --- | --- |
| Wat Bo area | |
La Residence WatBo Hotel
Range: $65 - $130

Spacious, well-appointed rooms set around a large swimming pool. Located in the Wat Bo are, not far from the popular Old Market area.

Visa/MC/JCB

Tel: 063-968575, 012-870857

info@laresidencewatbohotel.com

| | |
| --- | --- |
| Street 26, Wat Bo Road | |
Lin Ratanak Angkor Hotel
Range: $60 - $100 (breakfast included)

93 room hotel welcoming to groups and individual travelers. Well-appointed rooms and decorated rooms with all amenities. Swimming pool. International restaurant. About 10-minutes ide from the Old Market. Good family choice. Visa/MC/JCB/AMEX

Tel: 063-969888

| | |
| --- | --- |
| Behind Phsar Samaki, 100 meters off Route #6 | |
Lotus Blanc Resort
Range: $54 - $412

Upscale hotel offering well-appointed, nicely dcorated rooms and suites. Complete hotel facilities - dining, bar, pool, gym, conference.... Visa/MC/JCB/ANZ/TC

Tel: 063-969300

| | |
| --- | --- |
| National Road 6, Krous Village | |
Mallen d' Angkor Boutique Hotel
Range: $87.50 - $160

Quality accommodation just outside of town center. Well-appointed, bright, spacious rooms with large picture windows and balcony overlooking the swimming pool and a lovely garden. Visa/MC

Tel: 016-720772
www.mallendangkor.com

| | |
| --- | --- |
| Just off Airport Road, near Abacus Restaurant | |
Memoire d'Angkor Boutique Hotel

Range: $40 - $170

Memoire d'Angkor Boutique Hotel is located along Sivatha road, just 7 km from airport and Angkor Wat, and a five-minute walk to Pub Street in the city centre. With 48 beautifully decorated rooms and suites, this also offers a gym, spa and contemporary Cambodian art shopping on site.

Tel: 063-766999

| | |
| --- | --- |
| #54, Sivutha Rd | |
Range: $70 - $200

Just 10 minutes away from the famed Angkor Temples, a stunning display of contemporary architecture and traditional art sits amidst lush gardens and greenery the Memoire Palace Resort & Spa offers a wide range of activities, events and room options.

Tel: 063-766588

| | |
| --- | --- |
| Psar Kraoum Rd | |
Range: $65 - $110

This upscale hotel is 8 km from the Angkor Wat temple complex and 10 km from the Angkor Thom ruins. Contemporary rooms with bold colors, traditional Cambodian motifs and hardwood floors all featuring free Wi-Fi, flat-screen TVs and safes. Some suites have living rooms with dining tables and feature sofas.

Tel: 063-963568

experience@memoiresiemreaphotel.com
www.memoiresiemreaphotel.com

| | |
| --- | --- |
| Terrazas Rd | |
Range: $50 - $460

5 star luxury a 5 min ride from the centre of Siem Reap, offering residences with enough room for the entire family. Spa and a 5 star restaurant on-site, as well as regular live traditional dance performances in the palm garden. Tour booking and transport rentals also available.

Tel: 063-766388, 015-838888

| | |
| --- | --- |
| Salakamreuk Rd | |
Model Angkor Resort & Residence
Range: $125 - $550 Brand new boutique hotel offering finely appointed rooms furnished and decorated entirely in hard woods, soft furnishings and a refined sense of style. Good size swimming pool with wooden deck. Tranquil, green area 10 minutes from town. Visa/MC/UP

Tel: 063-765551
www.modelangkorresort.com

| | |
| --- | --- |
| Bakheng Road | |
Range: $110 - $350
236 well-appointed rooms and suites. The hotel blends authentic Khmer architecture with contemporary Western design. Free wifi. Swimming pool. Visa/MC/JCB/AMEX

Tel: 063-761818
Range: $40 - $100

A refurbished 1960s building in the Wat Bo area. Envisioned and created as a meeting point and experimental space. 9 stylish rooms and 2 apartments, a swimming pool set in a small garden, and a dining area reflecting Cambodia as well as providing a relaxed environment. Visa/MC

Tel: 063-966812

| | |
| --- | --- |
| Street 24, Wat Bo Area | |
Rei Angkor Boutique
Range: $85 - $159 Brand new, upmarket boutique hotel set in the green belt at the outskirts of town about 10 minutes from the Old Market area. Spacious, individually decorated, very well appointed rooms, and excellent service. Visa/MC
Tel: 063-969466, 067-659999
www.reiangkor.com

| | |
| --- | --- |
| Tep Vong Street | |
Sokha Angkor Resort
Range: $105 - $250

Five-star accommodation, town center, from the Sokha family of upscale hotels,, also in Phnom Penh, Sihanoukville and kampot. Luxury, Khmer-inspired, fully modern rooms, superior facilities and F&B outlets. Visa/MC/JCB/AMEX/DC/UP
Tel: 063-969999

| | |
| --- | --- |
| National Route #6 and Sivutha Blv | |
Sokha Siem Reap Resort & Convention Center
Range: $85 - $120

New entry from Sokha Hotels, offering the usual fine, upscale standard of accommodation, but at surprizingly good prices. Stylish, well-appointed rooms. Largest salt water swimming pool in town, with huge movie screen. Visa/MC/JCB/AMEX/DC/UP
Tel: 063-961999

| | |
| --- | --- |
| #Road 60, Angkor Cultural & Tourism Complex Junction | |
Tresor d'Angkor Suite
Range: $98 - $180

A garden oasis of bungalow rooms set between the Angkor temples and town. Lovely manicured garden and a large swimming pool make for a tranquil relaxing setting. Visa/MC/UP
Tel: 063-900168

assistant@tresordangkorsuite.com

| | |
| --- | --- |
| Pactics Road, south of Airport Road | |
The White Terrace
Range: $50 - $120

Unique, semi-detached bungalow rooms, well-appointed and stylish with plenty of windows. Located about 2km from the Old Market in a tranquil area with a rural ambiance. Swimming pool. Ask about the daily free tuk tuk. Visa/MC/JCB/UP

Tel: 086-882880, 012-813890

| | |
| --- | --- |
| Sala Kamreuk | |
Deluxe Hotels ($35 to $150 per night)
Click on the hotel name for more photos and information
Range: $50 (breakfast included)

Cozy little eight-room boutique-style hotel in a quiet area just south of the Old Market/Pub Street area. Nicely appointed rooms with good quality bedding and all modern amenities. Saltwater swimming pool with poolside dining and drinking. Friendly atmosphere and good service. Visa/MC

Tel: 063-765558

| | |
| --- | --- |
| Nş 0335, Phum Wat Damnak, Khum Sala Kamroeuk | |
Range: $50 - $70 (breakfast included)

Nicely designed rooms with all modern amenities, complete hotel facilities including exercise room and a roof top swimming pool. Rooms with hardwood floors, wooden furniture, quality bedding. Visa/MC

Tel: 063-968178, 012-506449

| | |
| --- | --- |
| National Road No.6 | |
Angkor Heritage Boutique Hotel
Range: $75 - $130 Brand new hotel offering deluxe level accommodation. All new, all modern amenities. Swimming pool with poolside bar service, and complete hotel services including international restaurant and day spa. Visa/MC/UP
Tel: 063-966682, 063-766686

| | |
| --- | --- |
| Street BT (off National Road 6), Chongkaosu Village | |
Range: $90 - $120 (breakfast included)

Spacious, finely appointed rooms with all modern amenities and fine French colonial architecture. River and city view rooms with private balconies. Luxury international spa and swimming pool. Visa/MC

Tel: 063-969494 015-500186
realtime@angkorsayana.com
www.angkorsayana.com

| | |
| --- | --- |
| Corner River Road and Tep Vong, Wat Bo area | |
Range: $25 - $75 (breakfast included)

Clean, all new, very nicely appointed, decorated and furnished a/c rooms, at value prices considering the quality of the accommodations and facilitates. Medium sized salt water pool on a private terrace. Free airport pickup. Visa/MC/JCB/GD

Tel: 063-963368, 017-666609
booking@angkortwinklevilla.com

| | |
| --- | --- |
| Ta Neuy Street, east Wat Bo area | |
Anjali By Syphon
Range: $80 - $280

Located 12 minutes from the airport, the hustle and bustle of Siem Reap city center and the magnificent temples of Angkor Wat, this hidden green oasis is peacefully designed in harmony with its surroundings and shaped by the local culture. Each of the 29 rooms has either a balcony or terrace & pool access.

Tel: 063-965600

| | |
| --- | --- |
| #1705, Korean-Cambodian Friendship Road 30 | |