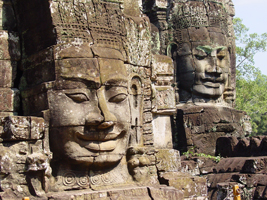 The Angkor Archaeo-logical Park is home to the magnificent temple ruins of Angkor, including the legendary Angkor Wat, Bayon and dozens of other ancient ruins of the, Angkorian-era Khmer Empire. The Angkor Park is a World Heritage site and encompasses more than 400 square kilometers just outside Siem Reap City in northwestern Cambodia.
Siem Reap City is the gateway to the Angkor Archaeological Park. There are no hotels within the Park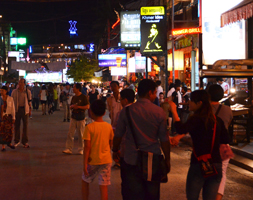 grounds and most visitors stay in Siem Reap where almost all of the area's hotels and restaurants are located. Siem Reap City is just south of the Angkor Archaeological Park with the Park entrance located only 3km north of town. With the exception of the Roluos Group of temples 13km east of Siem Reap, the most important temple ruin are within 6-25km north of town, the closest major temple being Angkor Wat. To arrange your visit to the Angkor Archaeological Park you will need to decide how long to stay, purchase an admission pass, arrange transportation to the temples, obtain a guidebook or tour guide and plan out your temple itinerary.
------------------------------------------------------------------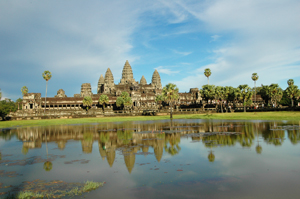 Angkor Archaeological Park
The temples ruins contained within the Park represent the remnants of the millennium-old capitals of the old Khmer Empire. The Khmer people were and are the dominant ethnic group in Cambodia. The name 'Angkor' refers both to the Angkorian-era Khmer Empire that stretched across much of mainland Southeast Asia between the 9th and 15th centuries A.D., and also refers to the capital city of the empire that was centered north of Siem Reap Cambodia.
Most of the temples within the Park were constructed
between the 9th and 12th century A.D. and represent the pinnacle of ancient Khmer architecture, art and civilization. At its height, the Age of Angkor was a time wealth and power for the Khmer Empire. The capital city at Angkor was populated by more than a million people, Khmer kings constructed vast waterworks and grand temples and the Empire's military, economic and cultural dominance held sway over the area of modern Cambodia, as well as much of Thailand, southern Vietnam and Laos.
There are dozens of ruins within the Angkor Archaeological Park, others further afield. The temples vary in importance, interest and condition and are spread over a large area, often kilometers apart. In order to get the most of your visit, it is best to prepare a preliminary itinerary. Your itinerary should depend largely on the length of your visit and your level of interest, though some ruins are must-sees. Any itinerary should include the legendary Angkor Wat and Bayon. These two temples offer the most spectacular and unique examples of Angkorian art and architecture. On the road trip to Bayon, you will also see the South Gate and other minor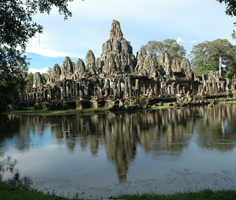 ruins. As it is within walking distance of Bayon, even the briefest visit can usually include central Angkor Thom with its artistically interesting terraces and massive 'temple-mountains,' Baphuon and Phimeanakas.

As time and interest allows, build the rest of your itinerary around visiting each type of major ruin – temple mountains such as Pre Rup, Ta Keo, Bakong and West Mebon; flat, sprawling monastic complexes such as Ta Prohm, Preah Khan and Banteay Kdei; and unique monuments such as Neak Pean and Srah Srang. The Roluos Group, which is comprised the monuments of an early Khmer capital, lies about 13 km west of Siem Reap. It is a bit out of the way, but offers some fine examples of early Angkorian art and should be included in two or three day itineraries. Of special note is the artistically exquisite but more even distant temple, Banteay Srey. If there is any way of squeezing it into your itinerary, it is well worth it.
------------------------------------------------------------------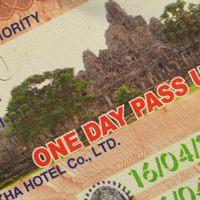 Admission and
How Long to Stay (Back to top)
You must possess an admission pass (an 'Angkor Pass') to visit the temples and sites in the Angkor Archaeological Park. Passes may be purchased at the main entrance on the road to Angkor Wat. One-day tickets only can be purchased at the secondary tollgate on airport road entrance near Angkor Wat and at Banteay Srey.

Passes are sold in one-day ($37), three-day ($62) and seven-day ($72) blocks. The three day pass is valid for one week, i.e. 3 days to be used within the week, not necessarily consecutively. The seven day pass is valid for one month, i.e. 7 days to be used within the month, not necessarily consecutively.
A one-day visit allows you to see the highlights of the most famous temples but very little more. Three days is sufficient to visit all of the major temples once, a few of the minor ones and have a little extra time at your favorites. Seven days is enough time to really explore some of your favorite ruins and visit many of the minor structures as well. One passport-sized photo is require at time of purchase of three and seven day passes. If you do not have a photo, free photos are provided at the main entrance, though this can be a time consuming process at peak entrance hours.
Visiting hours are 5:00AM - 6:00PM. Angkor Wat closes at 6:00PM, Banteay Srey closes at 5:00PM and Kbal Spean at 3:00PM. Always carry your ticket. It will be checked upon each park entry and at major temples. There is a significant fine for not possessing a valid ticket inside the park. A regular admission ticket is not required to visit Phnom Kulen, Koh Ker or Beng Melea, but there is a separate entrance fee of $20, $10 and $5, respectively.
------------------------------------------------------------------
Temple Itineraries (Back to top)
There are dozens of temple ruins in the Angkor Archaeological Park spread across more than 400 square km. all in different states of ruin and displaying a range of artistic and architectural styles. To get the most from your limited time at the Park you will need to plan a temple itinerary. Your personal temple itinerary depends largely on how much time you have and your level of interest, though some temples are 'must sees.' See the suggested itineraries page for much more.
------------------------------------------------------------------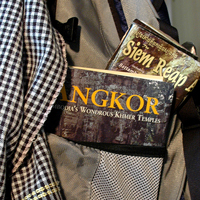 What to Bring (Back to top)
Wear light, airy, covering clothing to protect yourself from the sun and mosquitoes. The sun can be intense so bring a hat, sunglasses and perhaps sunscreen. Consider buying a traditional Khmer scarf (krama) to keep the sun off your neck. Carry a raincoat during the wet season, though you will probably only need it in the afternoon. You should have mosquito repellent for sunrise and sunset hours. Wear practical shoes for climbing narrow steps and walking on uneven surfaces. For serious temple explorers, a flashlight, notebook and compass can come in handy. Books, refreshments, trinkets, postcards and film are available from small vendors throughout the temple complex.
------------------------------------------------------------------

Transportation to and around the Temples
The temples are too far apart to make foot travel practical (though some hearty visitors are hiking it anyway). Transportation options include: two-person tuk-tuks (moto-romauk) average $10-$15/day; car taxis $20-$30/day; motorcycle taxi (motodup) for $8-$10/day; bicycles for $2-$3/day.

To avoid misunderstandings, negotiate the details of the driver's services carefully - exact price, what time you expect the day to begin and end, availability during lunch and evening hours, limitations on your itinerary, different prices for small/large circuits, etc.

There are always additional fees for transport to distant temples off the main circuits (e.g. Banteay Srey, Phnom Kulen, Kbal Spean, Koh Ker) Negotiate the fare with your driver. Bicycling around the temples has become quite popular. If you have the time to spare, the roads are good, the terrain is flat and the distances are about right..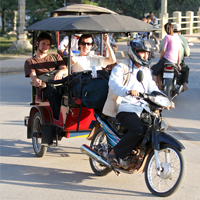 Moto-remorques (tuk-tuks)
Moto-romorques (a.k.a. 'tuk-tuk') are the most common and popular form of transportation in town - the semi-enclosed trailer offering a comparatively pleasant ride. Tuk-tuks are omnipresent in Siem Reap. Just step to the curb and they will find you. For short trips around town, foreigners are expected to pay 3000R-US$3. Bargain! Full day rates for transportation to the temples: $10-$15/day. Additional charge for transport to distant temples.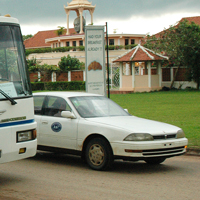 Car Taxis

Private car taxis offer a comfortably air-conditioned way to tour the temples, though they are the most expensive option. Rates: $20-$30 per day plus additional charges for transportation to distant temples off the main circuits. Taxis from the airport to town also offer taxi/tour services to the temples.
Angkor Temple Guides
Experienced guide and driver. One-day trips to Preah Vihear, with or without guide.
Charles De Gaulle Blvd, Siem Reap, Cambodia.
Tel: +(855)(0)12-788354
info@angkor-temple-guides.com
www.angkor-temple-guides.com

Cambodia in Comfort
Vans, cars, with driver
Tel: +(855)(0)97-7583336
www.cambodiaincomfort.com
Larryta Express
Car and bus rental.
PP: #99, Sisowath Quay, Phnom Penh, Cambodia.
Tel: 011-202020
SR: #752, Route #6, Siem Reap, Cambodia.
Tel: +(855)(0)66-202020
www.larryta.com

Siem Reap Shuttle
Professionally chauffeured vehicles, Camry, Mercedes, Lexus, Jeep. Tours and packages. Temple, city, cultural.
Sivutha Blvd, Siem Reap, Cambodia.
Tel: +(855)(0)92-555518
+(855)(0)63-212121
www.siemreapshuttle.com

Siem Reap Taxi Driver
Licensed local taxi driver and guides. English spoken. All sorts of transportation.
Tel: +(855)(0)12-941715
+(855)(0)97-5555563
www.siemreaptransport.com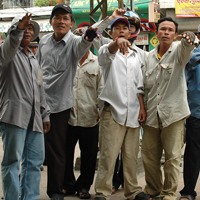 Motorcycle Taxis (Back to top)

Motodups are motorcycles on which the passenger rides pillion. Though motodups are the least expensive motorized option, these days two-person 'tuk-tuks' (moto-romorks) are the most popular. Bargain! Motodups should be a bit more than half as expensive as tuk-tuks. Additional charge for transport to distant temples. Full day rates for transportation to the temples: $8-$12/day.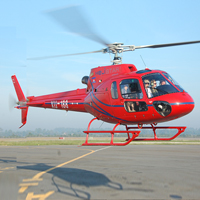 Helicopter Charter and Rides
Helistar Cambodia offers scenic helicopter tours of the temples beginning at US$100/person for an 8 minute jaunt around Angkor Wat. It isn't a particularly cheap way to tour but the view is spectacular and memorable. Helistar Cambodia offers specialized tours, aerial photography and charter services. Multiple aircraft in service. Located at Siem Reap International Airport, Domestic Terminal.
Office on National Route #6 (Airport Road), Borey Angkor Arcade, diagonally opposite the Total station, about 1 kilometer west of town center. Walk-in customers welcome.
Tel: +(855)(0)63-966072
+(855)(0)12-449555
www.helistarcambodia.com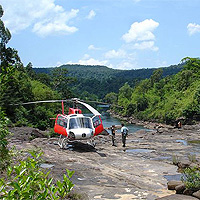 Helicopters Cambodia
Operating in Cambodia since 1998 with highly trained internationally licenced pilots. Helicopters Cambodia provides charter flights to all areas of Cambodia. For those wanting to avoid the crowds and experience the temples from another perspective this is truely a unique experience.
Tel: 063-963316, 012-814500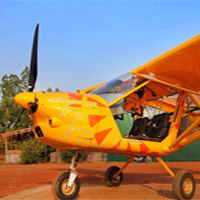 MyFly
MyFly "We are proud to present you an exciting adventure in the air above Siem Reap, Cambodia. You will fly a 2-seat light airplane around the most beautiful temples of Cambodia, see a floating village and ancient Hariharalaya, old capital of Kambuja Desa, picturesque rice fields and the Tonle Sap lake. Our simple set of rules makes our flights absolutely safe for you; all airplanes, passengers and third parties are covered by insurance."
Tel: 068-704601
Located off at the Jayavarman Airfield, just off National Route #6 east of town
Bicycle Rental (Back to top)

Bicycling have become a popular way to visit the temples. The roads between the main temples are paved and the distances are about right for a bicycle touring. Many of the hotels have bicycles for rent. $1-$4/day depending on the type and quality of the bike.

Green Cycles Travel
Scheduled and custom bicycle tours. Bike rental.
Old Market area, Siem Reap, Cambodia.
Tel: +(855)(0)12-783377

Green e-bike
Electric bike rental.
Open 7:30AM-7:00PM
Center Market, Siem Reap, Cambodia.
Tel: +(855)(0)95-700130
+(855)(0)95-700140
www.greene-bike.com

Motorcycle Rental

Tourists are no longer allowed to rent motorcycles or cars, or drive a vehicle in Siem Reap.
And other ways of getting around the temples...
Elephant Rides
During the day, elephants await customers near Bayon and at the South Gate of Angkor Thom and they offer rides between those two points. $10 - $15 for a 20 - 30 minute ride. In the evenings the elephants move from Bayon and are stationed at the base of Phnom Bakheng, ready to transport passengers up the hill for sunset ($15 for the ride up and, if you chose to ride down instead of walk, $10 for the ride down.)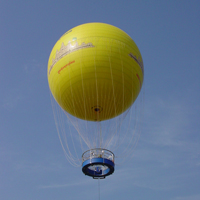 Balloon Rides
Take a tethered helium balloon ride 200 meters straight up for an amazing aerial view of Angkor Wat, Phnom Bakheng, West Baray and the surrounding countryside. Bring a camera and binoculars if you have them. The big, yellow balloon is based about 1 kilometer west from Angkor Wat on the road from the airport to Angkor Wat.
------------------------------------------------------------------
Tour Guides (Back to top)
Whether you use a guidebook or hire a tour guide, it is essential to have some sort of guide lest the temples become just so many impressive piles of rocks. Tour guides are particularly helpful in explaining the bas-reliefs and history of the temples. Tour guides can be hired through most hotels and travel agents. Most guides ask $20 - $25/day.

You can either hire a tour guide and transport separately (usually through your guesthouse or a travel agent) or book a group tour through a travel agent in town such as Asian Value Travel. Group tours remove many of the hassles, and depending on your requirements, cost about the same or less than doing it yourself, especially for the lone traveler. On the other hand, you do lose some freedom and a bit of the adventurous atmosphere of Angkor. Some places focus on specialty tours such as distant temple, Tonle Sap and photographer's tours by Peace of Angkor Tours and dirt bike/4WD adventure and cultural tours by Hidden Cambodia Adventure Tours.
Angkor Temple Guides
San Park is an experienced tour guide and reliable driver, specializing in Angkor. very reasonably priced. Oneday trips to Preah Vihear, with or without guide.
Charles De Gaulle Blvd, Siem Reap, Cambodia.
Tel: +(855)(0)12-788354
Angkor Thom and Transportation
Transportation, multi-lingual tour guide, tour packages, city tour and daily tour at reasonable rates.
Tel: +(855)(0)92-890005
www.angkorthomservices.com
Angkor Tour Guide Service
Angkor park tour packages and tour guides (English Mandarin, French Japanese), transportation (car, mini-van, transport to distant temples,) hotel reservations.
Siem Reap, Cambodia.
Tel: +(855)(0)12-631052
+(855)(0)97-7631052
sokchea@guideangkor.com
www.guideangkor.com
------------------------------------------------------------------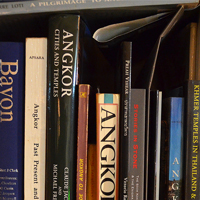 Guides books (Back to top)

Guidebooks and other Angkor related books can be purchase at bookstores and many of the souvenir shops. Bootlegged books are sold at the Old Market and by vendors throughout the Angkor complex.

Ancient Angkor by Michael Freeman and Claude Jacques. (Thailand: River Books, 2006) Beautifully photographed, authoritative guidebook to the temples of Angkor and the Angkor Archaeological Park. One of the top guidebooks to the temples. Recommended.

Angkor: Cambodia's Wondrous Khmer Temples by Dawn F. Rooney (Odyssey Publications, Hong Kong, 2006, 5th edition) Popular, complete, accurate. The most complete English language guidebook available. One of the top guidebooks to the temples. Recommended.
The Monuments of the Angkor Group (Les monuments du groupe d'Angkor) by Maurice Glaize. Classic 1944 guide to the temples written by a former Conservator of Angkor (1937-1945). Available in English and French and also online.
Other reading...
see the books page for more Cambodia related books.

Angkor Observed by awn F. Rooney. (Thailand: Orchid Guides, 2003) A nostalgic picture of the early days of tourism to Angkor drawn through excerpts from 19th/20th century journals and travelogues.

A Field Guide to Siem Reap Pagodas by Ray Zepp. (Cambodia: 2000) A knowledgeable, easy-to-read introduction to Cambodian Buddhism and local pagodas.

The Customs of Cambodia by Zhou Daguan (Chuo Ta-Kuan). A short but unique and fascinating eye-witness account of royal and ordinary life in 13th century Angkor.

A History of Cambodia by David Chandler. (Bangkok Thailand: White Lotus, 1994) A complete, scholarly but accessible account of Cambodian history from the dawn of Funan to the present.

Images of the Gods: Khmer Mythology in Cambodia, Laos & Thailand by Vittorio Roveda. (Bangkok: River Books, 2005) A sweeping photographic exposition and historical analysis of ancient Khmer sculpture reliefs from Angkor and across the region.

Khmer Heritage in the Old Siamese Provinces of Cambodia by Etienne Aymonier. (Bangkok Thailand: White Lotus, 1999, orig. 1901) Turn of the century report/guide. Locations and temple descriptions of familiar and remote temples.

Travels in Siam, Cambodia, Laos and Annam by Henri Mouhot. (Thailand: White Lotus, 2000 reprint, orig. 1864).