Roluos Group

Date of Construction:
Late 9th century C.E.
Religious Affiliation:
Hinduism
Patron or King:
Jayavarman II, Indravarman, Yasovarman I
Artistic/Archeo. Style:
Bakong, Preah Ko, Bakheng
Location:
AAP - Roluos Group
Duration of Visit:
1-1/2 hours
Time to Visit:
Anytime, but the morning light is the best on this east facing temples.
Photography Notes:
Morning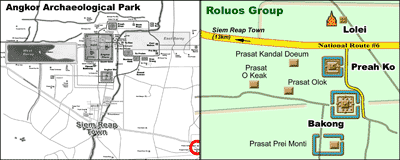 The Roluos Group is a collection of monuments representing the remains of Hariharalaya, the first major capital of the Angkorian-era Khmer Empire. It has become known as the 'Roluos Group' due to its proximity to the modern town of Roluos. The ancient capital was named for Hari-Hara, a synthesis of the Hindu gods Shiva and Vishnu. Though there was an existing settlement in the area before the rise of Angkor, Hariharalaya was established as a capital city by Jayavarman II and served as the Khmer capital for over 70 years under four successive kings. Setting the pattern for the next four centuries, the first great Khmer temples (Bakong, Preah Ko, Lolei and a baray) were constructed at Hariharalaya. The last king at Hariharalaya, Yasovarman I, built the first major temple at Angkor, Phnom Bakheng, and moved the capital to the Bakheng area in 905 C.E. With the exception of a 20 year interruption in the 10th century, the capital would remain at Angkor until 1422 C.E. The Roluos Group is located about 13km (20 minutes) southeast of Siem Reap and is easily included in any three day temple itinerary. Admission to the Roluos Group is included in you regular Angkor Park admission pass.