Siem Reap Bars, Clubs & Nightlife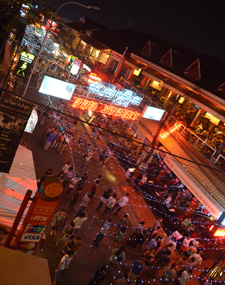 Siem Reap offers a booming nightlife and bar scene stretching to near dawn these days, with the bars coming to life around dusk as people return from the day's touring, and the last few pubs and clubs closing as late as 4AM.
Bars and tippling venues are located across town but the center of the action is the Pub Street and Old Market area where many of the most popular bars and clubs are clustered over several square blocks.
Pub Street itself, Street 8, is at the heart of it, lined end to end with restaurants and bars including such well known places as Angkor What? Bar, Temple Club, Paper Tiger Eatery (Le Tigre de Papier) and Red Piano. The Pub Street area alleys as well as the surrounding street also harbor a variety of places - cocktail bars, expat and tourist pubs, eclectic little neighborhood places and more. The Pub Street area also has some of the latest running bars in town, including the Temple Club, Angkor What and X-Bar.
It's also worth checking out Sok San Street and the small streets around the Night Markets. A growing number of backpacker bars and unique little pubs have popped up in the area over the last year or two including places like Peace and Love, Relax Bar and Karma Bar.
Bars, Pubs and Clubs...
Alliance Alizé Boutique Villa & Art Cafe
Combining an art exhibition space with a beautiful wooden terrace and outdoor bar garden. Art on display in the sculpture garden and cafe gallery. Regularly changing exhibition.

Visa/MC/JCB/AMEX

9:00AM - 10:00PM

Tel: 017-809010, 063-964940

High School Road, Wat Damnak area
Angkor What? Bar
The Angkor What? started it all - the very first bar to open on Pub Street back in 1998 and still going strong. Very popular, reasonable prices, music, dancing, often busy well into the early morning hours. Open very late, one of the last bars in town to close.

2:00PM - 3:00AM

Pub Street (See Old Market area map)
Asana Old Wooden House
You'll find a traditional Cambodian wooden house nestled on The Lane. It's no ordinary wooden house, though, it's a relaxed bar and lounge with hammocks, hanging beds and a garden patio downstairs, plus a full bar upstairs. Asana has cocktails featuring Sombai rice wine as well as light bites and tapas. Daily Khmer Cocktail Classes at 6PM. Open: 11:00 AM until til late

Facebook: Asana Cambodian House

Street 7/The Lane (See Old Market area map)
The Balthazar at Street 24 Wine Bar
Newly opened on the Siem Reap Riverside. A wide range of wines and whiskeys from around the world served in an elegant setting. The menu is designed to pair perfectly with the drinks and we recommend trying the cheese or charcuterie boards.

Open: 5:00PM - 12:00AM

Facebook: The Balthazar at Street 24 Wine Bar

Corner Street 24, Riverside
Banana Leaf
Enjoy a variety of live bands, wide selection of signature cocktails and wines, projector screens for sports and good quality food, including international tapas, dim-sum and their unique Crocodile Burger. Prime corner location on Pub Street. "Serving satisfied customers for 13+ years." Visa/MC

Open: 10:00AM - Late Happy Hour: 6PM-8PM

At the near end of Pub Street (See Old Market area map)
Barcode
Siem Reap gay lounge and club is open until 2 a.m. serving up cocktails and playing pop hits. The chic interior offers ample space to drink, dance and chat, as well as an outdoor terrace for more intimate tête–à–têtes. The club has regular parties and daily drag performances at 9:30PM. 5:00PM - Late

New Street A, next to Wat Prom Rath, Old Market area
Bugs Cafe

If you're intrigued by the idea of eating creepy crawlies but aren't sure if you're ready to make the plunge, head over to Bug's Cafe for one of their delicious and 100% bug-free cocktails like a spicy cucumber cocktail with mint, ginger and chili. From the safety of the bar, you can work up your courage to try their wide range of insect-based dishes. 5:00PM - Late Visa/MC

Tel: 089-935007
www.bugs-cafe.com

Angkor Night Market
FCC Angkor

Sister restaurant to Phnom Penh's famous FCC, carrying on the tradition of excellent cuisine, service and venue. Modern, open design set along the picturesque Siem Reap River. Lovely town center location for an upmarket drink or meal. Visa/MC/AMEX

Open: 7:00AM - Midnight

Pokambor Street, (near the Royal Residence)
THE HARBOUR – Metal Pirate Tavern & Tattoo Parlor

THE HARBOUR combines a Hard-Rock Metal Pirate Tavern and LexRoulor Tattoo Shop. Away from Pub Street's noisy crowds, striking sailor's décor, a unique night out. Sink into the dimmed atmosphere of candles and lanterns, and feel like you're on an old ship drifting towards new adventures while in Siem Reap. Pirate barmaid wenches, metal music, and cool clips on big screen. Also discover LexRoulor Tattoo Shop's team of 3 Western tattooists and 1 Aussie piercer. High quality custom work guaranteed. Open: 10am – late Tel: 097-3042827
www.theharboursiemreap.com

#347 SteungThmei, west of Sivutha Blvd, behind Artisans d'Angkor
Hard Rock Café Angkor
Cambodia's first Hard Rock Café, Situated in an old colonial-style building next to King's Road Angkor, overlooking the river. Food, full bar and live performances from all over the world.
11:00AM - Midnight

Corner of the Old Market Bridge, east side, King's Road Angkor
Heritage Restaurant

Stylish fine dining at drinking at Heritage Suites. The Lobby Bistro and Mezzanine serves refined Khmer specialties and the trendy Zinc Bar offers a large cocktail menu and serves Cambodian beers. Happy Hours is 5 to 7 pm! Every Thursday the Heritage hosts a long-running and very popular jazz night in their open-plan, smoke-free bar area (there's a spot for smoking outside). The live music starts at 7PM, but get there early and order some of their excellent canapes during happy hour.

At Heritage Suites Hotel, Wat Po Lanka area
Karma Bar

Way way laid back late night bar on Sok San. Mellow vibes, relaxed people, something of a haven. English pub grub. Full bar with very reasonably priced drives. Open 12:00PM - 2:00AM

Tel: 093441528

Sok San Street
L'Annexe French Cuisine Siem Reap
A unique address, near the Angkor Temples' doors, for your taste buds' privilege, at L'Annexe French steakhouse, A renowned restaurant, a recognized concept That's what characterize in Siem Reap. The Restaurant is offering a special Steak House menu in which you can choose between several high quality meats. France, United-States, New-Zealand... it's here to find the best selections to enjoy a dinner with your family and your friends. L'Annexe French steakhouse is the best destination for French cuisine in Siem Reap. Warm atmosphere, excellent French food and wonderful signature desserts.

Open: Mon 4:00PM - 10:30PM, Tue - Sun 11:30AM - 10:30PM

2nd block of Sok San Road, 5 minutes Circus Phare
Long's Bar
Run by Long and his British partner, Long's Bar hits all the right notes. Hip and inviting, the brightly lit bar is decked out with furniture repurposed from wooden pallets, an assortment of comfy monochrome pillows and on the walls is an exhibition of local artwork. Billing itself as the coolest bar in town, literally, the a/c bar is a fun place to chill out while enjoying an ice-cold draft

5:00PM - 1:00AM Happy Hour: 5:00PM - 7:00PM

Alley between The Lane and Street 7, Pub Street area
Mad Murphy's
Good little proper Irish pub down a pleasantly quite alley across Street 7 from The Lane area. Little bit of an Old World ambiance, a good wooden bar, Irish music and sports TV. And there always seems to be good company about. Free movie about Angkor Wat every day at 3:00PM.

Open: 11:00PM - Late **Happy Hour: 11PM-5PM

Alley off of Street 7, Old Market area
Miss Wong Cocktail Bar
Comfortable, stylish cocktail bar on The Lane, very tastefully decorated in old China chic. Nice selection of well prepared cocktails as well as beers and wines, including some unique choices. Dim sum and snacks. Attention to detail. Good people. Interesting conversation. Excellent service. Great reviews. Recommended. 6:00PM - Late

Tel: 092-428332

The Lane (North Pub Street Alley) (See Old Market area map)
Picasso Bar
This expat favorite has a wide range of affordable drinks, including a selection of wines by the glass and freshly made sangria. The intimate red brick bar is decorated with Pablo Picasso prints and has daily happy hour and drink specials. Don't be surprised if you end up staying here until the wee hours playing shot roulette. WiFi, air con. Open: 1PM - 2:00AM.

Alley West, Old Market area (See Old Market area map)
<
Relax Bar & Restaurant
Relax Bar does indeed have a relaxed approach to eating and drinking, with al fresco dining and pop tunes to accompany the cheap drinks. Hang out on their street-side balcony and take advantage of the drink specials. The menu features a mix of Western and Cambodian dishes, from burgers and pork chops to amok and banana flower salad, all very reasonably priced. 9:00AM - 5:00PM, 5:30PM - 12:00AM Happy Hour: 10AM-12AM

Angkor Night Market Street
Siem Reap Brewpub

Serving 6 brewed-on-the-premises ales: blonde, golden, honey, saison, IPA and dark. Difficulty deciding? You can try them all with a sampler set, or check out our monthly special brew. Within proximity of plenty of tourist amenities but offers a quiet respite from the noise and the crowds. The food menu features a selection of snacks, local, western dishes, grilled meat & fish, all elegantly plated and served by their friendly staff.

Open: 11:00AM - 11:00PM

Tel: 016-369536

In the Old French Quarter, Street 5, a block off the river
Silk Garden
Just off of Pub Street, Silk Garden features a selection of local and international beers, classic and creative cocktails, and an international selection of wines served up in their lovely garden patio. The cocktail menu includes house specialties like the la vie en rose, pink tony and rosa la cochonne. Their friendly BBQ nights features grilled chicken skewers, and chilled out tunes. Live music on Fridays and Saturdays.

Open: 2:00PM - Late **Happy Hour: 5PM-7:30PM

Facebook: Silk Garden

Pub Street area, on The Lane
Soul Train Reggae Bar
A Siem Reap favorite with expats and tourists alike. With tables made from bicycles and stools from moto seats, the place could be described as "backpacker chic," and the menu features a creative array of cocktails. Open: 5:00PM - Late

New Street A, next to Wat Prom Rath, (See Old Market area map)
Swiss Food Asia
At this 24-hour bar and restaurant on Siem Reap's riverside south of the Pub Street, the customer is king when it comes to the soundtrack. Customers choose YouTube videos that play through the stereo and on wall-mounted TVs. Indoor and outdoor seating, friendly staff and 24-hour drinking mean that there's something for everyone here. Visa/MC

Left River Side 200m from Hip Hop Club
Temple Club

Popular restaurant by day, and by night one of the most popular bars in town. A very busy place after midnight. Dancing, pool tables, very reasonably priced drinks. Live DJ on a kickin' sound system. Live sports on a big screen TV. Open very late, sometimes past 4:00AM.

Visa/MC/AMEX

Tel: 099-999905

Pub Street
Village Cafe
With an ambiance that is about as far removed from the Pub Street scene as possible, Armand's French bistro is best known for their excellent steaks, but they also have a lovely wood-paneled bar that is perfect for a quiet drink. Generous glasses of wine are the order of the day, as well as a selection of perfectly crafted traditional cocktails made by their friendly bartender Sokuhn. If you're looking for a nibble, the cheese plate makes an ideal accompaniment to a class of vino. 5:00PM - Midnight (closed Sunday)

Tep Vong St, 100m from the river, next to ANZ. 'Kandal Village' area
Viva

Complete bar sporting the largest selection of tequilas in town as well as cold beer, cocktails and more. Full menu of traditional Mexican dishes. Popular place with both expats and tourists. Conveniently located kitty-corner to the Old Market. 10:00AM - Late

Tel: 092-209154

Corner of 2 Thnou St and Street 9, (See Old Market area map)
X-Bar
Rooftop bar overlooking the end of Pub Street. Under the stars with full bar, beer, wine and cocktails, a huge screen for sports and games, pool table and free WiFi. regular live music, DJs and house parties. 6' half-pipe and deck hire available.
www.xbar.asia

Corner of Sivutha Blvd and Sok San Road (See Old Market area map)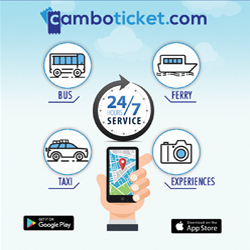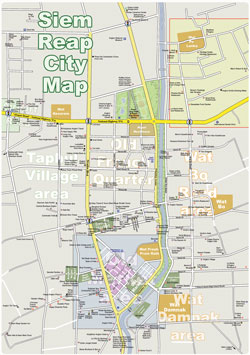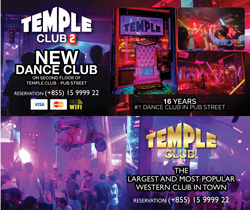 The Old Market
and Pub Street area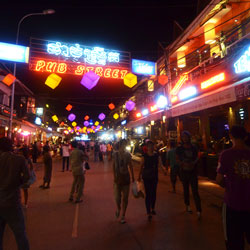 The Old Market (Phsar Chas) area, including the nearby Pub Street, Pub Street alleys and the Night Markets, are favorites when visiting Siem Reap. Stretching from the river across to the night markets on Sivutha Blvd, the entire area is now the dining, shopping and nightlife center of town.
Sok San Road across Sivutha, opposite the Old Market area has become quite popular as well, sporting dozens of budget-friendly business, especially guesthouses, bars and restaurants.
After the sun goes down, the focus shifts to Pub Street and Pub Street alleys including The Passage, Alley West and The Lane. Named for the numerous pubs that line Street 8, it all began in 1998 when Angkor What? opened its doors - the lone pub on a lonely street. These days Pub Street is lined end to end with restaurants, pubs and shops, making it the tourist center of town, especially after dark. The narrow connecting alleys and passages just off Pub Street have also filled with small businesses, offering a somewhat quieter and more relaxed ambiance the ever-bustling Pub Street.
Things really gets going on Pub Street around 5:00PM as people return to town from the temples. The curbside seating fills, the bars crank up the music and the street is blocked to motor traffic, making it a pedestrian-only area. Most of the drinking venues stay open until at least midnight and a couple run until near dawn.
Pub Street's Alleys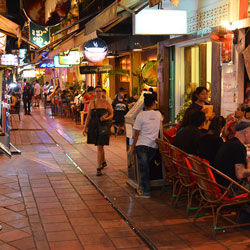 Pub Street's narrow connecting alleys and passages offer a relaxed, pedestrians-only alternative to the main street, each alley offering something of it own character. Alley West is a particularly quaint little alley with an artsy, Old World atmosphere as well as a couple of pubs, including the popular Picasso. The original Pub Street Alley, now called The Passage, is busiest of the bunch, but still comparatively tranquil and pedestrian only, and offering several restaurants with full bars. The Lane on the other side of Pub Street has a more varied and eclectic places from old China chic at Miss Wong's to Beatlemania at The Yellow Sub.