The Islands near Sihanoukville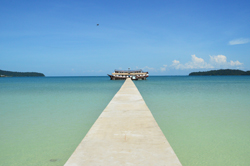 The largest and most developed of the islands is Koh Rong (map), located 40-50 minutes by express ferry or 2.5 hours by standard ferry. This island is one of the most beautiful in the archipelago, with miles of white sand beaches, gently swaying palms and tropical fruit orchards. It also has one of the most 'developed' beaches - Koh Toch - at least in terms of the number of bungalows, guesthouses and restaurants.


Koh Rong offers guest houses and bungalows and bungalows and more are springing up every day, ranging from dormitories and inexpensive home stays to flashpacker accommodations and fancier, well-appointed family-sized bungalows.

KOH TOCH BEACH (map) at the southeastern tip of the island is where most of the accommodations are situated, and it's the busiest part of the island, with nightly beach barbecues, music and fire dancers into the wee hours, not to mention the Full Moon Parties. If this isn't your cup of tea, there are more secluded options located around the island including Long Beach on the sunset side of the island offering a few rustic bungalows.

For those looking for something a little more luxurious, just off of Koh Rong are two private islands known as SONG SAA ('sweethearts') that are home to an all-inclusive five-star resort, the first of its kind in Cambodia.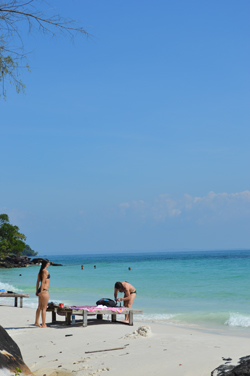 Koh Rong Sanloem (Samloem)
(map) Koh Rong Sanloem (or Samloem) is the somewhat smaller and more tranquil of the big two islands. While offering a wide variety of accommodations and restaurants, especially on Saracen Bay and M'Pay Bay, the island has a generally more tranquil and peaceful atmosphere than Koh Rong and Koh Toch Beach.

Saracen Bay on the land side of Koh Rong Sanloem is the busiest beach, sporting several restaurants and accommodations from cheap and cheerful to upscale bungalows. Saracen Bay (and M'Pay Bay) is also where the Sihanoukville ferries docks, and is the place to pick up boats to other beaches on island and to Koh Rong. A few guesthouses dot the beaches on the west side of the island, which is a moderately easy 1km walk across the island from Saracen Bay. M'Pay Bay village on the northern corner of the island also has several guesthouses and a couple of good restaurants.

Getting to Koh Rong Sanloem is easy. There are several daily speed ferries and slow boats from Sihanoukville and from Koh Rong. By speed ferry it is a 40-50 minutes ride from Sihanoukville and only about 10 minutes from Koh Rong. The slow boat takes about 2.5 hours from Sihanoukville.

Besides lounging in the sun there's plenty to do on Koh Rong Sanloem - most of the usual island activities - snorkeling, trekking, mountain biking, inexpensive boat cruises, fishing and some pretty good scuba diving opportunities. There are a few foreign-run dive outfitters on the island that offer fun dive and certification, including The Dive Shop with an office on Saracen Bay.

There are no banks or ATMs on Koh Rong Sanloem and very few places accept credit cards. Bring the money that you will need. And though there is phone and internet, it can be spotty. .
Other Islands
Closer to shore than the big islands and completely undeveloped, Koh Ta Kiev is a lovely island with come-and-go beachside camping and simple treehouse accommodation. Lovely yellow sand beaches dotted with pine trees offer the perfect spot for reading and relaxing. The kind of 'forgotten island' that will not last in the face of expanding development. The island also offers many bird-watching and snorkeling opportunities.

Located off Ream National Park at the eastern edge of the archipelago is Koh Thmei, an island on the brink of development but is still blissfully quiet. Flanked by mangrove forests and home to more than a hundred species of birds, the island offers splendid sunset views and the chance to stay in a compound of ecologically minded bungalows that are set up with solar power and a special water filtration system. (Koh Thmei Resort.) Otherwise Koh Thmei is as yet still almost completely untouched and receives very few visitors.

Koh Russei used to be favored by backpackers. Very basic bungalows hugged the shore. Alas, that is all finished. The island has been slated for development and is currently undergoing the first stages. There are no accommodations (even camping) on the island.
Further offshore are Koh Tang and Koh Prins, which are only reachable by boat, a trip that can take as much as eight hours. These islands offer what are said to be the best diving opportunities in Cambodia, but visits must be chartered or arranged through a diving outfit.