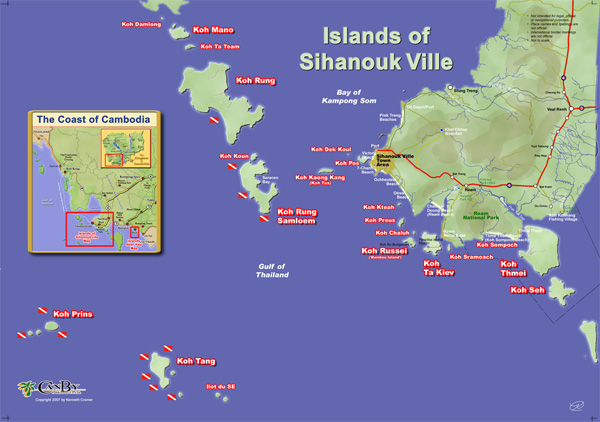 Click here for Island Map. For more about island and island accommodations click here.
Some of the more popular diving islands include.

Koh Rong Many good snorkeling areas and near two dozen good dive sites around the island. Depths of 5-15 meters. (Map)

Koh Rong Samloem Rocky reefs host a variety of marine life in shallow waters and at depths up to 18 meters. Like all of the nearby islands the best diving and visibility is on the west side. Species sightings include cobia, puffer fish, moray eels, octopus, rays, crabs, nudibranch, cuttlefish, scorpion fish, lion fish, barracuda, yellow goatfish, parrotfish and more. (Map)

Koh Kon ('Baby Island') is, as the name implies, a small island sitting just off the north tip of Koh Rong Samloem. Rocky, coral encrusted outcrops on the west and south sides of the island provide home to a variety of corals and marine life including anemones, box fish, parrot fish, yellow goat fish, snappers, stingrays, moray eels and cat sharks. Visibility is moderate, averaging around 10 meters, though better on some days. (Map)

Koh Tang, Koh Prins, Poulou Wai Some of the best diving in the area lay 4-8 hours southwest, around Koh Tang, Koh Prins and Poulo Wai. The area has rocky reefs, depths of 15-40m and much better visibility than reefs closer to shore, ranging from 10-30m, usually around 15m. Koh Prins has two shipwrecks to the northwest at 30-40m. Koh Tang is a favorite diver's destination. The island played a major role in the 'Mayaguez Incident' and still shows the scarring of the May 1975 battle between American and Khmer Rouge forces. The surrounding waters offer several reefs and outcroppings displaying a particularly colorful variety of hard and soft corals, an abundance of other marine life, and consistently good visibility.
-------------------------------------------

Scuba Outfitters / Dive Centers
There are now a several dive centers in Sihanouk Ville. Most can organize, outfit and lead almost any sort of diving excursion from snorkeling trips and introductory dives for beginners to fully outfitted multi-day scuba expeditions for experienced divers.
The Dive Shop
PADI 5 Star Dive Center. Awarded National Geographic Dive Center status. Offering dive trips and all PADI courses - introductory Discover Scuba, PADI Open Water Courses, Advanced Open Water, Rescue and Dive Master. Fun dives, live aboards, overnights, custom tours, island accommodations. Equipment rental/sales. Scubapro equipment. Socially aware company directly assisting several charitable projects.
Located on the road to Serendipity Beach, Sihanoukville, Cambodia.
Tel: +(855)(0)34-933664
info@DiveShopCambodia.com
www.DiveShopCambodia.com
Koh Rong Dive Center
Dive center, offering a full range of PADI diver training classes, from PADI Open Water Scuba Diving certification through PADI Dive Master. In addition. Kids programs available. Twice a day scuba diving and snorkeling trips to areas around Koh Rong. Located in Koh Rong Island Travel near the Golden Lions and on Koh Rong Island.
Located in Koh Rong Island Travel near the Golden Lions and on Koh Rong Island, Sihanoukville, Cambodia.
Tel: +(855)(0)34-934744
http://kohrong-divecenter.com
Scuba Nation PADI 5 Star Instructor Development Center
The pioneers of diving in Cambodia, providing comprehensive diving and snorkeling services, day trips, live-aboards, nitrox and the full range of PADI courses from beginner to Instructor. Flexibility is key: You can do training sessions in Phnom Penh or Sihanouk Ville, then finish with a live-aboard on a custom-made dive boats in Cambodia.
Phnom Penh Head Office:
#1818Eo, Sothearos Boulevard, Phnom Penh, Cambodia.
Mobile: +(855)(0)12-715785
Phone/Fax: +(855)(0)23-211850
Sihanouk Ville Serendipity Beach Office:
Mohachai guesthouse, serendipity beach road, Sihanoukville, Cambodia.
Mobile:+(855)(0)12-604680
Phone: +(855)(0)34-933700
info@divecambodia.com
www.divecambodia.com