Performance Venues in Siem Reap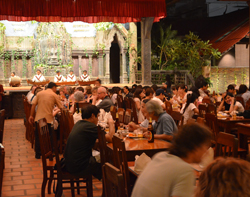 There are occasional dance performances at the temples but most visitors attend one of the nightly dinner performances at a local restaurant. Dinner ordinarily begins at 6:00 or 7:00PM and dance performances at 7:30PM or 8:00PM, consisting of 4 or 5 dances, lasting about 45 minutes to an hour in all. (Contact the performance venue for specifics.) Many places offer a buffet featuring Khmer and international food. Some offer a set menu Khmer dinner. Price and venue style vary considerably. Most restaurants with buffets and set menus run between $10 and $29 including the buffet and performance. Some restaurants do not charge admission for the performance, but you are expected to order dinner. For the best seats, call for reservations, especially during the high season.
Alliance Alizé Boutique Villa & Art Cafe
Exclusive shadow theater and Khmer dance with traditional music. Set menu and a la carte. Dinner from 7PM. Performance 8:30PM-9:30PM. Reservation recommended.
Tel: 017-809010 063-964940
Wat Damnak area, Siem Reap
Crystal Angkor Restaurant
Fine dining, a la carte and set menu, Cambodian and international fare. Traditional dance performance every night at 7:00PM.
Tel: 012-786786
www.crystalangkor.com
Krous Village, Siem Reap
The Khmer Barbe Q
Traditional dance performances with set menu Cambodian dinner. Six different dances. Dinner begins at 7:30PM. Performance from 8:00PM - 9:00PM.
Tel: 063-6304512
Road to Angkor Wat near Angkor National Museum, Siem Reap
Kulen II Restaurant
Kulen II Restaurant
Buffet dinner with traditional music and dance performance. Admission inclusive of dinner and show. Cambodian and international food. Buffet begins at 6:00PM.
Tel: 092-630090
www.koulenrestaurant.com
Sivutha Blvd, opposite Lucky Mall, Siem Reap
Phare Cambodian Circus
"Siem Reap's Incredible Phare Circus" - CNN Travel. A unique, top-rated (TripAdvisor) evening entertainment experience. More than just a circus, Phare performers use theater, music, dance and modern circus arts to tell uniquely Cambodian stories; historical, folk and modern. The young circus artists will astonish you with their energy, emotion, enthusiasm and talent. Phare artists are graduates of the NGO school Phare Ponleu Selpak in Battambang. Highly recommended. Nightly performances at 8:00PM-9PM daily.
5:00PM - 6PM on Monday, Thursday and Saturday (November - March).
Located at Sok San Rd/Ring Rd, behind Happy Ranch Horse Farm.
Tel: 015-499480, 092-225320
www.pharecircus.org
Located behind the Angkor National Museum, Siem Reap
Performance Venues in Phnom Penh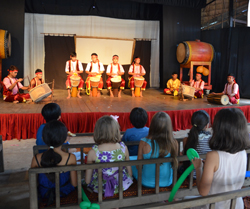 Unlike Siem Reap, there are far fewer performance venues and there are no regularly scheduled dinner performances at restaurants in Phnom Penh. The regularly scheduled performances that are available take place in small theater formats, usually at a dance/performing arts school. The performances are also less standardized than Siem Reap, often offering a greater range and variety of traditional dances and Khmer performing arts. Some of the performing arts schools in Phnom Penh are also open to visitors during the day, allowing visitors the opportunity to observe the dancers in training.
Apsara Mekong Association
An independent local association whose aims are to preserve, revive and promote Cambodian culture to local and international audiences.
Tel: 017-324200
apasara.mekong@yahoo.com
#51A, Street 222, Phnom Penh
Sovanna Phum Art Association
Striving to revive and promote Cambodian culture. Classical, Folk and Contemporary dance, Shadow theatre, Circus and Music are performed for local and international audiences. Also active in promoting inter-cultural exchanges by interacting with artists from other countries as well as working with NGO/IOs on different educational and awareness projects. Also available for private and commercial events.
Performances every Friday and Saturday, 7:30PM.
Admission: Adult : $10; Children: $5
Tel: 012-837056, 012-846020
#166 Street 99, Phnom Penh
Traditional Dance Show
Plae Pakaa/Fruitful A series of three rotating performances, showcasing a range of traditional Cambodian performing arts. Featuring more than Apsara dances, offering the chance to discover the diversity of Cambodian culture in the garden of the National Museum. Plae Pakaa, an initiative by non-for profit Cambodian Living Arts, also aims to create regular, well-paid work for emerging arts professionals in Cambodia. Rated #1 in 2012 on TripAdvisor. Performances Friday, Saturday, Sunday at 7:00PM.
Tel: 017-998570
events@cambodianlivingarts.org
National Museum
, Street 178, Phnom Penh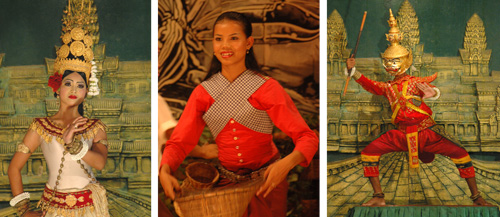 Khmer Traditional Dance and Shadow Theater
Traditional Khmer dance is better described as 'dance-drama' it is not merely dance but also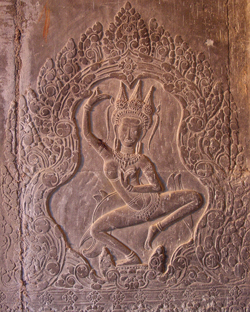 meant to convey a story or message. There are four main modern genres of traditional Khmer dance: 1) Classical Dance; 2) Shadow theater; 3) Lakhon Khol (all-male masked dance-drama.); 4) Folk Dance.
As evidenced in part by the innumerable apsaras (celestial dancers) adorning the walls of Angkorian temples, traditional dance has been part of Khmer culture for well more than a millennium. Yet there have been ruptures in the tradition over the centuries, making it almost impossible to precisely trace the source of the tradition. Though much modern traditional dance was inspired by Angkorian-era art and themes, the tradition has not been passed unbroken from the age of Angkor.

Most traditional dances performed today were developed in the 18th through 20th centuries, beginning in earnest with a mid-19th century revival championed by King Ang Duong. Subsequent Kings and other Khmer Royals also strongly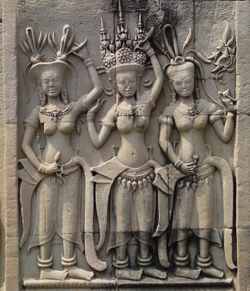 supported the arts and dance, most particularly Queen Sisowath Kossamak Nearireach (former King Norodom Sihanouk's mother) in the mid-20th century, who not only fostered a resurgence in the development of Khmer traditional dance, but also helped move it out of the Palace and popularize it.

Many traditional dances including most Theatrical Folk Dances were developed and refined from the 1940s-60s under the patronage of Queen Kossamak at the Conservatory of Performing Arts and the Royal University of Fine Arts in Phnom Penh. Queen Kossamak trained her granddaughter Princess Bopha Devi in traditional dance from early childhood, and she went on to become the face of Khmer traditional dance in the 1950s and 60s both in Cambodia and abroad. Like so much of Cambodian art and culture, traditional dance was almost lost under the brutal repression of the Khmer Rouge in the late 1970s, only to be revived and reconstructed in the 1980s and 90s due, in large part, to the extraordinary efforts of Princess Bopha Devi.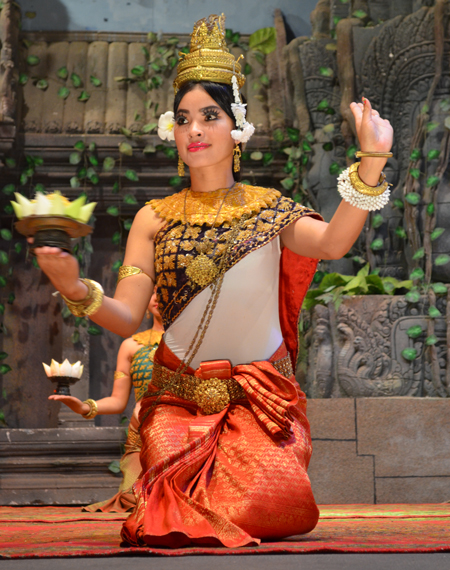 Classical dance, including the famous 'Apsara dance,' has a grounded, subtle, restrained, yet feather-light, ethereal appearance. Distinct in its ornate costuming, taut posture, arched back and feet, flexed fingers flexed, codified facial expressions, slow, close, deliberate but flowing movements, Classical dance is uniquely Khmer. It presents themes and stories inspired primarily by the Reamker (the Cambodian version of the Indian classic, the Ramayana) and by the Age of Angkor.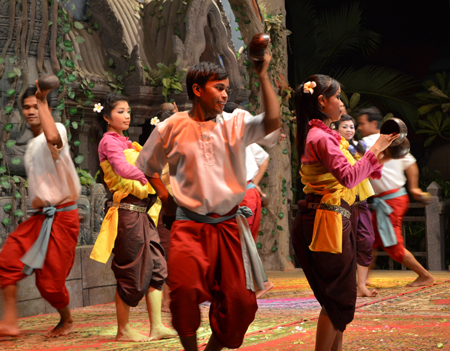 Folk Dance come in two forms: ceremonial and theatrical. As a general rule, only Theatrical Folk Dance is presented in public performances, with Ceremonial Folk Dances reserved for particular rituals, celebrations and holidays. Theatrical Folk Dances such as the popular Good Harvest Dance and the romantic Fishing Dance are usually adaptations of dances found in the countryside or inspired by rural life and practices. Most of the Theatrical Folk Dances were developed at RUFA in Phnom Penh in the 1960s as part of an effort to preserve and perpetuate Khmer culture and arts.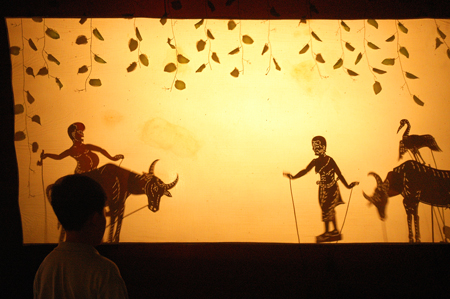 Shadow theatre comes in two forms: Sbeik Thom (big puppets that are actually panels depicting certain characters from the story) and Sbeik Toot (small
articulated puppets). The black leather puppets are held in front of a light source, either in front or behind a screen, creating a shadow or silhouette effect. Sbeik Thom is the more uniquely Cambodian, more formal of the two types, restricting itself to stories from the Reamker. The performance is accompanied by a pin peat orchestra and narration, and the puppeteers are silent, moving the panels with dance-like movements. Sbeik Toot has a far lighter feel, presenting popular stories of heroes, adventures, love and battles, with or without orchestra and with the puppeteers often doing the narration.

Most dance performances in Siem Reap offer a mixture of Classical and Theatrical Folk dances. A few venues offer Shadow Theater. Many of the dance performances in Siem Reap consist of 4-6 individual dances, often opening with an Apsara Dance, followed by two other Classical dances and two or three Theatrical Folk dances.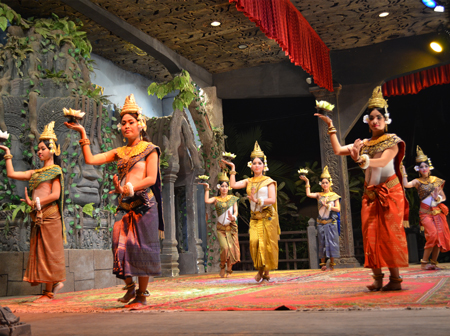 The Apsara Dance is a Classical dance inspired by the apsara carvings and sculptures of Angkor and developed in the late 1940s by Queen Sisowath Kossamak. Her grand daughter and protégé, Princess Bopha Devi, was the first star of the Apsara Dance.
The central character of the dance, the apsara Mera, leads her coterie of apsaras through a flower garden where they partake of the beauty of the garden. The movements of the dance are distinctly Classical yet, as the dance was developed for theatrical presentation, it is shorter and a bit more relaxed and flowing than most Classical dances, making it both an excellent example of the movements, manner and spirit of Classical dance and at the same time particularly accessible to a modern audience unaccustomed to the style and stories of Khmer dance-drama.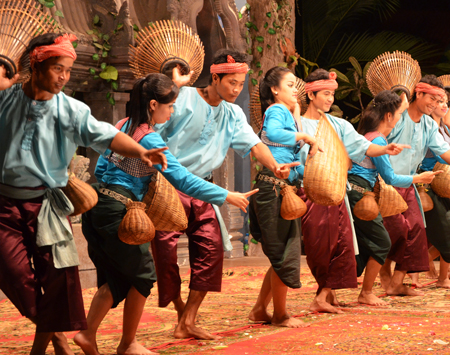 Another extremely popular dance included in most traditional dance performances in Siem Reap is the Theatrical Folk Dance known as the 'Fishing Dance.' The Fishing Dance is a playful, energetic folk dance with a strong, easy-to-follow story line.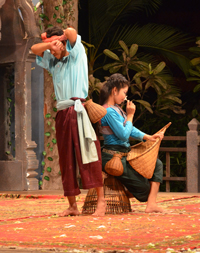 It was developed in the 1960s at the Royal University of Fine Arts in Phnom Penh and was inspired by the developer's interpretation of idealized and stereotyped aspects aspects of rural life and young love.
The dance begins...Clad in rural attire, a group of young men and women fish with rattan baskets and scoops, dividing their attention between work and flirtatious glances. Women are portrayed as hardworking, shy, demurring and coy, whereas the young men are strong, unrestrained, roguish and assertive. As the dance continues a couple is separated from the group allowing the flirtations between them to intensify, only to be spoiled by the male character playing a bit too rough, leading to her coy rejection. He pokes and plays trying to win her back, bringing only further rejection. Eventually he gently apologizes on bended knee and after some effort, draws a smile and her attention once again. Just as they move together, the group returns, startling the couple and evoking embarrassment as they both rush to their 'proper' roles once again.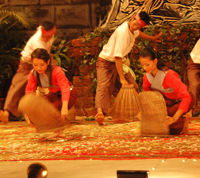 The men and women exit at opposite sides of the stage, leaving the couple almost alone, but under pressure of the groups, they separate, leaving in opposite directions, yet with index finger placed to mouth, hint of a secret promise to meet again.
(In an interesting side note, placing one's index finger to the lips to denote quiet or secrecy is not, generally speaking, a gesture found in Cambodia, but is common in the West. Its employment in the dance probably indicates a certain amount of 'foreign influence' amongst the Cambodian choreographers when the dance was developed in the 1960s.
Recommended reading:
Dance in Cambodia by Tony Samantha Phim and Ashley Thompson. New York: Oxford University Press, 1999
Dance of Life: The Mythology, History and Politics of Cambodian Culture by Julie B. Metha. Singapore: Graham Brash Pte. Singapore, 2001