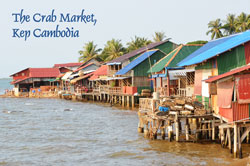 Kep Dining & Drinking
Dining... Kep is known for its fresh seafood, especially the crab - literally straight from the ocean to your plate. No visit is complete without at least one seafood meal at the oceanfront. Kampot Pepper Crab is a local classic - fresh crab fried with Kampot pepper, some of the finest black pepper in the world. This is a world-class local specialty. Traditional dining venues include the oceanside shacks at Kep's famous Crab Market, and the seaside dining gazebos strung along the oceanfront.

The oceanfront crabshacks of the Crab Market offer a local atmosphere and a wonderfully unsophisticated dining experience. Generally speaking, the spiffier places are easier, more consistent and have extras like a full bar and cocktails, but the mom-&-pop places offer a more authentic, down-home, if uneven dining experience.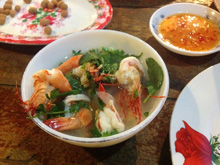 Just as popular as the Crab Market, picnic gazebos line the road near the Kep Beach intersection and in the oceanside park near the Crab Statue. Just find an empty platform that suits you, sit down and they will bring the menu and food to you.

There is also growing number of restaurants serving foreign fare. A few places clustered at the Kep Beach intersection including a couple of Italian places (Italian Corner) and a French bakery (L'Epi D'Or), and another bakery (Le Pain de Jade) and a couple of guesthouse places near the Kep Market area.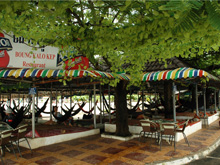 Drinking... For sundowners, the place to be is either at a hillside hotel restaurant like Veranda, at the oceanside Sailing Club, or at one of the Crab Market bars, all offering sunset views and full bars. Late evening most of Kep closes down. A couple places at the Crab Market stay open until at least 11PM), with La Baraka often the last to close. The Italian Corner at the beach serves late if there are customers. In the town and the Fisher Village area, the backpacker places are consistently open quite late, including Chez Bebe Bar on the other side Kep Market. Rusty Keyhole bar from Kampot also just opened Kep branch east of town.
Kep Restaurants & Bars:
| | | | | |
| --- | --- | --- | --- | --- |
| Kep Beach area | Crab Market | GH/Hotel | Other Oceanside | Fisher Village |
Atmaland Resort

Diverse Western/Khmer menu with seafood and vegetarian options. Fantastic fresh made pizza, jams, ice cream, juices and shakes. Great hillside view. FREE DELIVERY!

Tel: 012-204155

On the hillside, 400m to Crab Market
The Beach House

Poolside restaurant and bar at the Beach House hotel at the end of Kep Beach. Menu of western and Khmer dishes. Western breakfasts. Full bar - beer, wine, cocktails. Bar, terrace and poolside seating.

Tel: 012-712750

Located at Kep Beach
Beachside Tacos by Chan Vanna GH

Kep's first Mexican restaurant, also offering a good selection of Cambodian dishes. Tacos, burritos, and 5 different salsas from which to choose, at very reasonable prices. (Mex food for $3-$5, Cambodian dishes for $2.50 and under.) Breakfasts including very nice breakfast burritos. Free WiFi. Open 7AM-11PM. Happy hour 4PM-7PM with $0.50 draft.

Tel: 086-621727

Located at the Kep Beach intersection near the bus station
Brise De Kep

Very pleasant oceanfront balcony restaurant at Kep Beach. Offering nicely done, reasonably priced French and Asian fare with the emphasis on seafood. Good breakfasts including a very nice Pho (Vietnamese noodle soup) properly served with all of the appropriate fresh herbs, sprouts and condiments. Open 6AM - midnight.

Tel: 097-6298797

Kep Beach intersection
Chhay Chhay Resto
A wide range of both Western and Asian seafood styles with, of course, lots of crab options being near the Kep Crab Market. Prices range from $2 through to $7.75. The crab amok and garlic prawns come highly recommended.

Open daily from 6am - 10am, 11:30am - 2pm, 6pm - 10pm

Tel: 092-851455

Facebook: Chhay Chhay Resto

Kep Crab Market
The Crab Kitchen
Classic Crab Market seafood restaurant - a long wooden shack hovering over the ocean's edge with a big selection of fresh seafood dishes. Friendly people, local ambiance. A nice balance between rustic local and spiffed up international. And the bar style veranda seating facing the sea is a nice touch. Full bar with cocktails and a 4PM-8PM happy hour.

Tel: 016-789994.

Kep Crab Market
Italian Corner

Comfortable little Italian/Cambodian place at the Beach intersection. Pizzas, pastas, a few mains, regional choices, even some fast foods. Full bar, sometimes open late, one of the last places to close for the night.

Tel: 012-953427, 097-6772078

Located at Kep Beach intersection, near the bus stop
Jasmine Diamond Restaurant

A classic, rustic, family-run Crab Market crabshack offering all of the usual fresh-from-the-ocean fare and Khmer dishes. Crab dinner for 20,000R-40,000R. Ocean's edge, sunset view. An authentic Crab Market dining experience. Offering seafood delivery al over Cambodia.

Open: 6AM-11PM

Tel: 097-7359434

Crab Market
Kep Coffee

A cozy cafe near the Rabbit Island pier. Offering fantastic coffee, home cooked American style cuisine as well as an assortment of freshly baked goods. The menu has something for everyone, we recommend you go hungry.

Tel: 097 260 7472

33A Road Behind Sokimex Petrol Station, Kep 22101 Cambodia
Kep Lodge

Comfortable restaurant with great views over the Gulf of Thailand with a variety of Röstis (Swiss style potatoes), serving some of the best pizzas in town. Real Cheese Fondue and Raclette and the very popular Cambodian BBQ, prepared on your table are also available. Big variety of salads. Happy hour from 5:30PM till 7:00PM. Consistently great reviews from customers. Visa/MC

Tel: 092-435330

Off Road #33A, at the end of 'Pepper Street', 500 meters north of the Vishnu Traffic Circle
Kimly Restaurant

Seaside restaurant situated right at the end of the Kep crab market. Healthy portions of fresh seafood and local favorites served everyday. Open for lunch and dinner. Reservations for sunset dining or parties with more than four is recommended.

Tel: 096 888 7718

Waterfront Crab Market, Kep 07503 Cambodia
Knai Bang Chatt

Fine dining next to the sea. Recently opened to the public, this upscale seaside restaurant serves regional seafood dishes featuring fresh local produce and spices. Choose from daily set menus and a la carte fare, complimented by extensive bar and wine list. Reservations.

Oceanfront, off Road 33A, a hundred meters from the Vishnu Statue Traffic Circle
La Baraka
Pizzeria, classic crab restaurant and western bar in the Crab Market. Oceanside dining like all of the crabshack, but uniquely, La Baraka also has a 1st floor terrace. Serving wood-fired pizzas, western dishes as well as all of the crab market seafood classics. and a proper western style full bar. Often one of the last places in the Market to close for the night. Good place for an after dinner drink.

Kep Crab Market
Le Bout du Monde

Lovely hillside restaurant with a view over the jungle and ocean. Serving Khmer and French inspired cuisine for lunch and dinner using organic products. Homemade ice-creams and Breton pancakes at anytime of the day. Enter from the guesthouse side or the national park road.

Tel: 097-3729684

Located on the hillside. From Road #33A, turn east (toward the hill) at the oceanfront road intersection.
Led Zeppelin

Unique place on the hillside in the National Park, offering one of the best sunset views in Kep. Cozy balcony with a few tables, salads, sandwiches and drinks. Lots of area information. Recommended. National Park Road. 8PM-4PM, closed Mondays.

Located on the hillside. From Road #33A, turn east (toward the hill) at the oceanfront road intersection.
L'Epi D'Or

French bakery and café at the Kep Beach intersection (Beach Square side). Excellent selection of fresh baked breads (including many specialty breads) , cakes and pastries. Cakes made to order. Good-value selection of western breakfasts. Good coffees including espresso. Another branch is located in Kampot.

Open: 7:00AM - 7:00PM

Tel: 036-6363997

Located at Kep Beach intersection
Mr. Mab Restaurant

Long standing restaurant specializing in Kep crab, seafood and other Cambodian favorites. Located in the Kep crab market amongst other local restaurants. Range of drinks including some creative cocktails. Looking out to sea making for a pleasant location to sample Cambodian cuisine.

Tel: 017-536888, 036-6666673, 087-512777

Kep Crab Market
Rusty Keyhole Kep

That's right! Rusty Keyhole from Kampot, now in Kep. Same great menu of western favorites including Rusty's famous ribs. Kitchen open to 9:30 and bar open late. Big TV showing sports and events. Located with Rusty Keyhole Bungalows.

just off Road #33A, about 2km past Kep Market
Sailing Club

Ideal for watching sunset. A former fisherman's house built with a pier and a dock. Offering a variety of cocktails and a great menu for lunch and dinner. A very popular Sunday brunch. Pool table, ping-pong, volleyball. While you are there, hire a Hobie Cat, do some windsurfing or kayaking on the ocean. Check the website for special event. Free wifi. Open Tue - Sun, 10:00AM - 11:00PM.

Tel: 078-333685

Oceanside, next to Knai Bang Chhat, off Road 33A, a hundred meters from the Vishnu Statue Traffic Circle
Seagull Le Mouette
Crab Market, ocean's edge crab shack, one of the many family places but with more finish, and still maintaining the tradition of classic, authentic Crab Market fare. Especially good sunset view, especially from the loft seating – a great place for a sundowner. Full bar with cold beer and cocktails. Pretty good service. The fresh seafood is of course the best thing on the menu. The local ocean fish dishes and classic crab dishes (like pepper crab) are especially good. Open hours: 9:00AM - 10:00PM

Tel: 097-7435480 Facebook

Kep Crab Market
The Strand
A true culinary experience in a wonderful setting . A Kep fine dining experience where Chef Janine (South African 5-star ex-Chef) and her Cambodian team invites you to taste a fusion of international and local cuisine. "The daily fresh ingredients evoke a sense of adventure and lift the senses whilst sampling authentic Cambodian flavors." Open daily from 7:00AM - 10PM.

Tel: 078-333686

Oceanfront, at Knai Bang Chhat, off Road 33A, a hundred meters from the Vishnu Statue Traffic Circle
Veranda Natural Resort


The Secret Bar and Restaurant: A unique open-air restaurant surrounded with mountains and with a sweeping view of the Kep seaside and sunset. Offering a wide range of fresh seafood, Asian and western cuisine. Also daily breakfast buffet, a la carte dining, and happy hour. Generous portions, good wine selection, free wifi and scheduled live music.

Veranda Bakery & Coffee Shop: Freshly baked breads, Danishes, croissants, pastries and cakes. 15 different ice cream flavors, espresso coffee, latte macchiato. Café lounge that has a great view of the ocean and surrounding mountains. Free wifi. Custom made birthday cakes. Range: $1.50 - $4.50

Veranda Pool Bar: Two pool bars - one by the Garden Swimming Pool and another at the Infinity Pool! Scenic mountain surroundings and ocean sunset view. Specialty cocktails, beers and wines. Happy hour 5PM - 7PM.

Visa/MC

Tel: 012-888619 036-6388588
www.veranda-resort.com

Located on the hillside. From Road #33A, turn east (toward the hill) at the oceanfront road intersection.