By comparison to other major tourist destinations around the world, Cambodia is a relatively safe travel destination, though is still subject to the same some of petty crime, dangerous traffic, cons and scams as many Southeast Asian countries.
Traffic accidents are not uncommon in the chaotic traffic of Cambodia, particularly Phnom Penh and on the National Routes between major cities. The most common and convenient forms of public transportation are the tuk-tuk and the motorcycle-taxi (motodup), though car taxi is the safest way to move around the city. For taxi contact details see: Phnom Penh; Siem Reap, Sihanoukville
For those who choose to rent a motorcycle and drive themselves, be forewarned that traffic in Phnom Penh is chaotic in the extreme. Chaotic traffic makes motorcycling challenging in the extreme. Roads outside the city vary in condition. If you do decide to ride, drive slowly, stay right, wear a helmet and remember that medical services are limited, especially in the countryside where it is almost non-existent. Only experienced riders should attempt driving in Cambodia.
Ferry to Siem Reap The safety of the ferries that ply the Tonle Sap between Phnom Penh and Siem Reap may be of some concern. Though by third-world standards the public ferries are relatively fast and modern, they in no way meet international safety standards. Little or no safety equipment is available. If you are looking for international standards of safety, do not take the local ferry, though if you are accustomed to traveling on ferries in southern Asia, you will probably find the Siem Reap ferry to be a rather tame adventure.
Outside of Phnom Penh and Sihanoukville, violent criminal activity directed against foreign tourists occurs but is still quite rare. Bag snatching and mugging is not uncommon in Phnom Penh as is petty theft in Sihanoukville. Siem Reap town seems to have fewer incidents though there have been reported bag snatchings and pickpocketing. Over the last several years there have also been a few violent crimes against foreigners traveling alone in other provincial cities. But at least at this point in time, these crimes are exceptions rather than the rule. Generally speaking, provincial capitals such as Siem Reap, Battambang and others are exceptionally safe.
Phnom Penh Street robberies of tourists in Phnom Penh, though not common, are reported with some regularity. And there has been something of a spike in such crimes over the last year or so. Most occur at night, near popular tourist destinations and almost always to tourists on the back of a motorcycle taxi or on foot. The robbers are sometimes armed with a handgun and usually only want money. Though the robbers generally avoid applying violence, they will become violent if challenged. The surest way to avoid robbery is to take a car taxi when traveling after dark. If you choose to take a tuk-tuk, it is best not to go alone, avoid carrying a bag if possible, stay on main roads rather than dark side streets and be particularly careful as you exit the tuk-tuk at your destination. If confronted by robbers, do not resist. Give up your money quickly and they will probably leave as quickly as they showed up.
Snatch and grab robberies are also regularly reported, targeting both locals and tourists - bag, camera, iPhone/iPad or necklace is grabbed by a passing motorcyclist. Be particularly aware when you first arrive by bus/plane and are taking a tuk-tuk to your hotel. When walking down the street, keep your camera/bag on your inside shoulder away from the traffic side. Most tuk-tuk drivers will advise you to keep your camera and bags in front of you in the middle of the tuk-tuk, not near outside where it can be grabbed. Also note that when riding on the back of a motorcycle taxi, keep your bag or backpack directly between you and the driver, or let the driver place it in front of him. There have been several reports of people pulled off of the back of motorcycle taxis when thieves grabbed the bag or backpack they were wearing.
Nightclubs: Some posh Cambodian night clubs draw a dangerous crowd of the rich, connected and armed. The mixture of alcohol and guns can and too often does lead to violent confrontations and gun-play, inside and immediately outside the clubs. As a general rule, this is not the case at foreigner and tourist oriented clubs and bars.
Other non-violent, non-confrontational crime does occur, but should be obvious enough to almost go without mentioning: Do not leave money or valuables in your hotel room unattended. Do not leave money or valuables unattended on the beaches in Sihanoukville. Do not leave your bags in a taxi or on a motorcycle or cyclo while you go into a hotel to check in. Be very careful of your belongings if you take a prostitute to your hotel room. Be careful of pickpockets in tourist areas, in crowded discos and clubs, particularly clubs filled with prostitutes, and at the traditional markets such as Phsar Toul Thom Pong and Phsar Kandal in Phnom Penh where the pickpockets are often seemingly friendly children.
Tourists and travelers report a few different minor scams in Siem Reap including:
- the milk scam (i.e. bedraggled woman with infant in arms tells you she doesn't want money, just milk for her baby. You buy milk for her at the mini-mart. After you leave she returns the milk and splits money with the mini-mart)
- the rice scam (i.e. tout tells you orphanage/school needs rice for kids. Takes you to market where you buy wildly overpriced rice to donate. Tout/vendor split profit. Not as common these days.)
- Currently the most costly and frightening scam in Cambodia is what has come to be known as the 'Blackjack Scam,' or the "Philippine Blackjack Scam" - passing on the street or in the market a friendly stranger, often a couple, tells you he likes your glasses, shirt, bag, etc. Casual conversation ensues. They invite you to their house to meet family/have dinner/have cultural experience. Friendly card game begins. Before you know it you owe hundreds or even thousands of dollars and are being escorted to the ATM by a group of thugs. See
http://laurelburytales.wordpress.com/2012/06/21/holiday-in-cambodia/
http://ltocambodia.blogspot.com/2011/12/riverfront-scammers-and-filipino.html
http://www.travelfish.org/blogs/cambodia/2012/05/25/phnom-penh-card-scam/
http://johnnyvagabond.com/featured/poker-scam-saigon/
The official price for Cambodian visas are: Tourist (Type 'T'): US$20. Business (Type 'E'): US$25, though there can be extra charges at some overland crossing points. Travelers continue to report that immigration at the Cham Yeam (Koh Kong) crossing often will not accept payment in US dollars and is currently charging 1200 Thai baht for a tourist visa and 1600 baht for a business visa. There are no longer reports of this same practice from the Poipet crossing. Poipet travelers report that visas are available, in dollars, at official prices BUT service can be quite slow and there is an express visa service available for 100 baht extra.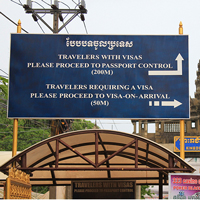 At the Poipet crossing, travelers coming from Thailand to Cambodia are often confronted by by touts and drivers on the Thai side of the border that direct you to 'local consulate' on your way to the border crossing for your Cambodian visa. DO NOT USE THEIR SERVICES. DO NOT GET YOUR VISA AT THE 'LOCAL CONSULATE' ON THE THAI SIDE. IThe visa is valid but significantly more expensive than the visa available at Cambodian immigration. Do not get your Cambodian visa until you have stamped out of Thailand, crossed the border into Cambodia and arrived at Cambodian immigration. (Follow the sign in the photo to the official Cambodian Immigration station.)
Also, the touts will tell you that you need to exchange foreign currency for Cambodian riel. THERE IS NO REQUIREMENT TO CHANGE MONEY AT THE BORDER. It is a scam to get you to change money at a rip-off exchange rate. DO NOT change money at the border.
As more dangerous types of drugs have become more widely available, Cambodia has begun to enforce the drug laws more vigorously. Foreigners are now going to prison for illicit drug possession. Also, there has been a steady increase in drug related deaths of tourists. It has been suggested this is due, at least in part, to overdoses from heroin sold as cocaine or to the comparative strength of the heroin in Cambodia. Regardless, drugs in Cambodia is quickly becoming a much more dangerous business. Beware.
For disease concerns see the Visas and Vaccinations page. Remember that AIDS/HIV and Hepatitis B are very prevalent amongst Cambodia's sex workers.
The vast majority of tourists that visit Cambodia will never face any of the problems mentioned above.
Do not do in Cambodia, what you would not do in your home country.
Be aware of your surroundings.
Be city-smart in Phnom Penh and Sihanoukville.
Always use common sense.
Safety and Security Information Sheets
Australia Department of Foreign Affairs: Travel Information
Canada Department of Foreign Affairs: Travel Information Report
US - CDC: Travelers Heath, Southeast Asia
US State Department Consular Information Sheet