For Cambodian souvenirs, art, silks, handicrafts and curios, both Phnom Penh and Siem Reap offer a wide range of shopping opportunities, from traditional markets to chic little boutiques. Traditional Cambodian souvenirs include fine hand-loomed silks, Angkorian and Buddhist themed carvings, statuary, hand-pounded silverwork, colored gems, traditional handicrafts, basketry and of course, the most traditional of all Cambodian souvenirs, the krama - a checkered scarf unique to the Khmer people and tourists. Traditional markets, the Russian Market and Central Market, both offer excellent selections of traditional souvenirs as well as a unique local experience. Several boutiques are clustered together along Street 240 behind to the Royal Palace. Boutiques, silk shops and souvenir shops also dot the riverfront area and the Boeung Keng Kang 1 area. Street 178 next to the National Museum is known as 'Art Street' for the art galleries that line the street from the riverfront to Street 19.
What to buy...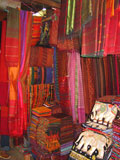 Cambodian Silk - Cambodian silks are prized by silk collectors the world over. Most of the silk available in Cambodia is hand-loomed using the traditional ikat method of dying the threads and looming in the patterns. Both raw and fine silks are available in the form of bolts, sarongs, clothing and various handicrafts. Cambodian silk is available at the Russian Market and silk shops and boutiques across town, many specializing in silk creations such as tailored Asian and Euro-Asian fashions, fashion accessories and soft furnishings. To learn more about Cambodian silk check out the book, 'Traditional Textiles of Cambodia' by Gillian Green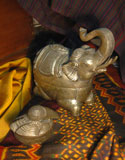 Silverwork - Silver areca nut containers are popular traditional souvenirs. These pounded silver containers are ordinarily shaped as animals, fruits and vegetables, and were and to some degree still are used in ceremonial and everyday life to hold dried areca nut. (Areca nut, also known as 'betel nut,' is a mild stimulant that is chewed as one chews tobacco. You may notice some people in the countryside, especially older women, with teeth stained black from years of chewing areca.) Nowadays, the silver containers are made primarily for sale as souvenirs but are still hand crafted using traditional techniques and styles.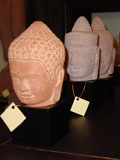 Statues and Carvings - Statues and carvings of traditional subjects, often replicas of Angkorian-era works as well as Buddhas and various Hindu gods and personages, are available in stone, wood and brass. Statues make for relatively heavy, bulky souvenirs but are still very popular because of their beauty and artistic value. The replica of an Angkorian era bust of Jayavarman VII with its graceful lines and peaceful smile is truly captivating and is perhaps the most popular piece..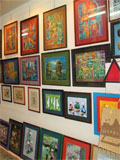 Art - Over the last few of years Cambodia's art scene has begun to blossom as a new generation of Cambodian artists takes the fore. The chic little silk, art and furniture boutiques along Street 240 and the art galleries and boutiques on Street 178 ('Art Street') near the National Museum are both great areas to explore for quality traditional and contemporary Southeast Asian art. Of particular note, the very active New Meta House (www.meta-house.com ) the award winning Reyum Gallery and contemporary art focused Java Café & Gallery (www.javaarts.org,) all offer regular events and changing art exhibitions. Look for Meta House event schedule fliers at restaurants and bars. Also check Asia Life magazine and the back page of the Friday Cambodia Daily for new and on-going exhibitions
Contemporary Fashion and Accessories Over the last few of years Cambodia's art scene has begun to blossom as a new generation of Cambodian artists takes the fore. The chic little silk, art and furniture boutiques along Street 240 and the art galleries and boutiques on Street 178 ('Art Street') near the National Museum are both great areas to explore for quality traditional and contemporary Southeast Asian art. Of particular note, the award winning Reyum Gallery on Street 178 offers some of the most interesting and important exhibitions in town, featuring the work of some of Cambodia's best known and upcoming contemporary artists as well as cultural exhibitions. New exhibitions open every couple of months. Other art spaces offering changing exhibitions include Java Café & Gallery ( www.javaarts.org ) and the very active Meta House ( www.meta-house.com ,) the Check the back page of the Friday Cambodia Daily and the 'Listings' section of the Phnom Penh Post for new and on-going exhibitions.
Where to buy...
Traditional Markets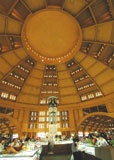 Central Market (Psah Thmei)
The distinctive yellow domed Phsar Thmey (also known as the 'Central Market') is a 'must see,' both as a historic and architecturally interesting building and as a shopping destination. The Central Market is a good place to pick up souvenirs, books, and if you now what you are doing, gems and jewelry. Souvenir vendors line the entrance walkway offering statuary, silverwork, handicrafts, silks and kramas, carvings, photocopy books and postcards and the largest selection of souvenir t-shirts and caps and town. The central dome of the main building houses an amazing display of jewelry and gems.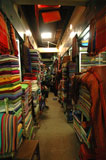 Russian Market (Psah Toul Tom Poung)
Of all the traditional markets, the Russian Market offers the largest selection of souvenirs, curios and other items of interest to the visitor. The south side is the place to begin your shopping foray, lined inside and out with stalls selling carvings, handicrafts, silks and fabrics, curios, CDs and inexpensive electronic goods. This market offers the largest selection of bootlegged DVDs in town, with vendors located near southeast entrance. There are also several fabric vendors making it a good place to pick up fabric to take to the tailor. (This market became the foreigner's market during the 1980's when most of the foreigners were Russians, hence the name 'Russian Market.')


Boutiques, Silk Shops and Art Galleries

Amara Fair Trade Shop
Boeung Keng Kang 1 souvenir shop and cafe. Selling locally made bags, purses, pillows, decor, toys, scarves and more, most produced by NYEMO, an NGO helping vulnerable women and their children. Most products made of Cambodian silk. Also a small cafe serving snacks, sandwiches, cakes, pastries, juices, coffees and tea.
#18, Street 282 (BKK1), Phnom Penh, Cambodia.
Tel: +(855)(0)12-570333
+(855)(0)69-696069
Website: www.amaracraft.com
A.N.D. is a new Cambodian brand giving a design-led twist to traditional ikat weaves, made up into fashion ranges or available by the meter. Here you will also find high quality innovative bags using up-cycled materials, and a wide range of jewelry featuring re-claimed hardwood, vintage porcelain, silver and quirky up-cycled found objects, including cigarette lighters and playing-cards.
# 52C, Street 240, (opposite 240 Hotel), Phnom Penh, Cambodia.
Tel: +(855)(0)23-224713
E-mail: artisandesigners@gmail.com

Apsara Art Gallery
Art gallery/framing shop. Offering a variety of contemporary Southeast Asian art (Cambodian, Thai, Vietnamese, Chinese,) paintings, photographs. Matting and framing.
#170A, Street 450 (near Russian Market), Phnom Penh, Cambodia.
Tel: +(855)(0)12-867390
Artisans d'Angkor, long-established and well respected in Siem Reap for its fine Cambodian art and crafts, has opened its first ever boutique in Phnom Penh, located in the old district opposite the Post Office. Featuring wood and stone carvings, lacquer wares and silk items and introducing a prestige gold collection finished with gemstones inlay.
Open daily 9:00AM - 6:00PM.
#12AE0, Street 13 (opposite the Post Office), Phnom Penh, Cambodia.
Tel: +(855)(0)23-992409
Website: www.artisansdangkor.com

Bambou Indochine
Bambou has an extensive range of funky, original t-shirts for men, women and children. Inspired by the images of Indochina, the collection is hand printed on 100% cotton and available in a full range of colors and sizes. " Bambou also offers a beautiful Cambodia-inspired collection of casual and cool silks and Bamboo Fiber resort wear".
Two Locations in Phnom Penh (Street 178 near the Riverside and International Airport) and Four locations in Siem Reap (Alley west, Lucky Mall, Street 11 next to Red Piano, international Airport).
Visa/MC
Tel: +(855)(0)63-966822
E-mail: info@bambouindochine.com
Website: www.bambouindochine.com

Bliss
Street 240 boutique and spa. Very well-regarded Street 240 boutique offering a unique Eurasian fashions designs, silks, quilts, pillows, soft furnishing, bags and exotic home wares. Spa, massage, skin treatments, steam, sauna, plunge pool. Visa/MC/JCB/AMEX
Open 9AM-9PM.
#29, Street 240, Phnom Penh, Cambodia.
Tel: +(855)(0)23-215754
Website: http://blissspacambodia.com

Color Vintage Clothing
"Color offers the widest selection of vintage clothing and accessories in Phnom Penh. Each item is carefully chosen and refined and restored before it ends up in our showroom. To make sure that our customers walk away with exactly what they want, we also offer free alterations on any item in our collection.
Everyone involved in the shop is an aspiring Cambodian woman, and our shop is a celebration of our identity; a place where western and Asian styles and modern and antique décor come together in harmony. The simple, spacious interior lets the timeless items in our shop shine and gives customers a chance to cool off and enjoy their shopping experience.
Our inventory is sourced both domestically and internationally, and as a truly global retailer, we offer export services for vintage shops and shoppers around the globe.
We hope you will stop by our shop at #168 on St. 13 (across from Friends Restaurant), of if you can't make it to Cambodia, check out the rest of our site and leave a comment or inquire about our export services".
#168, Street 13(Across from Friend restaurant), Phnom Penh, Cambodia.
Tel: 095-787768
Website: http://colorvintage.wordpress.com/


Couleurs D'Asie
This Street 240 boutique carries high quality silks, silk fashions, accessories, homewares, girls' dresses and accessories. Couleurs d'Asie offers unique creations, imported gifts, and Cambodian handicrafts. Custom orders welcome.
Visa/MC/JCB/AMEX
1) #33, Street 240, Phnom Penh, Phnom Penh, Cambodia.
Tel: +(855)(0)23-221075
2) Sofitel Royal Angkor Hotel and Lotus Hotel, Siem Reap.
E-mail: info@couleursdasie.net
Website: www.couleursdasie.net

CYK Handicrafts
Silk shop. The Caring for Young Khmer (CYK) NGO retail outlet offers hand-woven Cambodian ikat silks, silk products and silks made to order in traditional or custom designs and colors. The silks are hand-loomed in Takeo and Kandal provinces and the patterns created using the traditional ikat method and all natural dyes.
#67, Sothearos Blvd, Phnom Penh, Cambodia.
Tel: +(855)(0)23-210849
E-mail: info@cyk.com.hk
Website: www.cyk.org.kh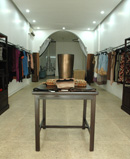 Daisy
This Street 240 boutique offers a selection of stylish tailored and embroidered women's dresses and clothing. Original Khmer-designs, Daisy has tailors on site to make fashions suitable for evenings, casual and office, plus Cambodian-inspired accessories such as silk scarves from Ratanakiri, skirts made from hand-made Cambodian fabric and custom-made bags. Custom designs welcome.
#75Eo, Street 240, Phnom Penh, Cambodia.
Tel: +(855)(0)17-522254
E-mail: daisy.boutique@ymail.com

Daughters of Cambodia
"Offering young women trapped in the murky Cambodian sex industry a way out through provision of jobs in its fair trade businesses. Their new store, spread over three floors, offers environmentally friendly cotton products made at daughters, in original designs, including home furnishings, accessories, fashion clothing and gifts. The ground floor also has a women's spa. There is an exhibition rooms providing education about the sex industry in Cambodia and a café on the top floor." Open Mon-Sat, 9AM-6PM.
#65Eo, Street 178, Phnom Penh, Cambodia.
Tel: +(855)(0)77-657678
Website: www.daughtersofcambodia.org

Friends 'n' Stuff
Located next to 'Friends the Restaurant', the shop sells products made by beneficiaries from various Mith Samlanh ("Friends") projects as well as other consignment products. After shopping, relax with a manicure and massage from Mith Samlanh's beauty training students at 'The Nailbar'.
Open 7 days a week from 11:00am-9:00pm.
#215, Street 13, at Friends, Phnom Penh, Cambodia.
Website: www.friends-international.org

Happy Painting Gallery
Open since 1995, the Happy Painting Galleries, located in Phnom Penh, and Siem Reap, exclusively feature the work of contemporary artist Stef Delaprée, a.k.a. Stef, a singular artist with a gentle insight into everyday Cambodia. All of the Happy Painting Galleries offer original paintings, reproductions, postcards, cards and T-shirts by Stef. Original, funny and colorful, Stef art is extremely popular and accessible to all. Beware of pirated copies.
Visa/MC/JCB
Open 8:00AM-10:00PM.
1)#363, Sisowath Quay, Phnom Penh, Cambodia.
2) Phnom Penh Intl Airport: Domestic and intl terminals, Phnom Penh, Cambodia.
Tel: +(855)(0)23-221732
E-mail: stef@happypainting.net
Website: www.happypainting.net
Website: www.facebook.com/stephane.delapree
I-Ching Décor
I-Ching Décor offers a range of high quality interior design and architectural solutions for home and commercial business needs. Services include expert advice on architectural work, interior design, custom made furniture, home accessories and Feng Shui. I-Ching Décor works with Cambodian designers to create smart and unique pieces for the home. The showroom offers a range of interior products from window dressings to kitchen ware, dining, living and bedroom suites, glassware, soft furnishings, lighting and other home accessories. Products are sourced from suppliers in Cambodia, Vietnam and Thailand.
Visa/MC
#85, Sothearos Blvd., Phnom Penh, Cambodia.
Tel: +(855)(0)23-220873
E-mail: ichingdecor@online.com.kh
Website: www.ichingdecor.com

Insolite
This quaint little art shop specializes in traditionally-themed Cambodian art objects, including Buddhas, Hindu deities, and high-quality replica Angkorian-era statuary. Insolite carries a range of Khmer carvings, statues, castings, paintings and furniture. Additionally, they buy art and antiquities. Just 40 meters from the entrance of the National Museum.
#33Eo, Street 178 (Near to National Museum), Phnom Penh, Cambodia.
Tel: +(855)(0)17-688876
+(855)(0)23-223073
E-mail: insolitesouvenirshop@gmail.com

Jasmine Boutique
Fashion Boutique Jasmine creates two collections a year using beautiful hand woven Cambodian silk. Each Collection includes standard pieces. Structured wrap shirts, A-line skirts, beautifully cut trousers and jackets. Perfect for office and corporate wear. Always a sophisticated look. Currently including a lace collection mixed back with silk. Winter collections use strong sophisticated shades with depth & character. Summer shades are soft neutral tones which appear clean and crisp.
#73, Street 240, Phnom Penh, Cambodia.
Tel: +(855)(0)23-223103
Website: www.jasmineboutique.net
Java Café & Gallery and J Gallery
Long-established Java Cafe & Gallery features changing exhibitions, showcasing up-and-coming Cambodian artists and cutting edge contemporary Cambodian art and photography. The café offers tasty baked goods, sandwiches, snacks as well as coffee and tea. Next door you'll find the JavaArts jGALLERY - an art exhibition space that shows paintings, photography, sculpture, installation and new media.
Visa/MC
#43, Street 90., Phnom Penh, Cambodia.
Tel: +(855)(0)92-451462
Website: www.javaarts.org

Kabas Boutique
Tailor, Fashion this BKK1 boutique features tailored clothing as well as a range of fashions for men and women made from Cambodian fabrics, plus silk accessories, bags, pillows and Cambodian souvenirs. Tailors are on the premises to make clothing to your specification at very reasonable prices and a 48 hour turnaround. Small cocktail bar and pleasant patio terrace seating.
#18B, Street 282 (next to Wat Langka), Phnom Penh, Cambodia.
Tel: +(855)(0)70-677777
+(855)(0)23-996139
E-mail: vireakkhmer18@yahoo.com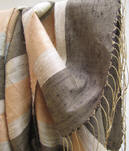 Khmer Silk Villages
Khmer Silk Villages (KSV) is an association of silk breeders and weaver created in late 2005, aiming to improve the livelihood of rural poor producers through skills development and trade. The showroom offers all Cambodian silk collections - scarves, wraps and more.
#26, Street 55 corner Street 228, Phnom Penh, Cambodia.
Tel: +(855)(0)23-997125
Website: www.cambodiansilkvillages.org

Kroma Clothes Shop
Clothing shop and vocational center. Housing the Phnom Penh Municipality Vocational Center and the Cambodia Japan Friendship Training Center and retail shop. The retail shop offers products of the vocational and training center - Khmer silks and cotton clothes, bags, pillows, coverings and soft furnishings. Retail and wholesale. Special orders welcome. New product recently added at the retail shop: handcrafted wooden children's toys.
Monivong (in Boeung Trabek HS), Phnom Penh, Cambodia.
Tel: +(855)(0)23-211886
E-mail: kroma.clothes.shop@online.com.kh
La Or Fashion & Accessories
"La'Or represents ethical fashion with designs based on simplicity and elegance. La'Or Fashion encompasses daywear, cocktail, evening and bridal couture of simple opulence for any woman wanting to exude femininity. La'Or fabrics include one-off pieces, hand-loomed and hand-dyed in Cambodia making garments unique and a collection of accessories to complete your look. Custom designs and private consultations available." Located in Boeung Keng Kang 1 (BKK1.)
Visa/MC
#41 Street 288, BKK1, Phnom Penh, Cambodia.
Tel: +(855)(0)23-992201
+(855)(0)088-6600100
Facebook: www.facebook.com/la.or.5
Website: www.collectionsofcambodia.net
Street 240 boutique, art gallery and design shop. Le Lézard Bleu offers an excellent selection of high quality, traditional and contemporary Cambodian art, carvings, hangings, unique creations and curios, art-deco furniture and home decoration. Custom framing. New branch of Le Lezard Bleu now in Siem Reap.
Visa/MC
#61, Street 240, Phnom Penh, Cambodia.
Tel: +(855)(0)23-986978
E-mail: le.lezard.bleu@online.com.kh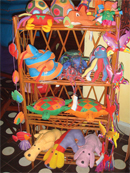 Le Rit's Boutique (NYEMO)
The Le Rit's boutique shop features quality Cambodian handicrafts produced by vulnerable women through the NYEMO training program, an NGO that teaches women weaving, sewing and embroidery skills. The shop carries silk bags, home decor, curtains, cushions, embroideries, toys, accessories, tablewares and more.
#71, Street 240, Phnom Penh, Cambodia.
Tel: +(855)(0)23-213160
E-mail: sales@nyemo.com
Website: www.nyemo.com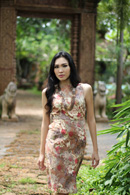 Luna Boutique
Shop tailor-made creations by Cambodian designer Mengchou Kit at this modern Street 278 boutique. At Luna you'll find stylish designs for both men and women, including day and evening wear. Featuring classic lines and tropical colors and prints, Mengchou Kit's designs will fit seamlessly in your collection while always reminding you of Cambodia. Located in Boeung Keng Kang 1 on the popular Street 278.
#8E1, Street 278, Phnom Penh, Cambodia.
Tel: +(855)(0)12-473788
+(855)(0)16-332291
Website: www.lunaboutiquephnompenh.com

Mekong Art
Mekong Arts offers a select collection of high quality contemporary and traditional Cambodian art. Shop for Khmer statues, Cambodian silk products, fabrics, curios and furniture in their store and find beautiful décor for the home including silk pillows and homewares. Mekong Arts is located near the front entrance of the National Museum on Street 178, known as 'Art Street.'
#33, Street 178, Phnom Penh, Cambodia.
Tel: +(855)(0)23-210387
E-mail: mekong.arts@online.com.kh


Mekong Creations
Specializing in unique, locally made household and gift items, including papier mache, silk, bamboo and water hyacinth. Mekong Creations is part of the parent NGO Mekong Plus, designed to support community development programs in Cambodian and Vietnam.
Open 9AM-7PM.
#45, Street 240, Phnom Penh, Cambodia.
Tel: +(855)(0)23-210545
Email: mekong.creations.phnompenh@gmail.com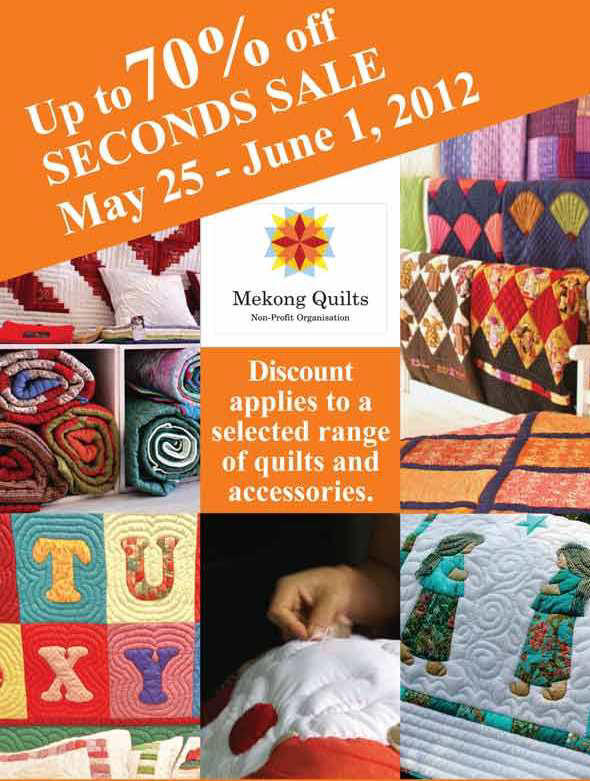 Mekong Quilts
Mekong Quilts specializes in high quality, hand-crafted bed covers, accessories and gifts. Their quilts include Asian-inspired, contemporary, traditional and modern designs, as well as a colorful line of products for babies and children. Mekong Quilts is a non-profit community development project which provides sustainable employment for women in Vietnam and Cambodia. Mekong Quilts also accepts custom orders, and international shipping is available by both sea and air.
#47-49, Street 240, Phnom Penh, Cambodia.
Tel: +(855)(0)23-219607
#5, Sivutha Blvd. , Siem Reap, Cambodia.
Tel: +(855)(0)63-964498
Website: www.mekong-quilts.org

Mulberry Boutique
Mulberry has a silk boutique, tailor, and souvenir shop all under one roof. Specializing in stylish silk clothing and products including wall hangings, scarves, bags, and cushion covers, Mulberry also offers silver jewelry, statues and Cambodian souvenirs, in addition to custom-tailored clothing on request. Located on Street 51 around the corner from Street 278. Open 8:00AM-10:00PM daily.
#9 Street 51 (Boeung Keng Kang 1), Phnom Penh, Cambodia.
Tel: +(855)(0)16-222750
+(855)(0)17-558239
E-mail: mulberrysilk_kh@yahoo.com

NCDP Retail Outlet
The National Center for Disabled Persons is an NGO-based shop offering a large variety of Cambodian handicrafts and souvenirs including silks and silk products. Their selection of colorful and stylish silk purses and bags are particularly nice. NCDP's goal is to assist disabled persons helping them to receive health and rehabilitation services, skills training and income-generating opportunities.
Visa/MC/JCB
#74 Street 592, Tuol Kork Tel: 023-884382
E-mail: ncdp_retail@ncdpcam.org
Website: www.ncdpcam.org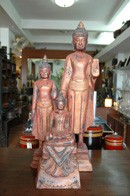 Pavillon D'Asie
Boutique, Sihanouk Boulevard, opposite garden of Independence Monument. Pavillon d'Asie is a social business, boutique and art gallery, set in a large exhibition space, offering an excellent selection of traditional and contemporary Cambodian handicrafts, bronzes, sculptures in wood and stone, carvings, antiques, curios, exposition of paintings, Khmer ceramics, Art-deco furniture, home accessories.
Visa/MC/JCB/AMEX
#24/26, Preah Sihanouk Blvd., Phnom Penh, Cambodia.
Tel: +(855)(0)23-221909
+(855)(0)12-497217
E-mail: pavillondasie@hotmail.com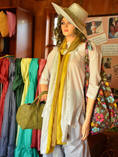 PSE Boutique
All of the products at the Pour un Sourire d'Enfant boutique shop are made by women from the Stung Meanchey dumpsite. Your purchase of Cambodian handicrafts, silk clothing, scarves and other products help benefit these women and their children who are now learning vocational skills and receiving an education through Pour un Sourire d'Enfant.
Visa/MC/ANZ
Open from Monday to Friday 8:00AM-5:00PM. Saturday closed at 12:00PM.
#402, Trea Village, Stung Meanchey, Phnom Penh, Cambodia.
Tel: +(855)(0)12-508537
Website: www.pse.asso.fr

Rajana
This NGO-run shop carries a wide range of items hand-made by Cambodian artisans, including silk products, bags, silk paintings, silver jewelry, home décor, handicrafts, pillows, hilltribe crafts and even local coffees, spices and condiments. They also have creative takes on traditional items, including shoulder bags made from krama textiles. The Rajana Association prides themselves on bringing fair-trade to all parts of Cambodia, working with home-based artisans in several cities, offering fair prices for handicrafts and skills training for young people. Rajana has shops located in Phnom Penh, Siem Reap and Sihanouk Ville.
Visa/MC/JCB/AMEX
Streets 450 & 155 , Phnom Penh, Cambodia.
Tel: +(855)(0)23-364795
E-mail: rajana@rajanacrafts.org
Website: www.rajanacrafts.org

Rehab Craft Cambodia
Offering a stylish, modern take on Cambodian handicrafts, Rehab Craft Cambodia is an NGO that provides job skills and employment opportunities to people living with disabilities. Their products range includes contemporary silk items, trendy purses made from recycled rice bags, wooden carvings, home décor and accessories. All earnings are reinvested in training and employment programs.
#10A, Street 322, Phnom Penh, Cambodia.
Tel: +(855)(0)23-726801
Website: www.rehabcraftcambodia.org

Senteurs D'Angkor
Pamper yourself with natural handmade Khmer soaps, massage oils, body creams, body scrubs and bath salts in exotic scents including jasmine, orchid, cinnamon, lemongrass, green tea, mango, and lotus. They also carry a range of Cambodian spices and Kampot pepper, plus delicate spice mixtures for making authentic Khmer curry, amok, lok lak and satay. The store is filled with unique gift ideas from Cambodia, including scented candles, local teas and coffees and therapeutic balms. Senteurs d'Angkor products can be identified by their original and lovely packaging handmade from sugar palm leaves.
Street 178 (Opposite the National Museum).
Open 8am-8pm, everyday.
Tel: +(855)(0)97-3456668
Website: http://www.senteursdangkor.com


Sentosa Silk
Merging pure Khmer silk with high fashion, Sentosa Silk offers an international-quality line of clothing and soft furnishings. Choose from haute couture pieces, made-to-order items or more traditional off-the-rack garments. Produced by disabled artisans in rural Cambodia, Sentosa Silk's line also includes colorful purses, pillows and other accessories.
Visa/MC/JCB/AMEX
#33, Sothearos (corner of Street 178), Phnom Penh, Cambodia.
Tel: +(855)(0)23-222974
Website: www.sentosasilk.com

Silk & Pepper
Silk & Pepper offers a range of carefully chosen Cambodian silks and souvenirs, including linens, cushions, curtains, towels and fashion accessories in unique designs. They also offer a selection of original t-shirts, Cambodian pepper and coffee, bath products, handicrafts and a line of jewelry. Located a few meters from the entrance of the National Museum.
Visa/MC/JCB
#33 Street 178 (near the National Museum ), Phnom Penh, Cambodia.
Tel: +(855)(0)23-222692
E-mail: info@silkandpepper.com
Website: www.silkandpepper.com

Smateria
Smateria's collection transforms everyday objects into beautiful bags and accessories. Whether it's a diary made from used milk cartons or purses crocheted from discarded plastic bags, Smateria's line of hip recycled products will surprise you with its ingenuity. Smateria specialize in bags, from trendy clutches to roomy totes and even a few designed especially for men.
1) #8E0, St. 57, Phnom Penh, Cambodia.
2) #7, St. 178, Phnom Penh, Cambodia.
Tel: +(855)(0)12-647061
E-mail: jennifer@smateria.com
Website: www.smateria.com

Sopor Khmer Silk Shop
Silk Shop. The walls are piled from floor to ceiling with an amazing array of hand-loomed Khmer silks from Takeo province. The shops offers silks and silk fashion accessories, and home decor including pillows, bags, ties, coverings - off the rack and custom orders. Custom silk designs and quantities made to order.
#183, Norodom, Phnom Penh, Cambodia.
Tel: +(855)(0)23-223911
E-mail: soporkhmersilk@yahoo.com
Spring Vale
Just a block from the Russian Market, this cute little Japanese cafe and souvenir shop sells a concise selection of crafts including handmade silver and inlay jewelry, coconut buttons, kramas, and Cambodian-crafted trinkets. The cafe serves Japanese homestyle dishes such as donburi rice bowls and tempura. Try the okonomiyaki; it's a Japanese savory pancake and is especially tasty.

SWDC-Mekong Blue
Offering silk clothing, bags, bedding, homewares, accessories and a line of award-winning modern and traditional scarves. Mekong Blue products are high quality, hand woven silk produced by women from the Stung Treng Women's Development Center in northeastern Cambodia. Their scarves have been awarded a UNESCO Seal of Excellence. Mekong Blue Silks are available at the riverfront store on Street 130 and at Hotel InterContinental.
1) #9Eo, Street 130, Phnom Penh, Cambodia.
2) InterContinental Phnom Penh Hotel, Ground Floor, Phnom Penh, Cambodia.
Tel: +(855)(0)23-218815
+(855)(0)23-218815
Website: www.mekongblue.com




Tabitha Cambodia
The Tabitha Cambodia retail shop offers brightly-colored handmade Cambodian silk products of all sorts: purses, pillows, bed covers, clothes, shawls and toys. Tabitha Cambodia is an NGO that offers disadvantaged Cambodian women a six-week paid training course, allowing them to earn enough money to purchase a sewing machine to take home. Tabitha then places orders for fairly-priced handicrafts, providing a regular income and employment.
Visa/MC/JCB
Corner of Streets 360 & 51, Phnom Penh, Cambodia.
Tel: +(855)(0)23-721038
E-mail: tabitha@forum.org.kh
Website: www.tabithafoundationaustralia.com

Ta Prohm Silk & Souvenir Shop
Now two locations - a tiny, welcoming silk shop on Street 178 near the National Museum and a new shop near the Russian Market - both displaying a wide variety of colorful hand-woven Cambodian silks. Bags and silk purses are their specialty, but Ta Prohm also carries a wide variety products made from Cambodian silk including pillows, wall hangings, clothes and tablecloths in addition to purses made from recycled rice bags. Lengths of fine and raw silks are also available for purchase, or make a custom order for specific designs, colors and products.
Visa/MC/AMEX
#49BEo, Street 178, Phnom Penh, Cambodia.
Tel: +(855)(0)23-224729
+(855)(0)12-982976
E-mail: sam.taprohmsilk@gmail.com

Tooit Tooit
Tooit Tooit sells 'tooit' (small) gifts and trinkets, including trendy recycled bags made from Khmer newspapers, and jewelry made from colorful paper beads. It's run by Mith Samlanh, the child-protection NGO that also runs Friends and Romdeng restaurants, and all proceeds go towards the development of the organization's projects. You'll find Tooit Tooit close to the ceramics section at the Russian Market. Open every day 8am to 5pm.
#434, Russian Market (Toul Tom Poung), Phnom Penh, Cambodia.
E-mail: fns@mithsamlanh.org

Watthan Artisans Cambodia
Located on the grounds of the Wat Than pagoda, Watthan Artisans is a worker-run cooperative of Cambodian artisans with disabilities. The focus of the retail shop is on Cambodian silk fabrics and scarves, bags and office accessories and homewares. Other materials used include Cambodian cotton, straw and wood. Wholesale inquiries are welcome.
#180 Norodom Blvd. (Wat Than pagoda), Phnom Penh, Cambodia.
Tel: +(855)(0)23-216321
Website: www.wac.khmerproducts.com

Yodicraft
This NGO-run Cambodian handicrafts shop specializes in Cambodian silk products, wood carvings and statues, Christmas nativity sets, unique beaded and crocheted goods as well as items made from coconut shells. The group offers training and employment for young Cambodians with disabilities. You'll find Yodicraft down the street from the National Museum, opposite Friends Restaurant.
#172Eo, Street 13, Phnom Penh, Cambodia.
Tel: +(855)(0)12-324548
Website: www.yodifee.org