Other Things to do in Siem Reap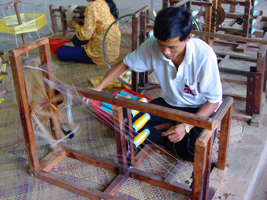 As enthralling as the temples of Angkor may be, there are lots of other things to see and do. Seeing a bit of Cambodia away from the temples can help avert 'temple-burnout' and round out your Cambodian experience. It also helps Cambodia by taking some tourist pressure off of the temples and spreading tourism dollars a bit more widely. In addition to the following suggestions, check out the sections on visiting the Tonle Sap Lake and on Traditional Dance Performance.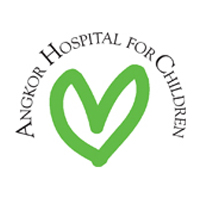 Angkor Hospital for Children
The Angkor Hospital for Children (AHC), is a charitable organization, was founded by renowned Japanese photographer Kenro Izu in 1999. The hospital provides treatment and care to local children as well as children from neighboring provinces. The hospital is recognized by Cambodian's Ministry of Health as an official teaching hospital and AHC's Medical Education Center serves as a training site for health professionals from all over Cambodia. Our Capacity Building and Health Education Program works to strengthen the capacity and improve the quality of local health practices. The Friends Center at Angkor Hospital for Children gives visitors the unique opportunity to visit the hospital and learn more about its programs. Designed for environmental sustainability with the purpose of educating about the hospital the Friends Center also displays prints donated by Kenro Izu and hosts rotating art and photography exhibitions. The donation of money and blood are much appreciated!
Tel: 063-963409
Tep Vong Street, Old French Quarter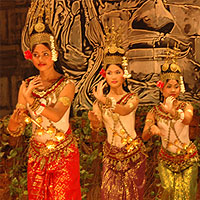 Apsara Dance Performances
It has been a tradition since the earliest days of tourism in the 19th century to treat visitors to Siem Reap with a 'Apsara dance performance' - a taste of classical Khmer culture. These days no visit to Cambodia is complete without attending at least one traditional performance.
In Siem Reap dinner performances are now the most popular venue with most places offering buffet or set menus combined with a one-hour traditional performance, usually dance though some places also offer traditional puppet performances.
Dinner ordinarily begins at 6:00 or 7:00PM and the performance at 7:30PM or 8:00PM. The usual dance performance consists of 4 or 5 different dances, both classical and folk dancing. Most dinner performances run $10-$35 including dinner and admission. Some place do not charge admission for the performance, but you are expected to order dinner. For the best seats, call for reservations.
See Khmer Traditional Dance and Performances page for performance venues, schedules and more on Traditional Khmer Dance.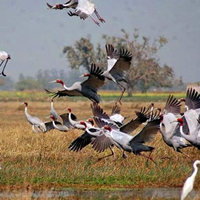 Bird Watching and Environmental Tours
Siem Reap offers some unique birdwatching opportunities. The Prek Toal bird sanctuary on the Tonle Sap Lake and the Ang Trapeng Thmor reservoir northeast of Siem Reap both are home to many rare and threatened species. For the Prek Toal bird sanctuary see on the Tonle Sap page.

Ang Trapeng Thmor (ATT) Sarus Crane Reserve

(The following about Ang Trapeng Thmor comes courtesy of the Sam Veasna Center.) Originally constructed as a water reservoir, the reservoir was rebuilt for irrigation and water storage by slave labor during the Khmer Rouge Regime. The reservoir now harbors a unique wetland associated with grassland, dipterocarp forests and paddy fields. Aside from being a feeding ground for more than 300 Sarus Crane in the dry (non-breeding) season, more than 200 species of other birds occur here, of which 18 have been classified as globally or near globally threatened. This is also one of the handful of sites in Cambodia where the endangered Eld's Deer can be seen. Colonies of fruit bats inhabit larger trees that are often semi-submerged on the edge of the reservoir.

The best time to see the Sarus Crane is from February to March, though an abundance of bird species can be viewed all year. There is also a hill top Angkorian-era temple a few kilometers into the forest where traditional silk weaving is still practiced in the adjacent village. A boat trip can be taken on the reservoir.

Officially declared a Sarus Crane Reserve in 2000 the designated area covers over 12,000 hectares, following the work of Sam Veasna and friends at the Wildlife Conservation Society, all foreign visitors are required are required to register at the WCS Office.

ATT (Ang Trapeng Thmor) is a day trip from Siem Reap though accommodation can be arranged at the through the Sam Veasna Center (see the following listing), giving birdwatchers the chance of dawn sightings and offering the opportunity of visiting the massive Angkorian temple complex of Banteay Chmar.
Angkor Centre for Conservation of Biodiversity (ACCB)
The Angkor Center for Conservation of Biodiversity (ACCB) is the first nature conservation center in Cambodia. They offer rescue services to Cambodian wildlife, breed threatened species and serve as an education and training center for communities, wildlife officials and visitors. Visitors are encouraged to visit ACCB, they offer a daily tour Monday through Saturday at 1PM for a minimum donation of $3 per person.
Tel: 011-426856, 099-604017
SVC organizes half or full day trips focusing on birds with a trained bird guide. SVC was set up to promote wildlife conservation in Cambodia. It works with the Wildlife Conservation Society and local village communities to develop remote sites close to the habitat of some spectacular bird life. The local communities benefit from the infrastructure set up for the visitors. Trips to see Sarus Crane at Ang Trapaeng Thmor, Giant and White Shouldered Ibis at Tamtboey, a vulture restaurant at Chhep, plus some beautiful and unspoiled countryside.
Tel: 092-554473, 063-963710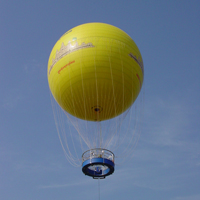 Balloon Rides
Take a tethered helium balloon ride 200 meters straight up for a pretty good aerial view of Angkor Wat (1km away), the surrounding countryside and a couple of other temples peeking up through the jungle. The balloon itself does not float free, but is attached to the ground by a heavy teather that is reeled out then back in to allow the balloon to rise and return to the ground. The balloon itself is filled with helium with a fenced in gondola capable of holding more than a a couple dozen people. They give you about 10-15 minutes at the top, more than enough time to take in the full panorama and take plenty of pictures. The balloon does not run during inclement weather and is best on days that are not too windy. The big, yellow balloon is based about 1km east of Angkor Wat on the road from the airport. You can't miss it. Usually you can show up without reservations and be on the balloon within 15-40 minutes. Admission $15/adult; $7.50/child.
East/West Road between Angkor Wat and Airport, about 1km west of Angkor Wat
Butterfly Gardens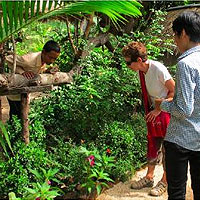 Banteay Srey Butterfly Centre
An interactive butterfly exhibit located 25 km north of Siem Reap, on the road to the Banteay Srey temple. The exhibit consists of a netted tropical garden with thousands of free-flying butterflies, all of which are native species to Cambodia. The enclosure provides visitors with an interactive and visual environment to learn about butterflies.
If, as part of your temple tour, your are heading out top see the distant but spectacular Banteay Srey temple, that is the perfect time to drop into the Banteay Srey butterfly garden for a break from the temple and the road. Open: 7 days a week, 9 am - 5 pm, all year round. Admission: Adult: $4; Child: $2
Tel: 097-8527852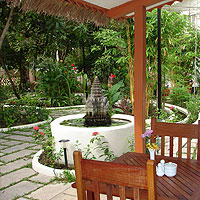 Butterflies Garden Restaurant
Running sonce 1999. Butterfly Gardens is a unique butterfly enclosure with over 1,500 tropical butterflies and a koi pond in a romantic, private garden on a quiet street in the center of town. In addition to being a butterfly enclosure, Butterfly Gardens also is a cafe serving creative tropical cuisine, including unique Khmer specialties. Fresh juices, shakes, beer, wine and cocktails. A very unique place to take a meal or a drink and soak up the peaceful atmosphere. Serving breakfast, lunch and dinner.
Conveniently located in town in the Wat Bo area, just a 2-minute tuk-tuk ride from the Old Market area.
#535, Street 25, Wat Bo area
Tel: 063-761211
Classes: Cooking, Ceramics, Yoga
Ceramics Classes
Create your own replica of Khmer ceramics within 2 hours. No experience required, made by you on the potter's wheel using traditional techniques. Potters will guide you through the process. Also offering an "Art Activity": Draw and/or paint your own design on mug, bowl, box, Buddha. A unique opportunity to discover your buried artistic talent. Stamps, stencils, and pattern books available. Free pickup. Your creation will be fixed/fired/glazed and delivered to your hotel in 24 hours. 8AM-7:30PM everyday. Road to Angkor Wat.
Road to Angkor Wat
Tel: +(855)(0)17-843014
Cooking Classes and Food Tours
Alliance Alizé Boutique Villa & Art Cafe
Half day Cambodian cooking classes at the Alliance Café by a Khmer chef. Begin with a trip to a traditional market to select the ingredients. Cook and dine on several Khmer recipes. Wat Damnak area
Tel: 063-964940
Ankgor Street Eats
Daily walking food tours across Siem Reap to see and sample Cambodian street foods and cafes, as well as getting a nice introduction to local culture. Cambodian tour guides will take you through local food markets, Cambodian street stalls, and little hole-in-the-wall cafes. The emphasis is on keeping it local – local guides, local foods, local knowledge – and keeping it fun friendly. Special dietary requirements can be accommodated. Just let them know your requirements. Tours are 4 hours. Special rates for kids.
Tel: 087-686872
Half and full day Cambodian cooking courses held in a rural setting just 10 minutes from Siem Reap. Maximum six people per class. Booking is essential.
Corner Sivutha Blvd & Alley West
Tel: 063-969269, 077-562565
www.beyonduniqueescapes.com
Twice daily, hands-on cooking classes with a Cambodian Chef. Visit the market, prepare dishes and try them all. Classes held near the Old Market in a classic house with front/rear gardens. Complementary DVD, recipe book, spices, certificate.
Reservations: 077-566455
http://www.restaurant-siemreap.com/html/CHAMPEYCOOKINGCLASS.php
Cooktuk Temple Tours and Cooking Classes
See the temples and learn to cook Cambodian food all in one half-day Cooktuk tour. Run by local people. You'll learn to make amok, green mango salad and others. If you've already seen the temples, you can skip the tour and join the two-hour cooking class. Contact at the Khmer Cooking Empire Restaurant opposite Srah Srang in the Angkor Park.
Tel: 012-794949
Khmer Cocktail Classes at Asana Old Wooden House
Learn about the use of Cambodian herbs, spices and infused spirits to prepare unique cocktails.
On The Lane next to Pub Street
Tel: 092-987801
Siem Reap Food Tours
Journey beyond the usual tourist sites and explore one of Asia's least understood cuisines. Let Siem Reap Food Tours take you on a personal guided culinary tour where you'll meet — and eat — the authentic Cambodia. Morning and evening tours for one to four people.
Tel: 012-505542
www.siemreapfoodtours.com
Street Food Adventures
Street Food Adventures offers just that - walk amongs the local stalls and stand and "do it like the locals", buying are sharing small snacks with friends and family - everything from dumplings and noodles to special fruits and fried crickets. Hotel pick up/drop off included.
Tel: 063-963400
www.rivergardenboutique.com
Cocktail Classes
at Asana Old Wooden House
Learn about the use of Cambodian herbs, spices and infused spirits to prepare unique cocktails.
On The Lane next to Pub Street.
Tel: 092-987801
Gemology
Gemological Institute of Cambodia
Gemstone class for beginners: 1 hour / half-day / 1 day. A basic introduction to major gemstones commonly found in the Cambodian marketplace. This beginning-level course focuses on the identification, grading and appraisal of gems such as the ruby, sapphire, zircon, peridot, garnet, topaz, aquamarine, crystalline quartz, chalcedony, obsidian, etc.
New location on Night Market Street
Tel: 092-486772, 081-359286
Yoga Classes
A yoga and meditation retreat center consisting of seven wooden cottages, most with double bed, and all with private bathroom. Yoga and Theravada Buddhist traditional meditation spanning several different techniques - Hatha Yoga, Chi qong, pranayama, and make a fusion. Some yoga exercises and meditations are conducted at the Angkor temples. Offering a range of classes and sessions everyday, suitable for all levels. Retreats, packages, walk-ins welcome, whether for a single session or all day.
Tel: 097-5143390
The New Leaf Book Café
Yoga, Khmer and English lessons all available in a versatile space overlooking the Preah Prom Rath pagoda. "100% of profits are donated to local charities."
Tel: 063-766016
www.facebook.com/NewLeafCafe.org
Samadhi Yoga
Drop-in classes just $8 including pool and gym. Great coffee, and diverse cafe menu with healthy and comfort food items. Idyllic setting in amongst rice fields and plantations. Located within Navutu Dreams Resort, featuring hotel and spa focused on "relaxed luxury and wellness". 'Relax-Rebalance-Rejuvenate"
Tel: 063-964864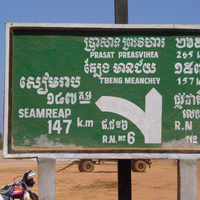 Countryside Tours and Temples
If your schedule allows, set aside a day or three to get out of the Siem Reap Town/main temple area and into the countryside. Within just a few kilometers of town the landscape turns to rice paddies, small towns and villages, offering an opportunity to get a look at 'real Cambodia' - the rural countryside where the vast majority of Cambodians live and work.
Some tour operators specialize in countryside and cultural tours and can help arrange a variety of trips - from a simple half day cultural tours of the nearby rural areas from the back of an air-conditioned car, to extensive multi-day motorcycle adventure tours of the countryside, distant temples and greater country tours outside of the Siem Reap area.
One of the more popular and easy ways to see a bit of countryside is to take a trip to one of the more distant temples such as Koh Ker, Beng Mealea, or Banteay Chhmar. Touring these temples, located well outside Siem Reap in jungled and rural areas, allows you not only to experience untouristed Angkorian temples but to get a glimpse of the Cambodian countryside on the trip there and back. A stop in a village, often to see some NGO or charity project, is often included as part of the distant temple tour.
The Adventure Story
Specializing in mountain bike tours. Angkor, distant temples, cultural and countryside, Tonle Sap lake, tailored tours.
#37 New Street A behind U-Care
Tel: 069-801705, 095-727290
www.theadventurestory.com
Complete tour service offering unique a wide variety of set and custom tours - day trips, cycling, trekking, walks, villages, small groups, private packages, cooking classes, ticket services. Siem Reap, Angkor and all Cambodia.
Kandal Village area, Siem Reap
Tel: Tel: 063-969269, 077-562565
www.beyonduniqueescapes.com
Specializing in village tours - half/full-day, monastery, cultural tours and experiences.
Tel: 012-940669
Cambodia Jeep
Explore Siem Reap, or all of Cambodia, in with a private driver or on your own in war-era American Jeep. Temples, countryside, or city. One day or a few weeks. Roadside assistance, mechanics, driver, and guide all available.
Siem Reap
Tel: 063-963242
Cambodia Trails
Specializing in dirt-bike tours and rental. Scooters also available. Dirt bike off-road tours, trail tours, jungle tours. Motorcycle repair.
#157 National Route 6, Siem Reap
Tel: 097-7355252
www.cambodiatrails.com
Dancing Roads
Since 2000. Mountain bike tours. Distant temples, countryside, mountains, tailored tours.
#66c St. 368, Phnom Penh
Tel: 012-884909, 095-727290
http://www.dancingroads.com
Hidden Cambodia Dirt Bike Tours
Hidden Cambodia Adventure Tours
Hidden Cambodia Tours
Single and multi-day all-inclusive, high end, cultural, ad- venture and humanitarian tours by 4WD vehicles, dirt bike and car to Koh Ker, Preah Vihear, Preah Khan temples and historic KR area, Anlong Veng. Tonle Sap Lake tours.
Just off the road to Angkor Wat
Tel: 012-655201
hiddencambodia@yahoo.com
www.hiddencambodia.com
Kampoul Adventure Tour
Cultural and adventure tours. Tonle Sap Lake tours.
#0593 Wat Bo Road, Siem Reap, Cambodia.
Tel: 063-760909, 063-965865
www.adventure.com.kh
Komnob Airboat Tours
Airboat tours. Skim across the Tonle Sap to visit floating and lake's edge villages and a crocodile farm.
Tel: 012-926966, 016-988896
Nhum Bai
Experience the real Cambodia with a walking, cycling, or boating day trip, where you'll have the chance to participate in everyday countryside life. Nhum Bai aims to help local villagers develop sustainable income through tourism while allowing visitors the chance to have an authentic, memorable Cambodian experience. On your tour you can try your hand at rice farming and weaving, learn about rice wine, or go on a leisurely boat trip and picnic with locals while enjoying the beauty of rural Siem Reap.
Tel: 097-6060770
Siem Reap Angkor Quad Bike Countryside Tour Co., Ltd
Quad Bike tours. One hours, multi-hour, half-day, full day, extreme tour overnighter. Countryside tours, rice paddies, pagodas, villages, more.
#169, Wat Damnak Road
Tel: 097-9651451, 012-324009
Terre Cambodge/Biking Cambodia
Mountain bike (TREK, GIANT) and trekking specialist. Overnights. Tonle Sap Lake boat tours (bird sanctuary, floating and stilted villages,) elephant trekking and more. Tailor made itineraries.
Svay Dangkum – Siem Reap
Tel: 092-476682, 089-990570
www.terrecambodge.com
Travel Loops
Inbound and outbound tours. Worldwide air tickets and tours. Daily bicycling tours in the countryside around Siem Reap for $20. Siem Reap homestays from $19/person.
Tel: Tel: 063-963776, 097-7776977
Fax: 063-965776
Triple A Adventures
Floating village and Kampong Khleng tours. Bicycle tours.
Tel: 088-8366004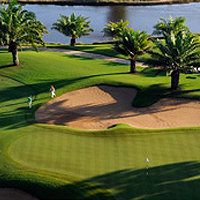 Golf

Angkor Golf Resort
18 hole course, 7279 yards, par 72, built to challenge all levels of golfers and has been rated by the US PGA. The course's maintenance is superb with the green paspallum grass. 300 yards grass range. Practice putting green.
Tel: 063-767688
Siem Reap's first international golf club. 18-hole, 72 par golf course spread over 155 hectares and stretching 6.53kms. A combination of paspulum grasses allows for year round golf. Putting green, pitching area, driving range, pro-shop and restaurant. Managed by Sofitel Royal Angkor Golf & Spa Resort.
Located along Route #6 in Pouk district 16 kilometers from town
Tel: 012-882882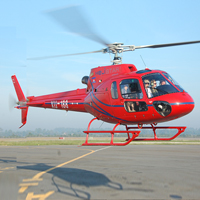 Helicopter Rides

Helistar Cambodia
Offers scenic helicopter tours of the temples beginning at US$100/person for an 8 minute jaunt around Angkor Wat. It isn't a particularly cheap way to tour but the view is spectacular and memorable. Helistar Cambodia offers specialized tours, aerial photography and charter services. Multiple aircraft in service. Conveniently located at Siem Reap International Airport, Domestic Terminal. Walk-in customers welcome.
Tel: 063-966072, 012-449555
www.helistarcambodia.com
Office on National Road 6, Borey Angkor Arcade, diagonally opposite the Total petrol station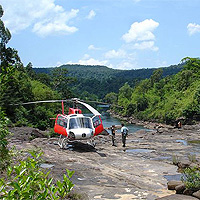 Helicopters Cambodia
Operating in Cambodia since 1998 with highly trained internationally licenced pilots. Helicopters Cambodia provides charter flights to all areas of Cambodia. For those wanting to avoid the crowds and experience the temples from another perspective this is truely a unique experience.
Tel: 012-814500, 015-814500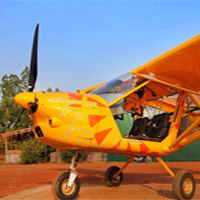 MyFly
MyFly "We are proud to present you an exciting adventure in the air above Siem Reap, Cambodia. You will fly a 2-seat light airplane around the most beautiful temples of Cambodia, see a floating village and ancient Hariharalaya, old capital of Kambuja Desa, picturesque rice fields and the Tonle Sap lake. Our simple set of rules makes our flights absolutely safe for you; all airplanes, passengers and third parties are covered by insurance."
Tel: 068-704601
Located off at the Jayavarman Airfield, just off National
Route #6 east of town
Museums in Siem Reap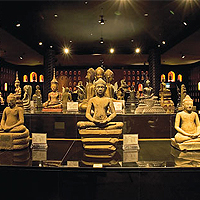 Angkor National Museum
A modern museum providing a good introduction to the history, styles and architecture of Angkor. Chronologically ordered galleries of Angkorian-era artifacts and multimedia presentations. US$12 (foreigners).. $2 for a camera.
Open Hours: 8:30AM - 6:00PM
Located in town, on the road to the Angkor Park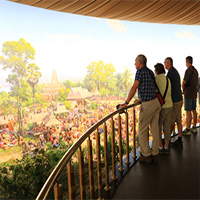 Angkor Panorama Museum
360 degree painting panorama, 122.6 meter long and 12.0 meters high. Depicted the activities of 45,000 people in Angkor Era under the reign of Jayavarman VII from 1181 to 1220 AD, the greatest king who created Khmer empire in peace and prosper. Free Information Hall, Panorama Hall and Movie Theatre. Visiting Hour: 1.5 to 2 hours. 9:00AM-8:00PM.
Located on 60M Road, next by Angkor Ticket Booth.
Tel: +(855)(0)63-765263, 070-286838
Cambodia Landmine Museum & Relief Facility
The museum has evolved from a small shack museum by former soldier and deminer Akira to a formal museum and charitable organization. The museum exhibits a variety of defused mines, bombs and other ordinance as well as information on mines, demining and Cambodia's mine problem. Located 7km south of Banteay Srey. Open 7:30AM - 5:30PM. Guided tours: M/T/Th/F 9:00AM - 3:00PM.
Located 7km south of Banteay Srey
Tel: +(855)(0)15-674163, 015-941517
www.cambodialandminemuseum.org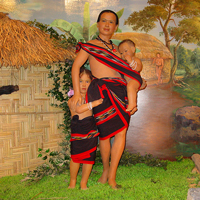 Cambodian Cultural Village
A unique, sprawling new cultural attraction in Siem Reap, intended to introduce the visitor to Cambodian culture and history. Wax museum with scenes and figures from history. Fascinating 1/20th scale models of sites such as Phsar Thmey and the Royal Palace in Phnom Penh and the hills and temples of Oudong. Full scale models of a variety of Cambodian architectural types, including different styles of huts and homes, hill tribe houses, pagoda and mosque.
On Airport Road
Tel/Fax: +(855)(0)63-963836
War Museum Cambodia
Displaying a wide variety of battlefield military hardware and equipment used in the wars in Cambodia over the last three decades of the 20th century. Heavy armor including T-54 tanks, anti-aircraft guns, artillery pieces, rocket launchers, APCs and piles of disarmed mines, bombs and shells. Interesting collection of (disarmed) small arms that you can handle. 8AM-5:30PM. 5km from town center, Airport Road. Admission: $5 for foreigners; $1 for Cambodians. Free guide service.
Located on Route #6 (Airport Road)
Tel: +(855)(0)97-4578666, 012-873666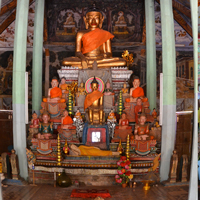 Pagodas & Shrines
Over 95% of the Cambodian population is Buddhist and Buddhist pagodas are the traditional seat of Khmer culture. Siem Reap, like many Cambodian towns, is a collection of villages, which grew around individual pagodas, later coalescing into the town. To get a true feel for Cambodia, a visit to at least one pagoda is a must.
Pagoda grounds are colorful and photogenic places and most are open and welcoming to the general public. But if you visit a pagoda please be respectful of the place and people. Dress conservatively, remove your hat on pagoda grounds, remove your shoes before entering the vihear (main temple) and respect the privacy of monks and worshippers. See Ray Zepp's book 'The Pagoda's of Siem Reap' for an introduction to Buddhism and a guide to Phnom Penh's pagodas.
Shrine to Preah Ang Chek & Preah Ang Chorm
Of particular importance to the locals is the small shrine in front of the Grand Hotel D'Angkor containing two standing Buddhas of the names Preah Ang Chek (taller) and Preah Ang Chorm (shorter). They are surrounded by stories of power and indestructibility. Visitors are welcome to make offerings and take photos. The reverence of local pilgrims is palpable.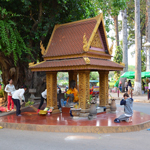 Shrine to Ya Tep
Under a huge tree in the traffic circle in front of the royal residence is a statue of Ya Tep, a neak-ta. Neak-ta are powerful spirits connected to a particular area of land. Ya Tep is local to Siem Reap and is said to help bring protection (and winning lottery numbers) to the faithful. Offerings of chicken skins can often be seen around the shrine.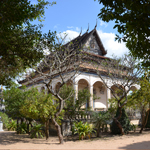 Wat Bo
Wat Bo is one of Siem Reap town's earlier pagodas, likely founded in the 18th century. (Wat Preah Prom Rath, reputedly Siem Reap's oldest, was founded in the 16th century.) The vihear of Wat Bo (the main temple building) is at least a century old, constructed with an old-style segmented roof. Like many Cambodian vihears the interior walls are adorned with paintings, but Wat Bo's paintings are quite uncommon. Instead of the usual scenes from Buddhist lore, the wall paintings of Wat Bo depict the Reamker, the Cambodian version of the classic Hindu epic the Ramayana. It is one of the few Cambodian pagodas to do so. Even the presentation of the paintings is unique, displayed in quilt-like patchwork, possibly inspired by a shadow puppet presentation of the epic. Look for the ordinary-life market scenes such as an opium-smoking Chinese merchant, the colonial era French officer at the market and the French soldiers attending a traditional dance performance. Also of interest is the large collection of Buddha statues located behind the main Buddha.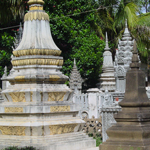 Wat Preah Prohm Rath
Idyllically situated wat on the river in the center of town near the Old Market. Foundations of the modern structures were laid in 1915, the main vihear was constructed in 1945. Reputedly a monastery as early as the 13th or 14th century, and then further established in the early 16th century, when the family of Ta Pum and Yeah Rath donated the land.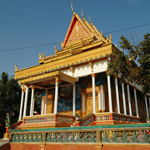 Wat Keseram
"Pagoda of the Cornflower Petals". Pastoral setting and extensive, detailed collection of the life of Buddha on the interior of the vihear make this one of the more interesting wats to visit. The date of establishment is unclear, but most agree that the vihear was constructed in the early 1970's.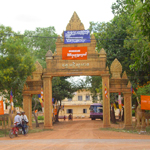 Wat Thmei (New Wat)
The wat contains a unique glass-walled stupa containing the bones of victims of the Khmer Rouge. Some of the bones were recovered from a nearby well while others are the remains of soldiers who died on a nearby battlefield. 500m west of the road to Angkor about 1.5km north of town.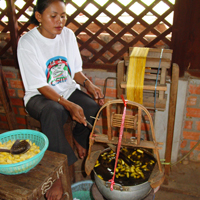 Silk Farms
Cambodian silks are prized by collectors the world over. Most of the silk available in Cambodia are made from silk grown and collected in Cambodia and is hand-loomed using the traditional ikat method of dying the threads and looming in the patterns. The markets and silk shops in Siem reap offer both raw and fine silks in the form of bolts, sarongs, clothing and various handicrafts. For those with a special interest in silk, a trip to a local silk farm to see the silk making process is well-worth the time and effort. One of the longest running silk farms in the area, Pouk Silk Farm, that also accepts visitors is run by Artisans d'Angkor and is located about 20 minute outside of town. Call or contact the Artisan d'Angkor shop in Siem Reap town (west of Sivutha Blvd, not far from the Old Market area), or book through a tour agent. Artisans d'Angkor run several daily free shuttle from their shop in Siem Reap to the Silk Farm.
Pouk Silk Farm
Offers the opportunity to enjoy the Cambodian countryside and learn about the age-old tradition of producing Cambodian silk. Take a free guided tour that explains the meticulous process of silk production, from cultivating mulberry bushes to the Cambodian ikat technique and the dyeing, weaving, and creation of silk fabrics. You can also purchase high-quality Cambodian silk products in their shop. Located in Pouk district, 20 minutes from Siem Reap town and open daily 8:00AM to 5.30PM. Free daily shuttle buses from Artisans Angkor showroom in Siem Reap at 9.30AM and 1.30PM.
Visa/MC/JCB/AMEX/ANZ
Rte #6, 16km west of town
Tel: 063-399064
www.artisansdangkor.com
Tattoos
THE HARBOUR – featuring LexRoulorTattoo Parlor& a Metal Pirate Tavern
THE HARBOUR combines LexRoulor's Tattoo Shop and a Hard-Rock Metal Pirate Tavern. The tattoo parlor's team of 3 artists and 1 piercer. The French, Russian and Chinese artists cover pretty much all the styles: dotwork, geometric, watercolor or realistic. The Australian certified piercer can put a hole in every single part of your body, and also masters dermal insertions. The team is trained to followall western hygiene standards, and custom artwork and top quality are GUARANTEED. Also discover the Metal Pirate Tavern on the first floor, and sink into the dimmed atmosphere of candles and lanterns with metal as background music. Open: 10am – late.
Tel: 097-3042827
#347 SteungThmei, west of Sivutha Blvd, behind Artisans d'Angkor
www.theharboursiemreap.com
www.lexroulor.com
www.facebook.com/theharboursiemreap
Professional (local) Khmer tattoo artist since 2001. Tattoo by gun or by the traditional bamboo method. Hygienic, clean, safe & healthy. Good quality ink from USA and Japan. Using all disposable grips, tubes and needles, single use. The oldest one in town.
Sok San Rd, 200m west of Sivutha
Tel: 012-804508
yousinath@yahoo.com
Facebook: Neng Synat Tattoo Machine Studio
Long-running, well-known, well-reputed and respected tattoo studio from Phnom Penh, now in Siem Reap, located in the Old Market area. Cambodian and international artists. Open 9:00AM - 10:00PM
#380, Sivutha Blvd.
Also two locations in Phnom Penh
Tel: 016-787816, 063-6666444
Tonle Sap Lake Tours and Villages
The Tonle Sap Lake the most prominent feature on the map of Cambodia a huge dumbbell-shaped body of water stretching across the northwest of the country. In the wet season, the lake is one of the largest freshwater lakes in Asia, swelling to an expansive 12,000 km2. The Lake sits only 15 km south of town, a unique eco-system and cultural area offering the opportunity to see a different side of the Siem Reap - floating and stilted villages, culture and nature tours, bird watching.
Most lake tours begin at the port at Chong Khneas village directly south of Siem Reap town. Everything from 1 hour to multi-day tours are available. The quickest, easiest boat tours run out of the Chong Khneas port, with local operators offer 1-2 hour tours of the floating village just off shore, usually including a stop at a floating fish farm/souvenir shop. Not exactly an 'authentic Cambodian experience' but at least providing a glimpse of life on the Lake. Half and full day tours to the amazing stilted village of Kampong Khleang, or the flooded forests of Kampong Phluk, or a trip to the Prek Toal Bird sanctuary, all offer a very unique look at Cambodian culture and ecology. See the Tonle Sap Lake page for more information on these destinations.
You can go to Chong Khneas on your own and arrange a boat tour. Boats are always available for 1-2 hour tours, as well as to more distant villages like Kampong Khleng, but prices are in flux, and it can be difficult to identify a quality boat and operator. It is easier to arrange your boat trip though a Siem Reap tour agent, especially one that specializes in lake tours such as the following:
Cambodian Travel Partner
Tonle Sap Lake tours, Jeep tours, countryside tours
Tel: 063-963242
Hidden Cambodia Adventure Tours
Single and multi-day all-inclusive, high end, cultural, adventure and humanitarian tours by 4WD vehicles, dirt bike and car to Koh Ker, Preah Vihear, Preah Khan temples and historic KR area, Anlong Veng. Tonle Sap Lake tours.
Just off the road to Angkor Wat, Siem Reap
Tel: 012-655201, 012-934412
hiddencambodia@yahoo.com
www.hiddencambodia.com
Kampoul Adventure Tour
Cultural and adventure tours. Tonle Sap Lake tours.
#0593, Wat Bo Road, Siem Reap
Tel: 063-760909, 063-965865
www.adventure.com.kh
Komnob Airboat Tours
Airboat tours. Skim across the Tonle Sap to visit floating and lake's edge villages and a crocodile farm.
Tel: 012-926966, 016-988896
Prek Toal Tours & Travel
Locally owned and operated tour operator, offering several tours, excursions and experiences on the Tonle Sap Lake. Bird watching at Prek Toal, cultural tours or floating and stilted village, eco-tours, custom arrangements.
Wat Damnak village, Sala Komruek Commune, Siem Reap
Tel: 077-797112, 093-707667
bookings@prektoal-tours.com
http://prektoal-tours.com
Sam Veasna Center (SVC)


Sam Veasna Center (SVC) organizes half or full day trips focusing on birds but offering a glimpse of Cambodian rural life with a trained local guide. SVC was set up to promote wildlife conservation in Cambodia. It works together with the Wildlife Conservation Society and local village communities to develop remote sites close to the habitat of some spectacular bird life. The local communities benefit from the infrastructure set up for the visitors. Trips to see Sarus Crane at Ang Trapaeng Thmor, Giant and White Shouldered Ibis at Tamtboey, A vulture restaurant at Chhep amongst others, plus some of the most beautiful and unspoiled countryside in Cambodia.

Tel: 092-554473, 063-761597
Tara River Boat
Tara Riverboat operates both half day trips and sunset tours of Chong Khneas floating village and stops at the Gecko Environmental Centre fish and a crocodile farm along the way. Meals and drinks are served on the boat. All boat tours include pick up and return to hotels and a guide. Price for half day 9:00AM - 12:00PM $29/person, 10:00AM - 2:00PM $32/person and sunset is 3:30PM - 7:30PM $38/person. The sunset cruise includes all drinks including unlimited champagne, wines, beers, etc. and a 2 course meal. Tours to Prek Toal (bird sanctuary,) and Kampong Phluk, Kampong Khleang (traditional lake villages) and Battambang also available. These tours also include food, drinks, pick up and return to hotel in an a/c car. Price for Prek Toal tour is $165/person. The Kampong Phluk for half day 8:30AM - 1:00PM $38/person, full day 10:00AM - 4:00PM $58/person and sunset 1:00PM - 7:30PM $68/person. Tailored adventure tours on request.
Located at Chong Khneas floating village
Tel: 092-957765
Terre Cambodge/Biking Cambodia
Mountain bike (TREK, GIANT) and trekking specialist. Overnights. Tonle Sap Lake boat tours (bird sanctuary, floating and stilted villages,) elephant trekking and more. Tailor made itineraries.
#R-30, Rolous Street - Borei Prem Prei
Tel: 077-448255, 092-476682
www.terrecambodge.com
Triple A Adventures
Floating village and Kampong Khleng tours. Bicycle tours.
Tel: 088-8366004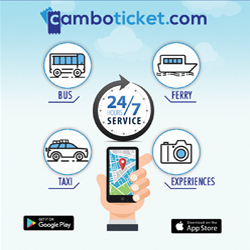 | | |
| --- | --- |
| | |
| | |
| | |
| | |
| | |
| | |
| | |
| | |
| | |