Architecture Tour and Sites of Architectural Interest

The historical architecture of the city may be divided into three broad categories:
1) The ubiquitous 'Chinese shophouse-style' structures, some as old as the late 19th century but most later - from the 1900s through the 1960s.
2) Late-19th/early-20th century French Colonial buildings encompassing a range of influences and styles. Early villa-style residences and public buildings display an eclectic mix of European influences. Slightly later structures such as Phsar Thmei reflect the Art Deco movement and other western styles. Also of this period, 'Colonial Traditional' style buildings such as the National Museum that draw heavily on traditional Cambodian themes. Most of Phnom Penh's colonial-era highlights are located within the city center with clusters near the Royal Palace, around Post Office Square and Wat Phnom, and dotting Norodom Blvd from Sihanouk to Wat Phnom.
3) 'New Khmer Architecture' of the late-1950s/60s, such as the Chaktomuk Theatre and Independence Monument, built in the post-Independence 'Golden-era' and displaying a modern but distinctively Cambodian direction. Few examples exist in the city center.

See the city center map below for sites of architectural interest and a suggested walking tour route. The route passes many of the better French colonial buildings as well as examples of later architecture. Due primarily to proximity, very few examples of New Khmer Architecture are included. Also not listed below, the National Museum and Royal Palace should be included in any tour. The whole route takes about 4 hours on foot. Faster by cyclo or motodup.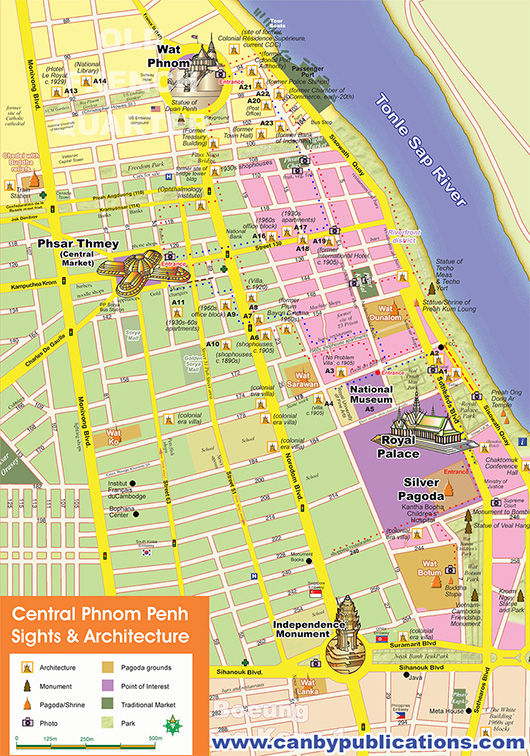 Architecture key:
A1: Villa Late 19th century Sino-Khmer villa, displaying a mix of western architectural styles. In very good condition. Currently the offices of UNESCO.
A2: Villa Picturesque 19th century villa in a dilapidated state. Currently 'The Mansion' bar.
A3: Old Royal Villa 'No Problem Building' Constructed c. 1905. One of the few remaining royal villas. Good condition.
A4: Villa Classic colonial era villa constructed c. 1905. Currently houses a restaurant.
A5: National Museum Constructed in the early 1920s and displaying an eclectic combination traditional Khmer and European architectural styles.
A6: Block of apartments/shops Constructed circa 1905.
A7: 1935-45 Apartments Distinctive art deco style apartment block attached to the Lux Cinema, much of the frontage hidden by a modern facade.
A8: Villa Constructed c. 1920. Small, colonial era villa.
A10: Block of shop houses Late 19th century in poor condition, buried is modern facades and signage.
A11: Apartment block A mixed block displaying periods from the 1930s (at the market end) through the 60s.
A12: Phsar Thmey Unique domed art deco market structure built 1935-37. See page 15 for more.
A13: Raffles Hotel Le Royal Classic colonial era hotel, first opened in 1929. Fully restored in the late 1990s.
A14: Public Library Constructed in the early 20th century in neo-classical Greek style. Open to the public.
A15: Former Treasury Building and Street 106 constructed in the 1890s. Several buildings along Street 106 are late-19th/early-20th century. The boulevard park between Street 106 and 108 was a canal until the 1930s. Some building along Street 108 have the year of construction in the gable design. Note the modern faux-Naga Bridge on Norodom Blvd across the park, an echo of a real bridge there until the 1930s.
A16: 1960s office block
A17: Apartments Colonial period apartments from the 1930s or 40s displaying a unique Mediterranean style. Note the different sort of balconies from the usual shophouse.
A18: Intersection 130/15 Each corner of the intersection has a building from a different period: c. 1905, c. 1940 (art moderne) and from the 1980s.
A19: International Hotel Very unique corner building with a tower structure. Constructed circa 1905. Early signage still visible. Very photogenic. Poor condition.
A20: Post Office/Post Office square The post office building was constructed in the 1890s and is still operating as the GPO. Many of the buildings on and around the square are turn of the century. Best photos in the morning hours.
A21: Former Central Police Station Constructed in the 1890s. Site used extensively in movie 'City of Ghosts.' Best photos in the morning hours.
A22: French Colonial Chamber of Commerce On Post Office Square. Constructed early 20th century.
A23: Former Banque de l'Indochine building Late 19th century bank building. Owned by the Van family after 1960. Now fully restored and home to Van's Restaurant.
A24: Chaktomuk Conference Hall Constructed in 1960-61. 'Golden era' architecture by Vann Molyvann.
.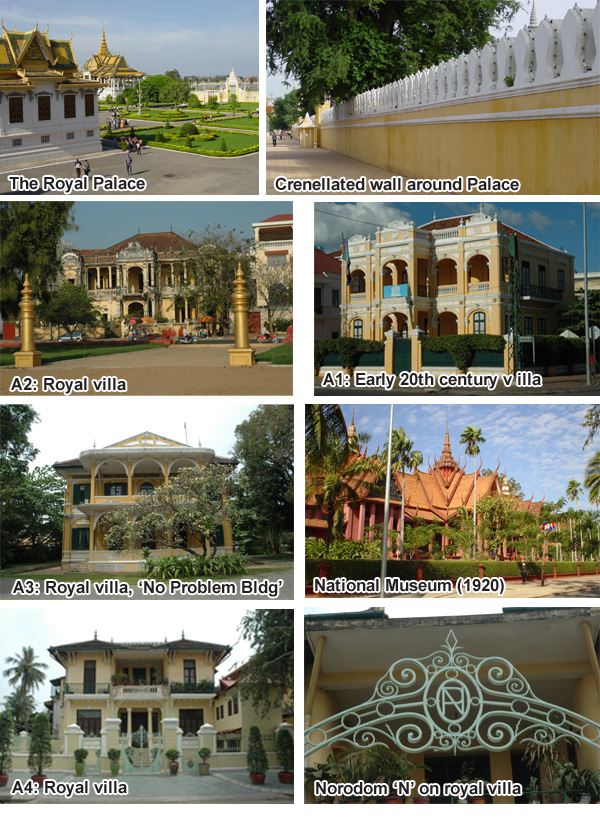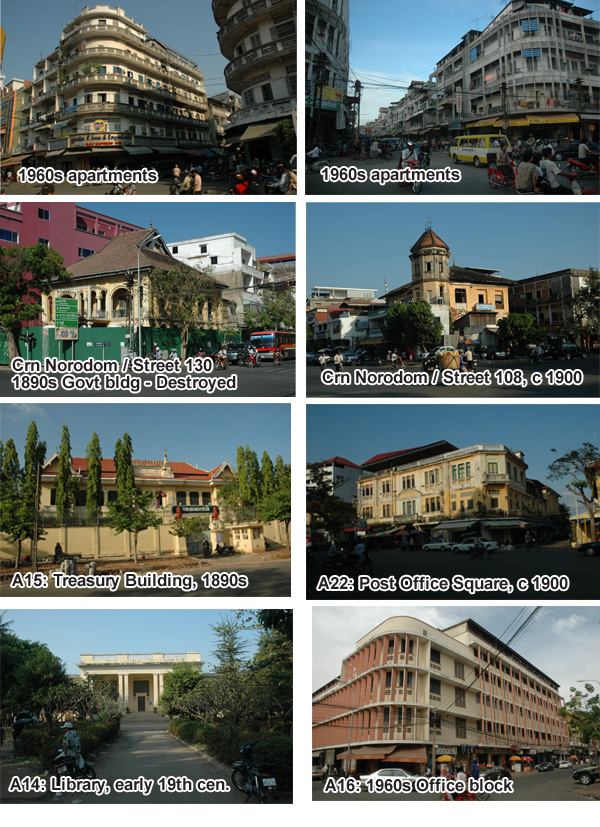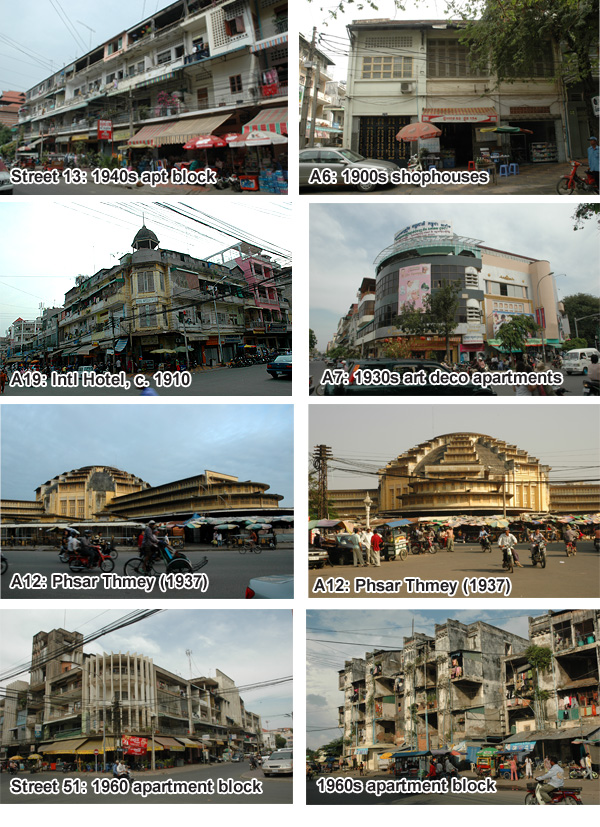 For more on the architecture of Phnom Penh check out the books: 'Phnom Penh Then and Now,' 'Cultures of Independence' and 'Building Cambodia: New Khmer Architecture 1953-1970.' See book page for more on books.

Khmer Architecture Tours (www.ka-tours.org) offers regularly scheduled lectures and guided architectural tours of the city focusing primarily on 'New Khmer Architecture.' Cyclo tours of central Phnom Penh every other Wednesday. See the website for schedule.