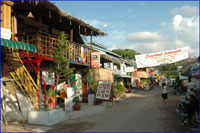 The Victory Beaches are actually two long beaches divided by a rocky point and a small hill, so named for the Victory Monument that sits in the boulevard park near the midpoint. Different section of the beach called different names. The southern section is known as 'Hawaii Beach.' The northern section near Victory Monument is called as 'Victory Beach' and is the most popular area with travelers. The narrow sands at the port end (northern end) of the beach are called 'Port Beach.'
The section known as 'Victory Beach' sits at the base of the popular Victory Hill (Weather Station Hill). Victory is a nice little beach, only a few hundred meters long but wide at points, offering a variety of beachside services and one of the best sunset views in town. The distinctive Airport Club, sits near the entrance to the beach. Next to the Airport Club, top-end boats for hire operate off of the pier. Check the bulletin board at the dock for boating information. A few meters north along the beach several little beachside seafood shacks are clustered together at the sand's edge. All offer the usual beach chairs and umbrellas, inner tubes, cold drinks, seafood barbeque, Cambodian food and even some western dishes. Farther north along Victory the beach narrows and two or three upscale oceanside seafood restaurants hug the water's edge including the long popular Chhner Molop Chrey.

Above Victory Beach, Victory Hill (a.k.a. Weather Station Hill) offers a variety of guesthouses, restaurants and bars. Several budget places and guesthouses dot the side of the Hill overlooking the ocean, offering some of the town's best ocean sunset views. The very top of hill is one of Sihanouk Ville's nightlife hotspots. The hilltop main road is lined with hostess bars, sport bars, clubs and a few restaurants. Come evening the bars come to life, some staying open well into the early morning.

'Hawaii Beach' is also known as 'King's Beach.' Like the other major beaches, Hawaii Beach is lined with umbrellas and chairs and little beach shack bars and seafood restaurants, though nowhere near as densely as Ochheuteal. It's also less crowded than Ochheuteal and tends to be much more popular with the locals than tourists. Come the weekend, Hawaii can get quite busy with holidayers down from Phnom Penh. Access the beach from the small road at the curve in the road at the southern end of the Victory Beaches..