Map - Victory Beach, Sihanoukville Cambodia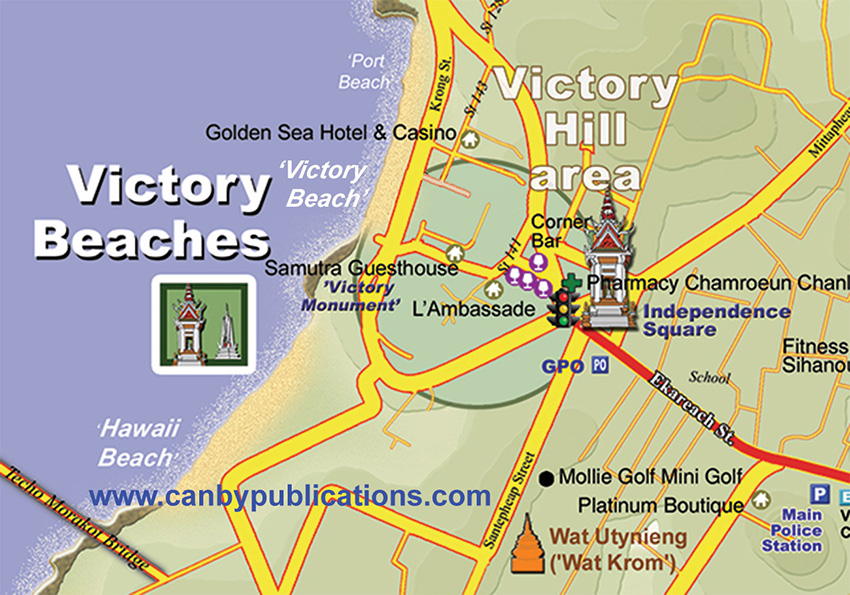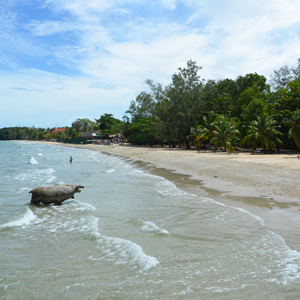 The Victory Beaches are actually two long beaches divided by a rocky point and a small hill, so named for the 'Victory Monument' that sits near the midpoint. The southern section near the Morokat Bridge to Koh Pos is known as Hawaii Beach and the northern part near the Monument and 'Victory Hill' is Victory Beach, now partially closed and fairly quiet. The narrow sands at the northern port end of the beach are known as 'Port Beach.'
Victory Beach sits at the base of the popular Victory Hill. Victory Beach offers one of the best sunset views in town but unfortunately the beach is partially closed and there are no longer any bbq shacks or other vendors. Farther north along Victory the beach narrows and a few upscale seafood restaurants hug the water's edge and a couple of casinos can be found on the beach road.
Above Victory Beach, Victory Hill offers a variety of guesthouses, restaurants and bars. Several places, both budget and mid-range dot the side of the Hill overlooking the ocean, some offering excellent sunset views. The very top of hill is one of Sihanoukville's nightlife hotspots. The hilltop road is lined with hostess bars, music and sport bars as well as a few restaurants. After dark the street come to life, some places staying open into the early morning.
Hawaii Beach at the far southern end of the Victory Beaches is fairly busy these days, and is much more popular with Cambodian beach-goers than foreign tourists. Like the other major beaches, Hawaii is lined with umbrellas and chairs and little beach shack bars and restaurants.