Map - Otres Beach, Sihanoukville Cambodia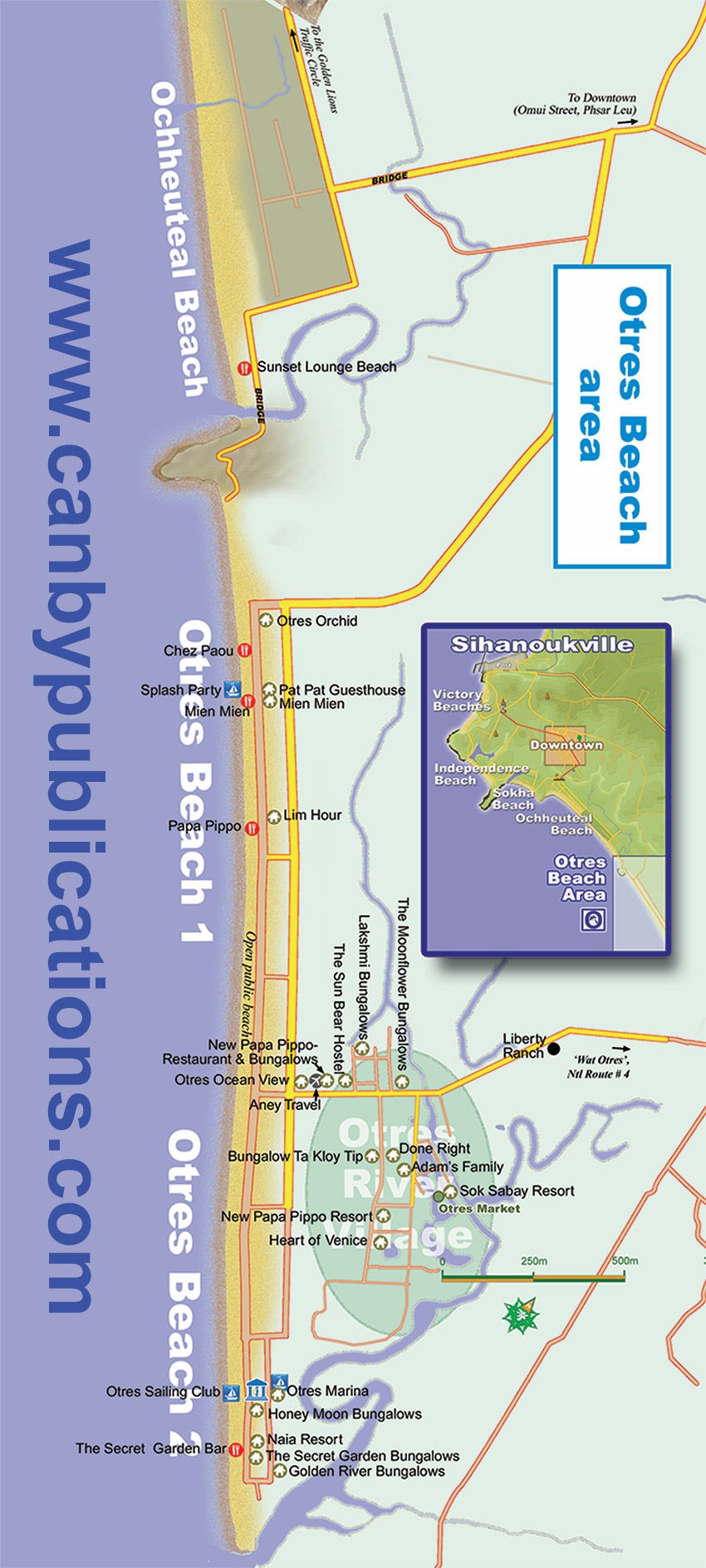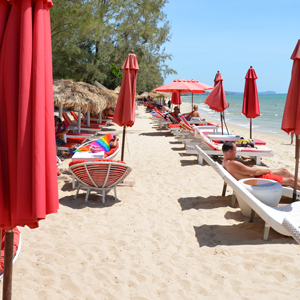 Otres Beach is the next beach south of Ochheuteal and similar in many ways - like Ochheuteal, Otres is a three kilometer crescent of white sand facing to the southwest. But Otres is somewhat more thinly touristed, offering a more relaxed, chill-out atmosphere. Beach shacks and guesthouses/bungalows line the near and far ends of the Otres Beach with a development project taking up most of the central portion.
The Near End... At the northern 'near end' of the beach (Otres 1) dozens of beachshack bars and restaurants squeeze together along a kilometer of sand. There are plenty of different sorts of places to choose from, some staying open quite late, offering events and music. There are also a dozen-plus guesthouses and bungalows lining the beachfront road 20 meters from the water.
The Far End... The 'far end' of Otres Beach (Otres 2) on the south side of the development area has a more secluded atmosphere than the near end but still offers several beach bars and restaurants as well as accommodations along the sand including a few of upper mid-range places and fine dining on the beach.
Otres River Village... Otres River Village sits about a half-kilometer behind Otres Beach 2 - an Aquarian corner on the the Otres River with an eclectic mix of people, accommodations and drinking places in an laid back environment. Set amongst mangrove forest along a small lake and estuary, the village is a backbeach enclave in a natural area, offering kayaking, boating and an eco-friendly ambiance. To get between the village and the beach you can rent a bicycle or even kayak to the beach.
...and the Market... The Otres Market is a Saturday market of crafts and food vendors, both local and foreign, in the spirit of the beach markets of Goa - live music, shopping, cold drinks, hot food and good vibes. At time of printing it is the beginning of low season and the market was preparing to shut down until the end of the monsoon season, probably in October or November. Check Facebook for current info. Located in Otres River Village. When running, the market is open every Saturday, 4:00PM until late.