Map - Ochheuteal & Serendipity Beaches, Sihanoukville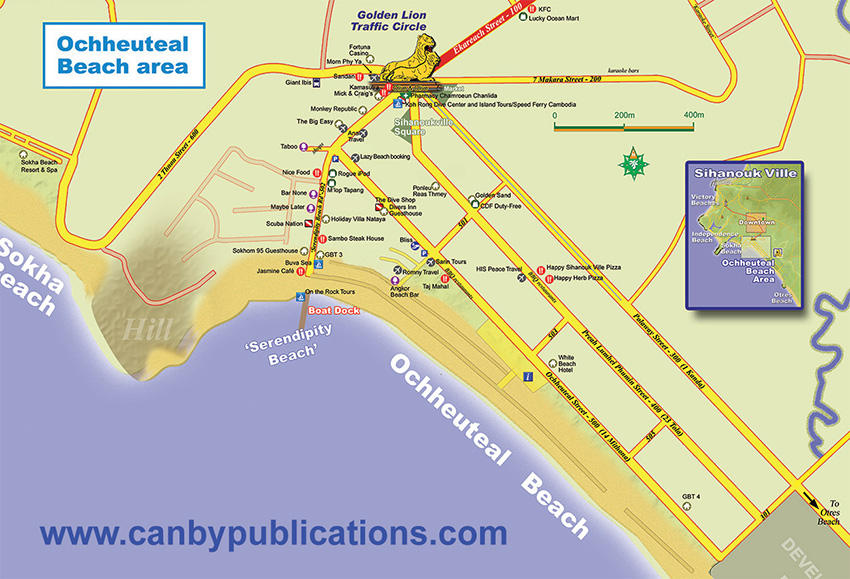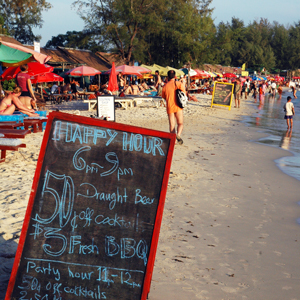 Ochheuteal Beach Ochheuteal Beach is by far the most popular and touristed beach in town. Ochheuteal is long, sandy and comparatively narrow, with 'Serendipity Beach' at the arcing northern end, most of the southern half closed to the public, and a small cluster of beach restaurants at the pleasantly quiet far end. Most of the hotels, guesthouses and restaurants are on and around the northern half of the beach.
Accommodations... The area has a good selection of accommodations ranging from mid-range to budget with most on the roads paralleling the beach and Serendipity Beach Road, and a few places tucked up along the headlands.
Restaurants & Bars... On the beach, shack-style seafood restaurants and bars tightly line more than a kilometer of the sand's edge from Serendipity to mid-beach. The restaurants typically offer umbrellas and beach chairs, have full bars and most have food, especially BBQ on the beach at sunset when restaurants put seafood and meats on display and offer inexpensive classic BBQ dinners. Just off the beach, they do the same evening BBQ at along Lumhei Phumin Street (23 Tola) where there are more than a dozen places.
Nightlife... Many of the beach bars are open into the late night, and of course there is fire dancing, full moon parties and events. Some of the more popular late night places are located at the Serendipity end of the Ochheuteal and along Serendipity Beach Road. Just off the beach the bar plazas Sihanoukville Square and Pub Street have hostess bars, pool, a bit of food and are open late.