Map - Koh Rong Sanloem Island, Cambodia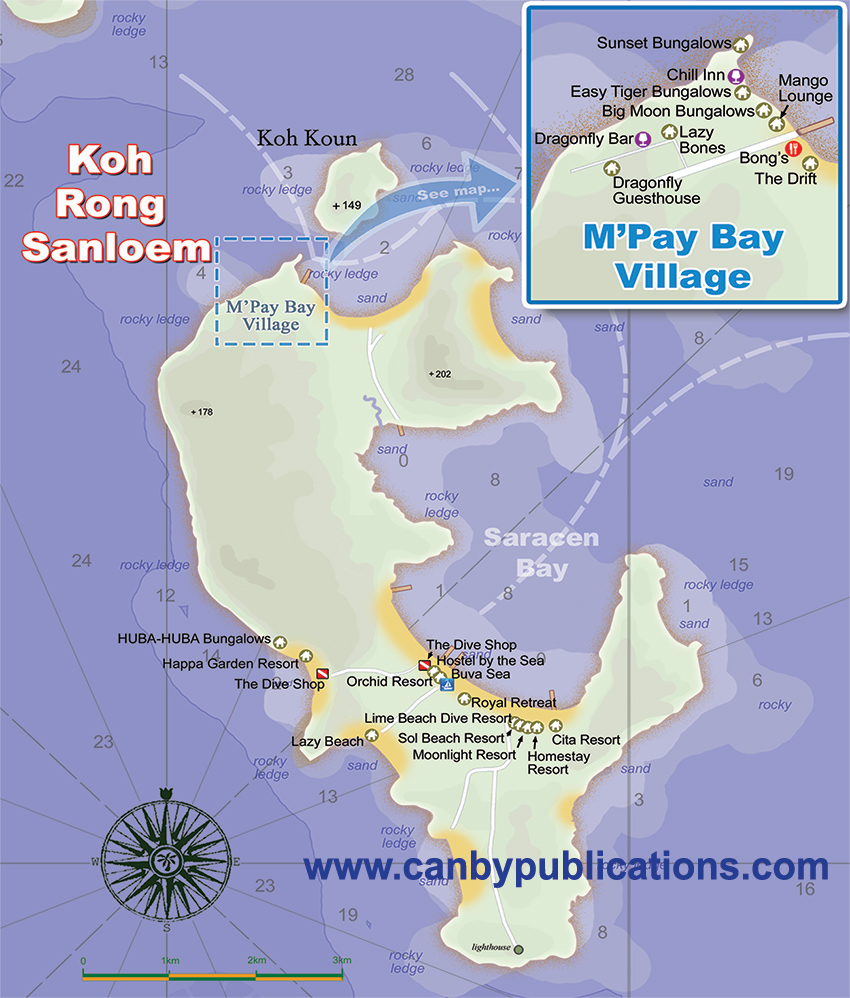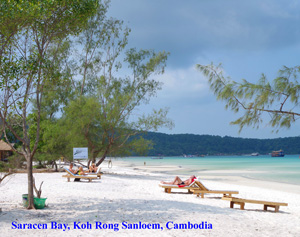 Koh Rong Sanloem (or Samloem) is the somewhat smaller and more tranquil of the big two islands. While offering a wide variety of accommodations and restaurants, especially on Saracen Bay and MíPay Bay, the island has a generally more tranquil and peaceful atmosphere than Koh Rong and Koh Toch Beach.
Saracen Bay on the land side of Koh Rong Samloem is the busiest beach, sporting several restaurants and accommodations from cheap and cheerful to upscale bungalows. Saracen Bay (and MíPay Bay) is also where the Sihanoukville ferries docks, and is the place to pick up boats to other beaches on island and to Koh Rong. A few guesthouses dot the beaches on the west side of the island, which is a moderately easy 1km walk across the island from Saracen Bay. MíPay Bay village on the northern corner of the island also has several guesthouses and a couple of good restaurants.
Getting to Koh Rong Sanloem is easy. There are several daily speed ferries and slow boats from Sihanoukville and from Koh Rong. By speed ferry it is a 40-50 minutes ride from Sihanoukville and only about 10 minutes from Koh Rong. The slow boat takes about 2.5 hours from Sihanoukville.
Besides lounging in the sun thereís plenty to do on Koh Rong Sanloem - most of the usual island activities - snorkeling, trekking, mountain biking, inexpensive boat cruises, fishing and some pretty good scuba diving opportunities. There are a few foreign-run dive outfitters on the island that offer fun dive and certification, including The Dive Shop with an office on Saracen Bay.
There are no banks or ATMs on Koh Rong Sanloem and very few places accept credit cards. Bring the money that you will need. And though there is phone and internet, it can be spotty.