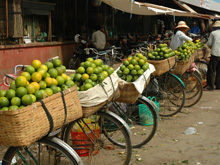 Battambang Cambodia Shopping
Battambang is known for being the birthplace of Cambodia's most famous artists and musicians, but during the Khmer Rouge era the art scene was virtually destroyed. In recent years, Battambang has experienced an arts revival and become home to a vibrant emerging art scene. For years Battambang has been a place to buy marble and wood carvings, and colored gems from Pailin. And it still is, but as the art scene has begun to blossom again, several galleries and art spaces have opened.

Art spaces and unique shopping venues inhabit some of the old shophouses of the picturesque Walking District, especially along Street 2.5 and surrounding area. Sangker Gallery spotlights the work of local talent, many of them graduates of the NGO Phare Ponleu Selpak's fine arts school for at-risk youth. The Romcheik 5 Art Space on the east side of the river is also stand-out, hosting the works of Phare graduates in superior art space.

Some restaurants in town also feature local art. Lotus Bar & Gallery has a proper gallery upstairs with ongoing exhibitions by Cambodian and expat artists based in Battambang. The artsy Choco L'Art cafe, like many of the galleries, hangs the art Phare graduates on its walls.

Complimenting the art scene, the souvenir shopping, though a bit in Battambang, is unique and fascinating. The Lost Stick on Street 2.5 deserves special mention for its amazing curio collection, and Bric-à-Brac as well for its high quality crafts and textiles. For more traditional souvenirs, riverfront shops along Street 1 offer marble and wood carvings and statues and other souvenirs. .
SHOPS...
Bric-à-Brac
Fine crafts woven before your eyes, extensive collection of old and new Southeast Asian textiles, antiques and curios. Local crafts, trimmings and tassels. Run by textile designer Morrison Polkingorne and photo stylist Robert Carmack. Visa/MC
Tel: 077-531562, 077-531549
www.bric-a-brac.asia

Corner Streets 2/119, Walking District
La Fabrik
Cool boutique shop specializing in locally made products such as scrubs and soaps, jewelry and carefully selected small souvenirs, and delicatessen line including coffees, teas, sugars and Cambodian rhum. Unique local packaging and labeling. Open Monday to Saturday 9AM-9PM and Sunday 4PM-8PM Closed in May and June.
Tel: 096-7744225

65 Streets 2.5, Walking District
The Lost Stick (The Jewel in the Lotus)
Magical little curio shop with interesting objects from Cambodia and beyond - postcards, medallions, old photos and posters, contemporary art by locals and expats, and a fascinating array bits and pieces.

Streets 2.5, Walking District
GALLERIES...
Sangker
Gallery set in a small colonial shophouse in the Walking district, with changing exhibitions at the upstairs gallery, and on-going displays downstairs.

Streets 1.5, Walking District
Romcheik 5 Art Space
Noted art space located on a quiet road on the east side of the river. Three level art space with multiple changing exhibitions of art, primarily from the Phare fine art school.

Streets 201A, east side of river