Map - Overland routes to Siem Reap, Cambodia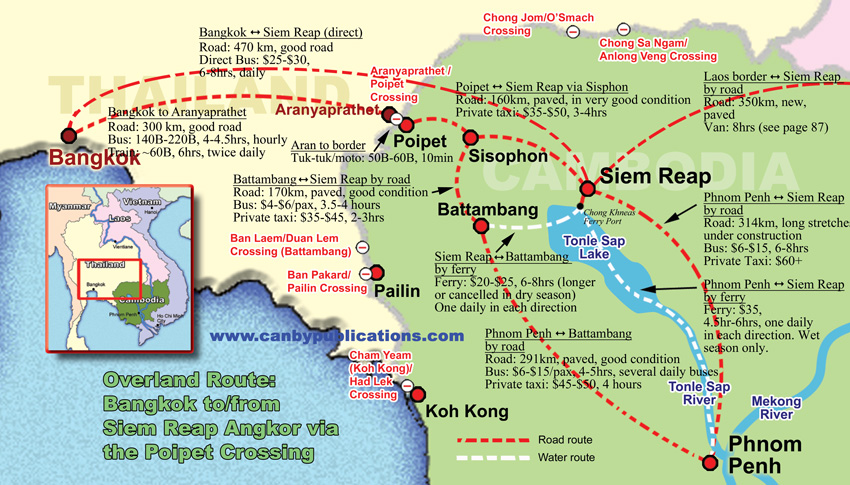 From Thailand:
Aranyaprathet, Thailand / Poipet, Cambodia Border Crossing: Route from Bangkok to Siem Reap Cambodian and Thai visas available at the border. Generally speaking there are three option: 1) Direct bus between Bangkok and SIem Reap; 2) Package bus ticket between Bangkok and SIem Reap, but change bus at border; 3) DIY with bus or taxi and maybe train. 1) Direct Bus: One ticket, one price, no bus change at the border, though you still disembark at the border and walk through for visa, immigrations and custom check. The bus makes 2-3 rest stops and a snack is served, but you may want to pack some extra food for the trip. Total trip: 6-8 hours. Price: $25-$30 (750B), not inclusive of visa fees. Buses leave early, 8AM-9AM in both directions. 2) Package Bus ticket: One ticket, one price, change at the border, though you still disembark at the border. In its favor, package bus tickets are cheaper than the direct bus and there are more departures. Ticket run around $10-$17. 3) DIY Coming from Bangkok, take a bus or train to Aranyaprathet. The bus takes about 4 hours and departs the Northern Bus Terminal (Morchit) hourly all day. 190-230B. From Aranyaprathet, take a moto or tuk-tuk to the border, and once on the Cambodian side take a shuttle to the transport station, where buses and taxis await. Buses depart the transport stations at regular intervals, cost $7-$9 and takes about 4 hours. The buses stop at a couple of places right in town, not at a formal bus station. Taxis offer the fastest, most comfortable option. Tourists usually have to pay $45-$50. (If you can get it the local price is $25-$30.) 2.5-3 hours. Share with other travelers and split the cost. NEVER pay in advance.
From Laos:
From Laos: Voeung Kam, Laos/Dong Krolor Cambodia Cambodian and Lao visas available at the border. Cambodia's primary overland crossing with Laos sits near the Mekong River in Stung Treng province, opposite the Si Phan Don ('4000 Islands') area in Laos, where the popular island of Don Det is located. For years travel between Siem Reap and the Lao border entailed a 23 hour bus ride via Phnom Penh. A new direct road linking the two is now open, reducing travel time to 8 hours on 350 km of good road.